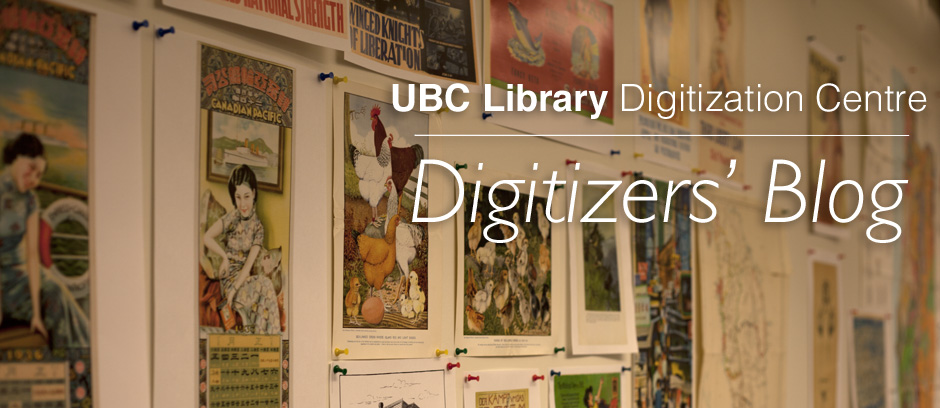 Here at the Digitization Centre we are fascinated and excited by the vast amount of primary-source material that our digitization work exposes us to.  Whether a document of historic significance, a beautiful illustration, or even a particularly fine typeface, we are frequently amazed by the materials we're working to share with the world.  So much so, that not only will we crowd around to ogle a particularly interesting specimen, but we've started decorating our workplace with copies of some of our favorites.  But why stop there?  Surely, we can't be the only ones geeky enough to appreciate such "gems" in our collections, and so we've decided to share them here with you.  Below you will find some of our favorites, hand-picked by staff from both existing and upcoming collections.  We hope you enjoy them as much as we do!   TIP: To view full resolution versions of the images on any size screen, click to enlarge and then right-click and select "open image in new tab."
---
Posted on April 2, 2014 @10:38 am by Matthew Murray
We're excited to announce that we're soon going to start digitizing Discorder, the monthly(ish) music magazine published by UBC's community radio station CiTR (101.9 FM).
Discorder has published hundreds of issues since in launched in 1983. They've reviewed countless albums and shows, interviewed who knows how many bands and musicians, and published lots of essays, comics, and other material. We're excited to start scanning this important part of Vancouver's musical history, and can't wait until it's all available online! Until then you can check out some of their more recent issues on Issuu.
No Comments
---
Posted on March 18, 2014 @1:37 pm by Matthew Murray
The UBC Library Digitization Centre and Rare Books and Special Collections have just completed the digitization of court files from the John Keenlyside Legal Research Collection. These case files from early British Columbia courts were created between 1858 and 1891, and originate from the provincial Bankruptcy Court, the Supreme Court of Civil Justice and a county court on Vancouver Island. The documents show the legal and economic atmosphere in colonial and early provincial British Columbia and provide evidence of people interacting with the court system of early British Columbia. Many of the documents pertain to Chinese and Aboriginal people in the court systems.
 This collection is our first to be digitally preserved in Archivematica before being made available online in AtoM.
File 1-06 – R. v. Stalehum (1 doc); Charged with shooting with intent; 1863/02/00
[…] These are to command you, the said Constable, in Her Majesty's name, forthwith to convey and deliver into the custody of the said Keeper of the said Common Jail, the body of Kaisue alias Thalaston charged this day, before me, the said Justice, on the oath of John Henley of Victoria in the Said Colony, for that the said Kaisue alias Thalaston on the fourth day of April in the year of Our Lord one thousand eight hundred and sixty three on a little island about three or four miles from Salt Spring Island in the Said Colony of Vancouver Island and its dependencies, did feloniously shoot at John Henley and Bill Brady with intent then and there to kill.

Contrary to the form of the statute in such case made and provided.

 And you, the said Keeper, are hereby required to receive the said Kaisue alais Thalaston into your custody, in the said Common Jail, and him there safely to keep until he shall thence be delivered by due course of law. Herein fail you not. […]
No Comments
---
Posted on March 17, 2014 @2:52 pm by Matthew Murray
One of our ongoing projects at Digital Initiatives is the the BC Bibliography project. For this project we are digitizing thousands of books, pamphlets, and other publications with historical value concerning British Columbia. These run the gamut from political speeches and documents, to travelogues, to books concerning aboriginal languages (plus lots more!). While many of these books are mostly of interest to scholars and historians, its possible to find interesting content in books you might otherwise consider boring. Case in point being the British Columbia Directory, a listing of businesses and homes in British Columbia that was published for several years near the end of the 19th century. It was like a phone book before telephones were invented and before people stopped using phone books.
It might look really boring from the outside (and many of the pages are just listings of names), but there are also a bunch of neat looking ads inside! The number of different fonts used in some of these ads is extremely high; I imagine graphic designers being driven insane just looking at them, and yet somehow they seem to work.
Electro-Plated Ware!
Apart from pages printed on colour paper this is the only colour in the entire book, and it really stands out.
That poem is actually an ad for a tobacconist, though figuring out exactly where it's located takes some effort.
It's fascinating to see undertakers who also sell sewing machines, sheets, and kitchenware.
Straight from Wikipedia: "Coraline was manufactured from the straight, stiff fibers of the Mexican ixtle plant, bound together by two strands of thread wrapped in opposite directions."
No Comments
---
Posted on March 5, 2014 @12:12 pm by Matthew Murray
Some of the images in our collection are really cool but others, while still cool, can be considerably more mystifying without knowledge of how or why they were created. An example of this are the stereographs that appear in the Arkley Croquet Collection and the Chung Collection. These images generally look something like this:
If you've never seen an image like this before you might wonder why two (almost) identical photos have been printed right next to each other. Well, when viewed through a special "stereoscopic" viewer these images give the illusion of 3D! Stereography works by presenting a slightly different image to each eye, fooling your brain into combining the images into a three dimensional one. The idea was originally developed in the first half of the 19th century, but variations and improvements have continued to be created.
Unfortunately we don't have a stereoscope to look at these images (and you probably don't either, though they can be purchased online), but we've been experimenting with other ways of showing the 3D effect that they produced.
The first is through anaglyph 3D, a method which uses glasses with red and blue (or cyan) lenses. To create images in this format we overlay one image on top of the other, and give both layers either a red or blue tint. Since this method was, until recently, what most people thought of in regards to 3D images you might have a pair around somewhere. 
The other method we found could be used to create 3D images is called wiggle stereoscopy. This method involves layering one image on top of the other, splitting them into separate frames, and created an animated gif that quickly switches back and forth between the two frames. It's not the best way of viewing 3D, but it's still pretty neat.
Unfortunately, both of these methods can cause headaches if you stare at them for too long, so just don't spend all day looking at them!
1 Comment
---
Posted on February 21, 2014 @11:25 am by Rob
The Puban Project is a collaborative venture between the UBC Library Digitization Centre, the UBC Asian Library and the Sun Yat-sen Library, part of the Guangzhou Library in Guangdong Province, China. The UBC Library houses several collections of rare Chinese material including the Puban. The core of the Puban (蒲坂藏書) was originally a part of the famed Nanzhou Shu Lou (南州書樓), a large private library owned by Xu Shaoqi (徐紹棨) (1879–1948), a professor of Chinese literature and bibliography, curator of the Guangdong Provincial Library and one of the renowned bibliophiles of South China. The focus of the Nanzhou was primarily census and historical records, documents and literature of Xu's native province. Some of these works are unique, original copies drawn from the Nanzhou materials that were transferred from the Mainland to the Yao (姚) Family in Macau during World War II. The new owner, Mr. Yao Junshi (姚鈞石), enlarged the collection with high quality works of a similar nature and gave it its present name, the Puban. The Puban and other material form the UBC Asian Library Rare Book Collection. The image at the left is a page from the 聽春樓詩鈔/Ting chun lou shi chao,
No Comments
---
Posted on April 8, 2014 @11:51 am by Matthew Murray
You may not know it, but a few months ago we set up a Flickr account! We've chosen several collections that we feel have really great images and have started to upload them so that more people can see the work that we're doing. If you see any images you like, we'd love for you to share them with your friends! Properly crediting us of course : )
So far we have photos from nine different collections on Flickr, and we're uploading about a dozen new photos to a different collection every weekday. Once we finish uploading all the photos from a specific collection we'll start adding a new one! If you have any suggestions for which collections you'd like to see on our Flickr page let us know in the comments. Follow us on Twitter to get updates about what collections have been updated, and for links to photos we think are especially awesome.
The collections on Flickr (so far) are:
 Andrew McCormick Maps and Prints
A diverse collection of historical maps and illustrations, dating from 1503 to 1910, that pertain to the exploration and mapping of the world, the evolution of cartography, and the explorarion and settlement of North America.
The images are originally from a single photograph album, and depict the operations of the Capilano Timber Company, including loggers, logging camps, and views of the Capilano Valley and the Capilano Suspension Bridge in North Vancouver.
The Wallace B. Chung and Madeline H. Chung Collection is an outstanding collection of archival documents, photographs, books and artifacts related to three broad themes: British Columbia History, Immigration and Settlement and the Canadian Pacific Railway Company. 
As a young man H. Bullock Webster (1855-1942) came to Canada from England and began working as an apprentice clerk for the Hudson's Bay Company in 1874. While in the service of the company Webster travelled extensively to HBC posts throughout the Canadian west and in particular northern Alberta and British Columbia. By 1878 he was in charge of the trading post at Fort Connelly on Bear Lake in northern British Columbia. 
Although never formally trained in art, Webster sketched throughout his life. While in the service of the Hudson's Bay Company he compiled an album of some ninety three colour sketches depicting social life, activities, customs and dress in and around Hudson's Bay Company posts mainly around Stuart Lake and Fort McLeod during the period 1874 to 1880. Many of the sketches included First Nations as well as Metis people whose participation was critical to the Canadian fur trade. 
Japanese Maps of the Tokugawa Era
UBC Library's Rare Books and Special Collections holds one of the world's largest collections of maps and guidebooks of the Japanese Tokugawa period, ca. 1600-1867. The collection varies in both format and size: items range from small single-sheet maps to more than thirty square feet, and also include a ceramic plate, a woodblock, and 15 maps in scroll format. Most of the items in the collection are rare, and some are unique. 
Born in Sweden, Peter Anderson emigrated to the United States in 1885, worked as a logger in Wisconsin, and later owned a sawmill in Washington. He later moved to British Columbia and started a new logging company at Knox Bay. The photographs document early logging operations in British Columbia as well as Anderson's experiences in the forest industry.
R. Mathison Printing Collection
The R. Mathison Printing Collection contains materials, printed between 1886-1890, for businesses in Vancouver by R. Mathison Jr., The Job Printer. The style is visual; often with mixed fonts and fancy script.
This collection includes prints, photographs, charters, and documentary artworks, all originating from diverse sources. Some of works form part of a larger collection or fonds held by the Archives or Rare Books and Special Collections. Some items are interesting examples of a particular artistic medium or technique; others provide valuable visual documentation of scenes from British Columbia's history.
As a number of these works have little or no identification, we would welcome receiving corrections or additional information. Please contact us at spcoll@interchange.ubc.ca.
WWI Posters 
(Eventually this will have posters from WWII as well!)
Posters, broadsides, and ephemera from World War I, published in Canada, Belgium, England, France, Germany, and the United States. The posters cover a variety of subjects including recruitment and enlisting, savings stamps, savings and victory bonds, women, agriculture, and munitions. 
No Comments
---
Posted on February 4, 2014 @1:44 pm by Matthew Murray
We've recently began to digitize material in the World War I British press photograph collection held at Rare Books and Special Collections. The photos were intended for publication, and most feature a caption on the reverse. The photos are divided into folders based around certain places and topics such as "Mesopotamia" and "Battle of the Ridges".
While we digitized 1000 of these images a few years ago (you can see those photos here) there are still 5000 more photographs that we hadn't scanned. However, we've now started work on this project in earnest and hope that in the near future the entire collection will be digitized and available online! Here's a selection from just the first box of photos (there are six more boxes!).
Official photograph taken on the British Western Front: Interior of the Arras Cathedral
Official Photographs taken on the Front in France: A car in trouble after the thaw
Women's Work: British women aeroplane workers near Birmingham welding frame tugs for planes
Great Britain Advance in Palestine: Imperial Camel Corps just outside Beersheba (1917)
Official photograph taken on the British Western Front: Cycle orderlies under fire
No Comments
---
Posted on February 3, 2014 @9:56 am by pughchr
A frequent challenge when making digital collections is determining how best to represent a digital object, so that it is true to the original object but still functions properly in its digital form.
For example, in the case of newspapers, it can be a challenge to determining how best to represent the two page spread. In its analog form, a newspaper is generally viewed two pages at a time. This is not a problem, because users are easily able to focus on one part of the two page spread at a time. However, when digitized, newspapers are usually presented one page at a time, so as not to overwhelm the user. There is so much content on a single newspaper page, that it can be overwhelming to present two newspaper pages on a single screen.
There are also technical problems to consider. A two page spread is twice as taxing on a computer as a single newspaper page.
The problem, however, is that sometimes content is spread across two newspaper pages. For example, take the following two newspaper:
 
The word "globally" is spread across two pages. Since "glob" and "ally" are both words independently, this could be confusing to the user. In this case, it is important to show both pages at the same time. Like this:
However, in most cases we still show one page at a time, to keep the display simple and to reduce the strain on our users' computers.
No Comments
---
Posted on January 8, 2014 @4:30 pm by mmlam
Digital Initiatives in partnership with Humanities and Social Sciences and the Legislative Library of British Columbia has completed digitization of the first 10 years (1876-1886) of the British Columbia Sessional Papers.  The Sessional Papers are important provincial legislative documents that capture the economical, historical, political and cultural atmosphere of British Columbia history. The collection includes official committee reports, orders of the day, petitions and papers presented records of land sales, correspondence, budgetary estimates, proclamations, maps, voters' lists by district, and departmental annual reports.
The digitization of the BC Sessional Papers is part of a larger project already being undertaken by the BC Government Publications Digitization Group to digitize important historical BC government documents. Members include University of Victoria, University of Northern British Columbia, Simon Fraser University, Legislative Library of British Columbia and University of British Columbia.
Visit the collection here: http://digitalcollections.library.ubc.ca/cdm/landingpage/collection/bcsessional
No Comments
---
Posted on February 3, 2014 @9:56 am by mmlam
A former player on the U.S. National Croquet Team, Tremaine Arkley started collecting illustrations, engravings, photographs, cartoons, paintings and other materials around the game of croquet with the sole idea of "saving the history of the game through art", as he said in a interview with Croquet World Online (http://www.croquetworld.com/people/collecting.asp).
Now that a large selection of the Arkley Croquet Collection has been digitized and made available worldwide, we thought it was the perfect time to showcase one of its many astounding images, this one by no other than the French painter Édouard Manet.
In The Croquet Party (Partie de Croquet à Boulogne-sur-Mer), created in the 1870's, we can see a group of upper class people enjoying a relaxed game of croquet by the sea. Like many of Manet's paintings, this one is a window into a private moment, and such a great one that we can almost feel the breeze that's about to blow away that woman in black's hat.
The Arkley Croquet Collection will be fascinating for croquet aficionados, of course, but also for scholars and the general public interested in subject matters like art, advertisement and gender roles from the mid-nineteenth century to the early twenty-first century.
No Comments
---