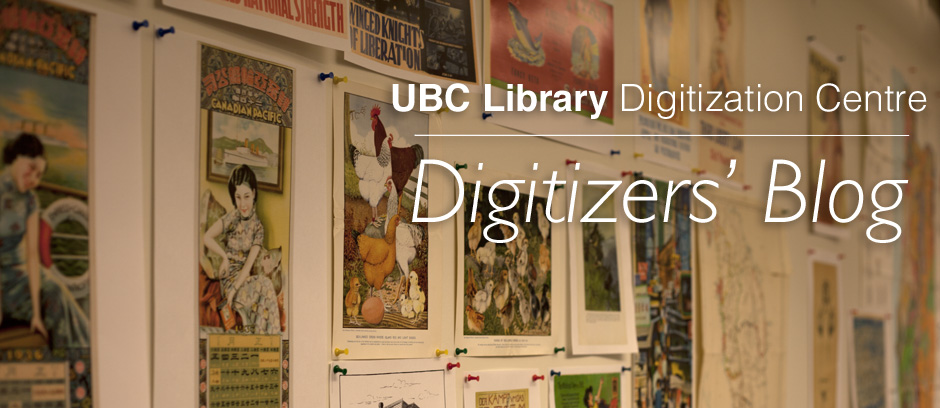 Here at the Digitization Centre we are fascinated and excited by the vast amount of primary-source material that our digitization work exposes us to.  Whether a document of historic significance, a beautiful illustration, or even a particularly fine typeface, we are frequently amazed by the materials we're working to share with the world.  So much so, that not only will we crowd around to ogle a particularly interesting specimen, but we've started decorating our workplace with copies of some of our favorites.  But why stop there?  Surely, we can't be the only ones geeky enough to appreciate such "gems" in our collections, and so we've decided to share them here with you.  Below you will find some of our favorites, hand-picked by staff from both existing and upcoming collections.  We hope you enjoy them as much as we do!   TIP: To view full resolution versions of the images on any size screen, click to enlarge and then right-click and select "open image in new tab."
---
Posted on January 10, 2018 @11:41 am by Alexandra Kuskowski
Posters are meant to grab your undivided attention. The colors, the pictures, and the words are all arranged for maximum shock value. Few posters demonstrate the arresting perfection of the medium better than the eye-catching Berkeley 1968-1973 Poster Collection.
The 250 posters, from UBC's Rare Books and Special Collections, are a small but insightful slice of history. In the decades leading up to the 1960-1970s posters were a means of state propaganda as well as popular protest. The art of the poster had evolved into an effective method of seizing the immediate attention of the passerby and requiring them to interact with an idea, thought or feeling.
By 1970 sharing thoughts and feelings were the name of the game. The US President Nixon had declared that US forces would enter Cambodia, something that expanded the already controversial Vietnam War.
Student opposition to this was widespread, and many student leaders called for a national student strike against the war. Their student activism significant part of a worldwide movement at that time, and the posters in this collection were an outgrowth of that activism. Some of the posters have acronyms for the student groups that produced them, like 4973 and RAPE.
Many of the posters themselves were posters were produced on found material- from computer paper such as used continuous form paper, poster, or cardboard paper.
Check out the rest of the colorful collection! Get some peace and love into your soul- for free!
No Comments
---
Posted on January 10, 2018 @12:05 pm by Alexandra Kuskowski
This week we're exploring one of our most exciting projects and developing partnerships right now –the digitization of PRISM international!
PRISM international one of the oldest literary magazines published here in Vancouver by the Creative Writing Program at UBC. A quarterly magazine established way back in 1959, PRISM's  goal, as stated on their website, is to "publish the best in contemporary writing and translation from Canada and around the world." Writing from PRISM has been featured everywhere from Best American Short Stories to The Journey Prism Stories. Past published authors including Canadians like Margaret Atwood and Michael Ondaatje, as well as famous international authors like Gabriel Garcia Marquez, and Seamus Heaney.
With such amazing material, we are thrilled to be working with PRISM on digitizing their entire published collection! We even have a special intern assigned to the task – Yoav!
Yoav began by dis-binding, also known as chopping up, the more available copies of PRISM, before feeding them into a special multipage scanner – if you're interested in seeing the process behind this check out our blog here.
The rarer copies were scanned on a larger scanner that is set up to take pictures of each page without breaking the magazine into pieces.
More recently Yoav has begun to work on Photoshop editing each page for optimal quality and to input metadata on each magazine. Good metadata is important! One might even call it– A Love Note to the Future.
All this will take awhile but, according to Yoav, it's definitely worth the wait. "This is one of the most exciting projects to work on… with really interesting visual art, and poems. You just stumble across cool things." He explained. "When I was scanning I even made a short list of things I'd like to read later [from PRISM]."
When all that work is finished a huge treasure trove of art, poetry, and stories from around the globe and closer to home will be available online!
Even better, PRISM is going to be one of our ongoing partnerships. This means that each time a new PRISM magazine comes out we will be digitizing that and adding it to our collection. So be a peach and keep checking back for more information!
No Comments
---
Posted on January 10, 2018 @11:20 am by Alexandra Kuskowski
Maybe you've heard the buzz here. Maybe you've got a hankering for learning a little more about ancient dinner invitations or old papyri from Egypt- either way you've come to the right place! This week's blog is all about the newly digitized ancient artifacts up on our website right now!
The two ancient papyri pieces, believed to have originated in the second century AD, have been stored at one of our favorite collaborators, Rare Books and Special Collections, since 1932. Historian (and skilled papryrologist!) Arthur Edward Romilly Boak, in conjunction with the University of Michigan where he was a professor, donated the papyri in 1932 to the UBC Library.
The first scrap is an invitation to a Sarapis dinner – a.k.a a dinner honoring the Egyptian God Sarapis who represented both abundance and resurrection.
The second is a fragment of a letter from an anonymous writer to his/her mother. As with all letters written to mothers, the writer promises come visit soon and in turn asks the mother visit the writer at their home as well.
These letters remained under wraps until 2014 when Classics PhD student Chelsea Gardner went to RBSC to check out out more about Stone to Screen projects here!
One of the genius (is genius-superhero going too far?) librarians at RBSC told Gardner about the papyri. Gardner alerted Professor Toph Marshall to the papyri, and he has since written a paper on them and submitted it for publication.
These papyri are part of a collection known as Ancient Artifacts. Stay tuned for more information on the cuneiform tablets, mentioned above, coming soon!
No Comments
---
Posted on January 10, 2018 @12:16 pm by Alexandra Kuskowski
UBC library is turning 100 this year! To celebrate we're going deep into the archives- the digital archives. Learn a little more about the history of the library, specifically UBC's first librarian John Ridington, through the magic of UBC Archives Photograph Collections! Don't worry, he's a pretty interesting dude. You can even visit his room in the Barber Center today- the Ridington Room (also sometimes referred to as the the Harry Potter room… for looking like something out of Hogwarts.)
Ridington was hired in August 1914 to oversee UBC's collections as "acting librarian." In 1919 he was promoted to University Librarian- a post he would keep until his retirement in April 1940. But those are just the facts – word on the street a.k.a information gathered by the very reputable UBC Archives – was that Ridington was a bit of an authoritarian dictator, nicknamed by the students as "King John." "King John's Castle" was of course, the Main Library at UBC, a place where he would frequently issue decrees to keep his subjects in line.
The students took to making fun of his pronouncements and made fake notices issued by King John. One of the favorites in 1930 was the posted note: "Due to the shortage of library janitors, you are requested to walk only on the black tiles."
In fact many students believed the note and attempted to comply!
He might have been a strict librarian but, man, he was a librarian who knew how to take a good picture. Check out these photos from the archives–
Click on the pictures to check out the digital archives version and the check out more cool digital photos of UBC it's library over the years here. If you want to learn more about Ridington his family fonds are here. Finally learn more about celebrating 100 years of UBC library here.
No Comments
---
Posted on January 10, 2018 @12:26 pm by Alexandra Kuskowski

One of our oldest books, the Logroño Antiphonary, is getting a digital restyling!
Part of the Western Manuscripts collection from Rare Books and Special Collections, the Logroño Antiphonary*, known more commonly as the Spanish Chant Manuscripts, is a gorgeous collection of Gregorian chants, hymns and psalms complied by the Catholic church in Logroño, Spain. The text is what is known as an illuminated manuscript, meaning it has many examples of beautiful drawings often decorated with burnished gold foil.
Originally dating from sometime between 1575 and 1625 the Spanish Chant Manuscripts are magnificent in their aged elegance. The first digital copies are much younger than that. They were created only six years ago with a single DSLR camera! But like any beauty of great repute time wears on and staying ship shape requires a few touch-ups.
So at DI we are re-imaging each page in the book at a higher resolution with more sophisticated technology.
Hey, what's this "more sophisticated technology"?
We place the book on a large flatbed. Using what's known as a TTI scanner we photograph each page very carefully. The TTI has two banks of lights, which illuminate the image on a flatbed below. The camera is above the flatbed.
The camera is set up to take four pictures at once. Through the magic of the image-processing program Capture Flow, the four images are stitched together for a more complete image. After editing in Adobe Photoshop the images are uploaded to the web so you can access them!
Right now we are still in the picture taking and image-editing phase. We'll keep you updated when these new beauties will be uploaded to the Internet! But if you can't wait check out the older images here. Then take a look at Western Manuscripts collection!
*In case you are wondering, as I was, what an antiphonary means- it is a book that contains religious choral music sung in a 'call and response' between two choirs. Which is, go figure, exactly what the Spanish Chant Manuscripts are!
No Comments
---
Posted on January 10, 2018 @11:48 am by Alexandra Kuskowski
Every blog reader loves an inside scoop. Here is a heads-up on one of our upcoming projects!
The UBC Library Digitization Centre and CiTR 101.9 FM, the Student Radio Society of the University of British Columbia, are at it again! We've got another collaborative project in the works, with support from the BC History Digitization Program and the UBC Centennial Initiatives Fund. This time we are digitizing CiTR's collection of 800+ reel-to-reels and making them available for future online downloading by YOU.
This collection of rare Vancouver-centric recordings spans in-house radio broadcasts on CiTR from 1949 to the late 1990's. Recordings include live music performances, radio documentaries, public service announcements, event broadcasts, as well as news, arts, and culture reports. When this project is fully implemented hours of amazing music and voice recordings will be online just waiting to be discovered!
So how is it done? Where do you start?
All of the broadcast recordings are stored on reel-to-reel tapes. Most of them look like this:
CiTR hired an audio engineer to transfer the information from the reel-to-reel's magnetic tape, on which reel-to-reels are recorded, to a digital media format. In real time the audio engineer used a reel-to-reel playback machine to record through a computer. The tapes were recorded in a high quality sound format called digital broadcast wav format, which can be read by the computer.
Then what? Can we listen to them now?
Nope! Not yet. The broadcast format wav (or Waveform Audio File Format) files are often way too big to download. The recorded wav files can be a gigabyte or more! Its got to be transformed into something smaller- an MP3, which is often less than 100 megabytes.
How long does that take?
A surprisingly long time! Here at the digitization center we have someone look through and listen to the audio.
Then they revise the audio contents for sound quality in a free open-source audio editing program called Audacity. Using Audacity they adjust weird noise levels, and edit out copyrighted audio.
The next step is to take the available file information and check it. This is done by comparing the information they have about the recording – the metadata – against  Discorder, a printed magazine, which reported the who, what and when of most of the broadcast on CiTR. They also check the information against the original reel-to-reel tape.
Finally they create MP3 access files that are a more manageable downloading size.
With over 700 reel-to-reel tape recordings this is a big job! So stay tuned, we'll let you know when you can get your hands on recordings of everything from that local hipster band just waiting to be rediscovered (by you!) to vintage Sleater Kinney!
Want to learn more about the music related stuff we've got? Check out Discorder, a magazine devoted to in-depth coverage of Vancouver's independent music scene and published by CiTR 101.9 FM. Then look at our blog about our digitization of Discorder.
No Comments
---
Posted on January 10, 2018 @11:22 am by Alexandra Kuskowski

Cartographers and mapmakers have been inspired since time began by the tall tales the slink out of the sea via mariners and shipwreck survivors. From giant man-eating whales, to mischievous mermaids, to indescribable monsters of another age, these beasts have crept into maps where they are least expected. Many were included to decorate maps and illustrate unexplored regions.
The maps of UBC's Digital Collections are no exception. One of the longstanding digital collections, the Andrew McCormick Maps & Prints Collection, has quite a few beasties in fact. Check out a few of the fiends hidden among the waves below. Click on any of the pictures to be taken to the digitized map!
Then go exploring the digital archive for yourself. See if you can spot a sea monster! (just hopefully not in English Bay)
1 Comment
---
Posted on September 10, 2015 @2:30 pm by Alexandra Kuskowski

We've posted about the Uno Langmann BC Historical Photograph Collection before here, here, and here, but now we've got even more to talk about!
Like, for example, this newly uploaded photo:
In case you want a refresher (and to know where this photo originates) – The Uno Langmann BC Historical Photograph Collection, with over 18,000 photographs, was donated by Uno Langmann a local Vancouver art dealer and his wife. It is considered an amazing collection of early photography, and local provincial history. The photos themselves span the ages – from 1850 all the way to the 1970s!
Today we want to announce lots of new albums from this collection have gone live! From only two albums last year at this time we now have more than 55 albums up for exploration- with more to come!
Take a bite out of the Uno Langmann BC Historical Photograph Collection! Click on any of the pictures to be taken to the albums.
Get a look into daily life…
Local history is everywhere in these photos too, from the fire at Pier D in 1938, to the building of the Lions Gate Bridge.
Hope these images we've collected wet your appetite for more!
2 Comments
---
Posted on January 7, 2016 @10:52 am by Alexandra Kuskowski

The One Hundred Poets Project is online and ready to be explored!
Originating from the personal collection of Professor Joshua Mostow from the UBC Asian Studies department, this project was made possible through generous funding from the Toshiba International Foundation (TIFO) and collaboration between the UBC Asian Studies department, Asian Library, Digitization Centre, Rare Books and Special Collections and Technical Services.
The digital collection consists at present of 55 books and 13 different card sets relating to the poetry anthology Hyakunin Isshu 百人一首 (One Hundred Poets, One Poem Each, hereafter HNIS), edited by the famous poet and scholar, Fujiwara no Teika (1162-1241) in the 1230s for his son-in-law. It is unquestionably the most famous poetry anthology in the Japanese tradition.
Each of the poems, by 100 different poets, is referred to as waka, or classical Japanese poetry. The anthology proved so popular that a card game, called Uta-garuta, was based on it. Parts of the poems written on each of the cards and players match the sections of the poems together.
The items in this collection originate many years after the original, circa 1615-1868 during the Japanese Edo period, thus proving the enduring interest in the Ogura Hyakunin Isshu.
When you explore the collection take a look at the surprising and amazing items to discover. One of the exciting benefits of this collection is that it is also searchable in Japanese!
Check out the beautiful artwork that accompanies much of the text…
Or take a look at the hand painted art in the front of many of the books…
Or examine the cool wooden cards that make up this collection!
Want to learn more?
You can check out more about the digitizing of this project here in an earlier blog post!
This is just Phase I! The digital collection was created as part of Phase I of a larger project and is centered around a collection of largely Edo period (1615-1868) material focusing on HNIS. Upcoming work on this project (Phase II) includes more items lined up for digitization and more information being added to our digitized card sets. So don't go away, stay tuned for more!
We've got a lot of related material in digital collections of UBC! These works will complement the library's other major Japanese digital collection, the Beans Tokugawa Map Collection—one of the three most important collections of Edo-period Japanese maps in the world.
No Comments
---
Posted on June 24, 2015 @3:16 pm by Alexandra Kuskowski
We've talked a lot about how we digitize, but have you ever wondered how we decide what we digitize? There are a lot of criteria for a collections digitization – durability, funding and interest are some – but one criteria point for digitization that is less well known is if the collection will help people learn something new.
One of the collections going through this process right now is the Trutch Family Fonds – currently stored at UBC's Rare Books and Special Collections. Much of Trutch collection are letters written to and from Joseph Trutch who was a well-known political figure in colonial times in Victoria, B.C. Today he is particularly noted for his hostile view of First Nations people, and his push for their forced assimilation. The collection includes many of Trutch's personal letters. Scholars today review his letters for insight into the common prejudices of the time. Some of which look like this:
And some of which look like this:
Known as "crossed letters" the second set of letters is written in a style called cross writing or cross-hatching. It was once a common practice to have letters that contained two sets of writing written over one another. This usually meant the letter writer wrote to the bottom of the page, turned the paper, and kept writing!
During the early days of the postal system this was done to save money on paper and expensive postage costs. Many postal systems charged by the pages per letter or even the size of the paper.
It might be hard to read at first but many find they adapt after a while. Once you become familiar you learn to ignore the other words. Or at least we hope that's what happens!
Thankfully a relative of Trutch spent time and energy transcribing many of the letters, something that can be accessed with the collection at RSBC. The letters are also widely known and cited in historical research sources than many things at RSBC. It helps too that most people don't usually want to squint through the actual letter.
The counter argument, for digitization, is Joseph Trutch was a well known historical figure. Many more people might enjoy seeing the letters digitally and comparing them side-by-side with the transcription.
Keep checking back! You never know, maybe someday you too can go cross-eyed reading cross-hatching.
1 Comment
---