Here at the Digitization Centre we are fascinated and excited by the vast amount of primary-source material that our digitization work exposes us to.  Whether a document of historic significance, a beautiful illustration, or even a particularly fine typeface, we are frequently amazed by the materials we're working to share with the world.  So much so, that not only will we crowd around to ogle a particularly interesting specimen, but we've started decorating our workplace with copies of some of our favorites.  But why stop there?  Surely, we can't be the only ones geeky enough to appreciate such "gems" in our collections, and so we've decided to share them here with you.  Below you will find some of our favorites, hand-picked by staff from both existing and upcoming collections.  We hope you enjoy them as much as we do!  
TIP: To view full resolution versions of the images on any size screen, click to view in Open Collections.
---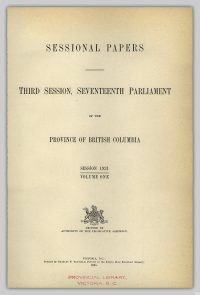 Posted on January 8, 2014 by mmlam
Digital Initiatives in partnership with Humanities and Social Sciences and the Legislative Library of British Columbia has completed digitization of the first 10 years (1876-1886) of the British Columbia Sessional Papers.  The Sessional Papers are important provincial legislative documents that capture the economical, historical, political and cultural atmosphere of British Columbia history. The collection includes […]

Posted on by mmlam
A former player on the U.S. National Croquet Team, Tremaine Arkley started collecting illustrations, engravings, photographs, cartoons, paintings and other materials around the game of croquet with the sole idea of "saving the history of the game through art", as he said in a interview with Croquet World Online (http://www.croquetworld.com/people/collecting.asp). Now that a large selection […]

Posted on December 19, 2013 by mikec
'Tis the season to unearth a few Christmas themed gems from our digital collections. Happy Holidays from the digitization team!

Posted on November 29, 2013 by mikec
In partnership with Creston & District Musuem & Archives we have added issues of the Creston Review from 1909 to 1935 to the BC Historical Newspapers. The Creston Review was established in 1908 by J. J. Atherton, and was the first newspaper serving the Creston Valley. For many years, the Review was Creston's […]

Posted on November 27, 2013 by esquin
The Digital Initiatives Unit has digitized thousands of rare books and images, and still, in the midst of all these fantastic items, many images stand out and never cease to amaze us. We had not thought of this series of 12 photographs of Igor Stravinsky in a while, and when it was mentioned during a […]

Posted on November 15, 2013 by Rob
In January 2014 the UBC Library Digitization Centre will start a project to digitize titles from its Asian Library rare book collection. The project is a collaboration between the UBC Library and the Sun Yat-sen Library of Guangdong province in China. There are many rare and unique titles in the collection which makes is of […]
Posted on November 5, 2013 by esquin
The Spanish Chant Manuscript is one of our oldest digitized books, dating from sometime between 1575 and 1625. Chant manuscripts from Renaissance Spain can be richly illuminated, like this particular one, which features gold leaf and a very ornamented design. At the time, most antiphonaries (or choral books) used a four-line staff for the notation […]

Posted on October 21, 2013 by esquin
Gender and social justice researchers worldwide –as well as the general public interested in the feminist movement in Canada– will be happy to know of this digital collection that is now freely available online: Kinesis: News about women that is not in the dailies, published by the Vancouver Status of Women (VSW) from 1974 to […]

Posted on October 11, 2013 by esquin
Beyond our personal reservations regarding evangelism and the missionary enterprise, Emma Crosby Letters collection is exceptionally interesting because it lets us see two very different perspectives on how women lived in the 19th century and on their personal struggles. On one side, we can see how the gender limitations of the time made it impossible […]

Posted on October 1, 2013 by esquin
Dorothy Burnett was the first independent artisan bookbinder to set up shop in Vancouver. Her friendship with Anne Yandle, previously head of Special Collections at UBC, compelled Burnett to choose our library to house a rich collection of 224 of her most treasured artifacts used in her bookbinding career. As an example of the Dorothy Burnett […]