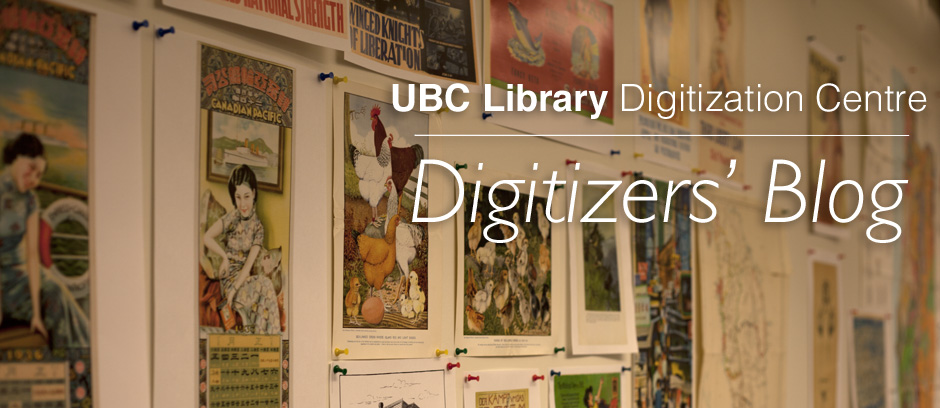 Here at the Digitization Centre we are fascinated and excited by the vast amount of primary-source material that our digitization work exposes us to.  Whether a document of historic significance, a beautiful illustration, or even a particularly fine typeface, we are frequently amazed by the materials we're working to share with the world.  So much so, that not only will we crowd around to ogle a particularly interesting specimen, but we've started decorating our workplace with copies of some of our favorites.  But why stop there?  Surely, we can't be the only ones geeky enough to appreciate such "gems" in our collections, and so we've decided to share them here with you.  Below you will find some of our favorites, hand-picked by staff from both existing and upcoming collections.  We hope you enjoy them as much as we do!   TIP: To view full resolution versions of the images on any size screen, click to enlarge and then right-click and select "open image in new tab."
---
Posted on January 27, 2014 @1:29 pm by Schuyler Lindberg
Unlike the majority of the content on the Digitizers' blog, this post does not involve pretty pictures or interesting nuggets of historical information.  Instead, it will cover a very different aspect of the work performed in the Digital Initiatives unit: Metadata.  To be more specific, descriptive metadata; less glamorous perhaps than the maps and images we typically share in this forum, but without a significant amount of behind-the-scenes metadata work, searching for a particular image in our digital collections would be akin to looking for a needle in an enormous pile of very-similar needles.  While the following procedures will  probably be most interesting to our colleagues in libraries, archives, and other information science disciplines who deal with these kinds of issues on a daily basis, we hope also to shed some light for the average user on both how and why we spend a significant amount of our time developing and implementing useful metadata for our collections.
BC Bibliography Metadata Overview
The BC Bibliography collection is inspired by (and based closely on) a three volume printed bibliography of the same name.  In a sense, these volumes contain only metadata.  That is, the title, author, and descriptive data included in the printed bibliography serves as a guide for locating the texts and documents that it refers to.  
In much the same way, the metadata we create provides a means for users to locate the digital documents in our collections.  The metadata schema for the BC Bibliography digital collection is designed specifically to supplement full text searches with results for related terms and to provide a faceted browsing experience in which users can select terms from several categorical lists to narrow down their results.
Preparing the metadata from the printed bibliography for use in an online environment is typically accomplished with what is known in information-professional circles as a "crosswalk," which matches metadata fields from one  "standard" schema to another.  While the name calls to mind a nice clear path, in the real world things are almost never that simple.  Fields from one schema seldom all match up 1:1 with the fields in the desired schema meaning that somehow data will either need to be split from a single field into multiple fields or visa versa. In practice this is akin to fitting a square peg in a round hole.
The final metadata for the BC Bibliography digital collection involved crosswalking three (or more) separate metadata sources into one.  Because we wanted to provide the most complete metadata possible we decided to include not only the data from the original print bibliographies (which are missing subject data crucial to the desired faceted browsing experience), but also data from the contributing institution's library catalogue record and the most complete record available through WorldCat (an industry-standard catalogue record aggregator).  As one might imagine, this presented a host of issues including both the basic logistics of how to collect and combine all this data, and how to handle the numerous duplicates and inconsistencies inherent to mashing together so many disparate sets of data.  Furthermore, the Library of Congress subject headings we were able to collect through this method proved unsuitable for the type of faceted browsing planned for the BC Bibliography collection, and needed to be split into constituent phrases (rather than the familiar dash — separated — format).  Ultimately we were able to combine these records, split and reformat the subject fields, normalize the data, and remove all duplicates to end up with a properly formatted tab-seperated text file for batch uploading into our CONTENTdm based collection. If you'd like to know more about how it was all done, read on…
---
Posted on February 22, 2013 @4:06 pm by Laura
Every time we open a new box from the Chung Collection to digitize, it's always exciting to see what's in store for us. Sometimes the boxes are filled with Canadian Pacific pamphlets about train travel across the Rockies or vacation trips for "couples only" to Mexico, or menus from the Empress Hotel or Sporting Maps. 
In Box 219, we found the usual array of items from menus to shuffleboard game rules, but what sets this box apart from some of the others is that every single item relates to the CP ocean liner the Empress of Britain.
The Empress of Britain was launched in 1931 as the largest passenger ship in the CP fleet and traveled the world in first class style. Not only was she launched by British Royalty, but also was host to HM King George VI and Queen Elizabeth at the end of their Canadian tour in 1939. The Empress of Britain sank in name of "King and Country" in 1940 after she had been converted from a luxury ocean liner to ferrying troops across the Atlantic Ocean as part of the war effort.
The items within Box 219 cover many transatlantic and world wide sailings, however it is possible to pick out items from an individual sailing including passenger lists, drink lists, programs of entertainment, luncheon menus, abstract logs of sailing, and personal letters written by passengers aboard the ship.  With all this we are able to create a profile of what life aboard the Empress of Britain was like, including weather throughout each sailing, which prominent people were on board and what they would eat while dining with the ship's Captain. Meanwhile, other documents allow us to compare this with what the third class passengers could expect for their meals.
Items like these highlight the depth of the Chung Collection and give us a glimpse of life in a different era. The individual items, although interesting in isolation, become much more meaningful when correlated with other material within the collection.
Here are a few examples from Box 219.
No Comments
---
Posted on February 14, 2013 @10:56 am by Larissa
It's 1912 and you are reclining on your Canadian Pacific Railway seat having just finished a hearty lunch of roast beef and custard pudding. You gaze out at the prairie scenery and think ahead fondly to your family waiting for you at home – it's been a long trip and you are looking forward to seeing them in 2 day's time.
Then you open up the newspaper and spill your coffee, just a little bit, as you notice the date.  February 14th – you forgot Valentine's Day.
Never fear!  Your trusty CP Rail porter can organize a telegram to be sent at the next stop, to be delivered by a uniformed messenger (location dependent) and enclosed in an attractive envelope.  And if you aren't the poetic type, take advantage of one of these specially prepared texts to declare your love:
I picked my Valentine for life, sweetest and fairest of all, my wife.
Prefer something a little more dramatic?
Faint heart, they say, ne'er won fair lady. My heart is strong for you this Valentine's Day.
Or maybe it's for someone that you're still wooing:
Be my Valentine. Say you care. Give all those other guys the air.
And there's always this one. Perhaps racier-sounding today than in 1912:
You're dearest to me of all your sex. All I can say is x x x.
Happy Valentine's Day!
No Comments
---
Posted on May 25, 2017 @3:49 pm by mikec


The BC Historical Newspapers portal is one of our most heavily used digital collections. Occasionally we are delightfully surprised to find out about the creative ways people find to use the collections. Two of our favourite projects come to us courtesy of the great work by folks at Heritage Vancouver and the Revelstoke Museum & Archives: Heritage Vancouver used the Daily Building Record to locate previously missing 1912 Vancouver building permits for the Heritage Vancouver Society Building Permits Database Revelstoke Museum & Archives is using several BC Historical Newspapers titles in the history of snow and avalanche research for an upcoming exhibit. In the process, they are finding information on previously unknown avalanche events and will be adding them to the Canadian Avalanche Centre Database Have you used the BC Historical Newspapers for your own project? Let us know by leaving a comment below!
New in BC Historical Newspapers
Over the past few months, DI staff have been quietly adding issues to the BC Historical Newspapers portal. Since the site first launched in November 2011 we have added 9 new titles in addition to completing the remaining partial runs of 9 of the original titles. In all we have added an additional 8000 issues consisting of over 42,000 pages of community newspapers, nearly matching the original 45,000 pages.
Additional Issues added

| | |
| --- | --- |
| Cumberland News | 1897-1915 |
|  District Ledger (Fernie) Various other titles | 1893-1919 |
|  Boundary Creek Times (Greenwood) | 1896-1911 |
|  Ledge (Greenwood) | 1906-1926 |
|  Moyie Leader | 1898-1911 |
|  Economist (Nelson) | 1897-1906 |
|  Miner (Nelson) | 1890 (not 1891)-1898 |
|  Tribune (Nelson) | 1892-1902 |
|  Daily Building Record (Vancouver) | 1912-1914 |
Recently added titles
Anaconda News
1901-1905

Coast News (Gibsons)

(Courtesy of Sunshine Coast Museum and Archives)

1945-1977, 1983-1989
Enderby Press & Walker's Weekly (various other titles)
1909-1921
The Independent (Vancover)
1900-1903
Western Call (Vancouver)
1910-1916
Orchard City Record (Kelowna)
1908-1911
Nicola Valley News (Merritt)
1910-1916
Revelstoke Herald
1897-1905
What's next?
A pilot project to move the digitized back issues of UBC's student newspaper, the Ubyssey from its current home to the BC Historical Newspapers portal has been completed. Starting later this year, we will begin adding issues from 1918-2010. Thanks to the support from a very generous donor, we will also begin adding over 100 titles of early community newspapers in 2013-2014. Coming up:
Upcoming additions (subject to change)

| | |
| --- | --- |
| Agassiz Record | 1923 |
| Armstrong Advance and Spallumcheen Advocate | 1905-1906 |
| West Fork News (Beaverdell) | 1901 |
| Bennett Sunday | 1899-1900 |
| Brooklyn News | 1898 |
| Radium (Canford) | 1917 |
| Cascade Record | 1898-1901 |
| Chase Tribune | 1912-1914 |
| Chilliwack Free Press | 1911-1912 |
| Fraser Advance (Chilliwack) | 1907 |
| Surrey Times (Cloverdale) | 1895 |
| Coalmount Courier | 1912 |
| Review (Columbia) | 1899 |
| Review (Courtenay) | 1912-1918 |
| Weekly News (Courtenay) | 1892-1896 |
| Cranbrook Herald | 1898-1927 |
| Prospector (Cranbrook) | 1905-1915 |
| Crofton Gazette & Cowichan News | 1902 |
| Islander (Cumberland) | 1910-1916 |
| Cumberland Islander | 1917-1931 |
| Duncan Enterprise & Vancouver Island Advertiser | 1900-1903 |
| Echo (Duncan) | 1908-1909 |
| Advance (Fairview) | 1894 |
| Lardeau Eagle (Ferguson) | 1900-1904 |
| Glenora News | 1898 |
| East Kootenay Miner (Golden) | 1897-1898 |
| Golden Era | 1893-1902 |
| Times (Golden) | 1907-1909 |
| Grand Forks Sunday | 1914-1920 |
| Evening Sunday (Grand Forks) | 1902-1910 |
| Grand Forks Miner | 1896-1898 |
| Grand Forks Sun & Kettle Valley Orchardist | 1911-1913, 1921-1932 |
| Daily Times (Greenwood) | 1900 |
| Greenwood Miner | 1899-1901 |
| Omineca Herald (Hazelton) | 1908-1912 |
| Omineca Miner (Hazelton) | 1911-1918 |
| Hazelton Queek | 1880-1881 |
| Hosmer Times | 1910 |
| Kamloops Wawa | 1901-1917 |
| British Columbia News (Kaslo) | 1897-1898 |
| Evening Kootenaian (Kaslo) | 1898 |
| Kelowna Record | 1912-1920 |
| Keremoeos Chronicle | 1908-1909 |
| Delta News (Ladner) | 1902-1908 |
| Delta Times (Ladner) | 1903-1914 |
| Lillooet Advance | 1911 |
| Prospector (Lillooet) | 1898-1917 |
| Marysville Tribune | 1901-1902 |
| Nicola Herald | 1908-1909 |
| Mission City News | 1893 |
| Despatch (Morrissey) | 1904 |
| Morrrissey Mention | 1916-1917 |
|  Morrrissey Miner | 1903 |
| Arrow Lake Advocate (Nakusp) | 1914 |
| Daily Telegram (Nanaimo) | 1893 |
| Nanaimo Courier | 1899 |
| Nanaimo Mail | 1896 |
| Westward Ho (Nanaimo) | 1886 |
| Daily Canadian (Nelson) | 1906-1908 |
| Kootenay Liberal (Nelson) | 1908 |
| Lowery's Claim (Nelson) | 1901-1906 |
| Nelson Daily Miner | 1898-1902 |
| Nelson Weekly Miner | 1899 |
| Slocan Mining Review (New Denver) | 1906-1908 |
| Slocan Record | 1911 |
| Daily News (New Westminster) | 1906-1914 |
| New Westminster Times | 1859-1961 |
| Pacific Canadian (New Westminster) | 1893-1894; 1916-1917 |
| Nicola Herald | 1905-1908 |
| Express (North Vancouver) | 1905-1912 |
| Okanagan Mining Review | 1893 |
| Penticton Press | 1907-1909 |
| Nugget (Poplar) | 1903-1904 |
| Loyalist (Port Essington) | 1908 |
| Port Essington Loyalist | 1909 |
| Star (Port Essington) | 1908 |
| Sunday (Port Essington) | 1907-1908 |
| Port Moody Gazette | 1883-1887 |
| North Coast (Port Simpson) | 1907-1908 |
| Prince Rupert Journal | 1910-1917 |
| Prince Rupert Optimist | 1909-1911 |
| Quartz Creek Miner | 1897 |
| Queen Charlotte Island | 1911-1914 |
| Kootenay Star (Revelstoke) | 1890-1894 |
| Mail Herald (Revelstoke) | 1906-1917 |
| Evening World (Rossland) | 1901-1904 |
| Industrial World (Rossland) | 1899-1901 |
| Prospector (Rossland) | 1895 |
| Saturday World (Rossland) | 1903 |
| Paystreak (Sandon) | 1896-1902 |
| Silverton | 1898-1901 |
| Slocan Drill | 1900-1905 |
| Cassiar News (Stewart) | 1919-1926 |
| Slocan Prospector (Kaslo) | 1895 |
| Lardeau Mining Review (Trout Lake) | 1904-1907 |
| Coast Miner (Van Anda) | 1900 |
| BC Labour News (Vancouver) | 1921-1922 |
| BC Lumberman (Vancouver) | 1904-1905 |
| BC Trades Unionist (Vancouver) | 1908-1909 |
| Vancouver Building Record | 1911 |
| Greater Vancouver Chinook | 1912-1917 |
| Labor Star (Vancouver) | 1919 |
| Leader-Advocate (Vancouver) | 1923 |
| Mt. Pleasant Advocate (Vancouver) | 1904-1907 |
| Red Flag (Vancouver) | 1918-1919 |
| Western Clarion (Vancouver) | 1904-1924 |
| British Columbia Tribune (Yale) | 1866 |
| Ymir Herald | 1905 |
| Ymir Miner | 1898 |
| Ymir Mirror | 1904 |
29 Comments
---
Posted on June 23, 2014 @11:28 am by Rob
From the book Picturesque Victoria, British Columbia. These photographic souvenir books were popular with tourism and development organizations from the late 19th and in to the 20th century.
Have a look at the entire book here. Part of the British Columbia Bibliography project.
No Comments
---
Posted on January 30, 2013 @9:38 am by pughchr
This image is from the Augustus Pemberton collection, one of two collections donated to Rare Books and Special Collections by John Keenlyside in 2008. We are currently digitizing both collections, and they should appear on the Rare Books and Special Collections website in the near future.
The image is of a calendar of prisoners who were tried at the Court of Assize in Victoria on January 4th, 1866. Of the five prisoners tried, three were discharged, one was sentenced to death, and one was sentenced to "penal servitude" for five years.
There are a number of interesting things in this picture. Two of the prisoners do not have last names written on the calendar, and instead have "An Indian" written after their first names. In one case the first name is in brackets, while "An Indian" is not. It is also worth noting that one prisoner, who was sentenced to death by the court, was ordered to be kept in jail (spelled "Gaol" on the calendar) until "Her Majesty's pleasure be known".
There is also a double entendre in the calendar. In the case of the first prisoner, who was been sentenced to death, the order to the jailor ("Gaoler") reads "To be executed". We assume this means that the jailor is to carry out the sentence, not that the jailor is to execute the prisoner.
No Comments
---
Posted on January 22, 2013 @3:56 pm by pughchr
One of our current projects is to digitize the David Conde fonds in partnership with the University of Tokyo. We are discovering first hand that David Conde was a hugely prolific journalist who had much to say about a lot of subjects. As such, the David Conde fonds contains vast quantities of manuscripts for books and articles.
Though he mostly wrote about Japanese and American politics and culture, he would sometimes venture into other subject areas as well. This page (click the image to enlarge) is the first page of an article about historical anthropology entitled "Mankind from Beginning to End". With a title like that, this article is a fitting example of how prolific David Conde was. We are half expecting to find an article called "Everything under the Sun", or maybe even "The Kitchen Sink"!
For more information on the David Conde fonds, click here. To see our previous blog posts about the David Conde fond, click here and here.
No Comments
---
Posted on October 21, 2016 @11:03 am by Peter D James
Update on project: Due to various reasons, the RG 10 Departmental Letterbooks Project did not move beyond the pilot stage.
The RG 10 Departmental Letterbooks Project is a collaborative venture between the University British Columbia Library and the University Library, University of Saskatchewan to digitize, describe and provide online access to a volume of Department of Indian Affairs correspondence, 1871-1880. This material is currently only available on microfilm issued by Library and Archives Canada.
These letterbooks include the outgoing correspondence from the Department of Indian Affairs, providing insight into department-wide policies and a national view of Indian Affairs. The documents are important to researchers throughout Canada as they cover Indian Affairs activities from the perspective of government agents from coast to coast in English and French.
The Departmental Letterbooks are an important complement to the heavily utilized and now digitized 'Red and Black Series' of RG-10. The potential user community for this digital content and associated metadata and user interface will include academic faculty, staff and students especially those working in the fields of Indigenous Studies, History, Political Studies, Law, Anthropology and Sociology; those in Aboriginal communities conducting research related to Aboriginal history, rights, land claims, the residential school experience and genealogy; and independent researchers. The online letterbooks would also be an excellent teaching tool for educators who want their students to make use of and appreciate the value of primary documents in their research on Aboriginal issues. The image accompanying this text provides an example of the work done on this content.
At present the two libraries have created approximately 5,000 records that include digital reproductions of the letter originals, image identification, descriptions and transcriptions of the letters' content, and subject analysis which will aid researchers' attempts to review the Department's activities across regions and over time. Project teams at the two libraries continue to review and revise the entries with a view to making a site public in 2014-2015.
No Comments
---
Posted on January 11, 2013 @1:38 pm by Larissa
A new year brings with it new projects, and we're excited to spotlight an upcoming digitization project with valuable local content.
Kinesis is an important local women's newspaper that was published by the Vancouver Status of Women organization from 1974 to 2001 (the early iteration of the publication is entitled Vancouver Status of Women).  It is the only Canadian national newspaper focusing on women and women's issues, and it is an invaluable and well-referenced resource for researchers in the area of gender, sexuality and social justice.
The project will digitize all 330 issues of the newspaper and make them freely available online in our digital collections.  We hope to have the publication up by summer … stay tuned for the launch announcement.
The material is held in the UBC Library's Rare Books and Special Collections division at HQ1101.V24 N49.
No Comments
---
Posted on January 22, 2013 @4:52 pm by Larissa
In order to track the digitization projects that are underway, we've put up a Gantt chart on our site that shows the timelines and overlap of all current projects. We will be updating this regularly, so check out our http://diginit.library.ubc.ca/projects page under the Current tab to view the most recent Digital Initiatives project list. Note that this chart reflects the longer-term (ie. 2 months or longer) projects only; projects with a timeline of a few weeks or less are not reflected.
More posts on project planning coming in the new year. Until then, happy holidays everyone!
No Comments
---