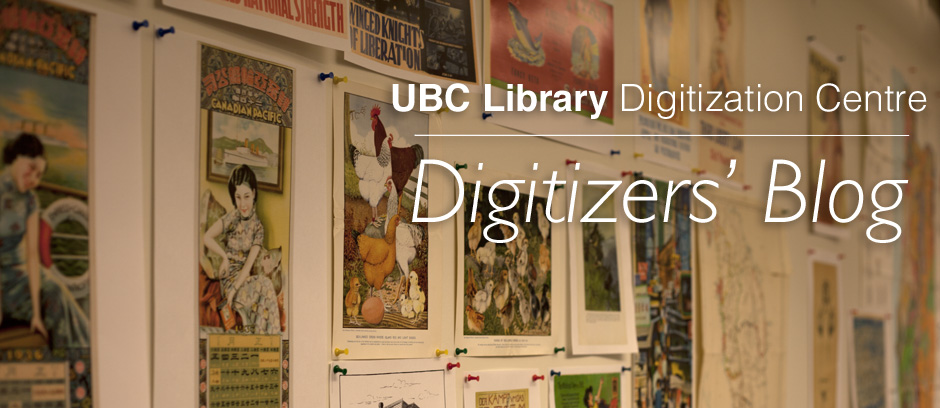 Here at the Digitization Centre we are fascinated and excited by the vast amount of primary-source material that our digitization work exposes us to.  Whether a document of historic significance, a beautiful illustration, or even a particularly fine typeface, we are frequently amazed by the materials we're working to share with the world.  So much so, that not only will we crowd around to ogle a particularly interesting specimen, but we've started decorating our workplace with copies of some of our favorites.  But why stop there?  Surely, we can't be the only ones geeky enough to appreciate such "gems" in our collections, and so we've decided to share them here with you.  Below you will find some of our favorites, hand-picked by staff from both existing and upcoming collections.  We hope you enjoy them as much as we do!   TIP: To view full resolution versions of the images on any size screen, click to enlarge and then right-click and select "open image in new tab."
---
Posted on October 1, 2013 @4:53 pm by esquin
Dorothy Burnett was the first independent artisan bookbinder to set up shop in Vancouver. Her friendship with Anne Yandle, previously head of Special Collections at UBC, compelled Burnett to choose our library to house a rich collection of 224 of her most treasured artifacts used in her bookbinding career. As an example of the Dorothy Burnett Bookbinding Tools collection, here you can see a French iron press used to apply uniform pressure for bookbinding.
After graduating from the Vancouver School of Decorative and Applied Arts, and getting a teaching certificate in art education, Dorothy Burnett set out for the Ontario College of Art and later on for the California College of Arts and Crafts in Oakland in the 1930s. Back in Vancouver, she opened the Craft Center Studio at the corner of Dunsmuir and Granville. She was 32 years old at the time.
With no interest whatsoever in mass production, Dorothy Burnett created handcrafted bindings that are regarded today as some of the best examples of the art of her trade. The slogan of the Craft Center Studio accurately describes her life's work and her approach not only to bookbinding, but to calligraphy as well: "Art in Form and Function".
Complementing the collection is Norman Amor's Dorothy Burnett: Bookbinder, published by the Alcuin Society in 2007, which can be found in UBC's Rare Books & Special Collections division (http://webcat1.library.ubc.ca/vwebv/holdingsInfo?bibId=3707625). After you take a look at Dorothy Burnett's bookbinding tools, in Amor's book you can find fascinating information on the bookbinder herself and on her work. This beautiful edition is stunningly illustrated with digitized covers and interior pages of the books bound by Burnett, for example of a 1935 edition of Barrie's Peter Pan, a 1937 edition of Elizabeth Barrett Browning's Sonnets from the Portuguese and an illustrated edition of Defoe's Robinson Crusoe.
No Comments
---
Posted on September 26, 2013 @7:01 pm by esquin
As a co-op student working at UBC Library Digital Initiatives Unit I get to see incredibly interesting materials that I would never see otherwise. Have I ever thought, for example, of reading anything by Daniel M. Gordon? No, never, not before digitizing his book Mountain and Prairie, A Journey from Victoria to Winnipeg, Via Place River Pass (http://resolve.library.ubc.ca/cgi-bin/catsearch?bid=1586120).
If you enjoy travel books like I do, you will love this jewel from 1880 that will soon be available in digital form in the BC Bibliography collection.
Gordon's book includes four outstanding maps and many beautiful illustrations. I want to share my favorite with you. Nowadays it is not that difficult to find a gorgeous, untouched spot like this one near Vancouver, is it?
No Comments
---
Posted on September 16, 2013 @2:40 pm by Rob
Metro Vancouver (previously the Great Vancouver Regional District), the regional political and corporate body representing 24 Lower Mainland authorities, has granted permission to the UBC Library to digitized a series of planing department land use maps. There are four series: 1965, 1971, 1980 covering the Lower Mainland and 1983 for the City of Vancouver only. These maps, as shown in the example above, are highly detailed representations of the various uses of land at the aforementioned time points. They are still heavily used by planners, historians, genealogists, attorneys and many others. The maps are being scanned at 600 pixels per inch using a Contex HD5450 wide-format scanner. They will then be edited, metadata created and uploaded in to our digital content management system. The maps are expected to be made available to the public in the first quarter of 2014.
No Comments
---
Posted on September 10, 2013 @3:15 pm by Rob
The UBC Library Rare Books & Special Collections division has as one of its many unique and fascinating collections the photographic material of the Fisherman Publishing Society. The Society published the bi-weekly newspaper The Fisherman for two important fishing unions: the Salmon Purse Seiners Union and the Pacific Coast Fishermen's Union. As you can see from this photograph the unions were very active in political issues of the day. In fact they involved themselves not only in fishing issues but many others such as labour rights and nuclear energy. The collection is currently having its photographs updated to the current standard for our digital collections which will provide users with enhanced resolution images. Visit the collection here.
No Comments
---
Posted on July 12, 2013 @2:42 pm by pughchr
They both play croquet, apparently!
Digital Initiatives is currently digitizing selected images from the Arkley Croquet Collection, which is housed in UBC Library's Rare Books and Special Collections.
The Arkley Croquet Collection contains more than 2,000 images taken from a variety of media and dates from the mid-nineteenth century to the early twenty-first century. As you can see from the images below, it contains some fantastic scenes.
We're expecting to have the collection up after this year's croquet season, so check back soon for all the croquet-related images you can imagine.

Hedgehogs playing croquet
No Comments
---
Posted on July 2, 2013 @10:47 am by pughchr
The annual reports of the Okanagan Historical Society are now available as a digital collection.  There are 69 issues in the collection, dating back to 1926 and continuing until 2007.  The issues are fully searchable online and available for download as PDF documents.
The Okanagan Historical Society has always been active in promoting the history of the Okanagan Valley and each year has published an annual report.  These reports form a well-researched, illustrated annual volume containing stories and pictures of families, individuals, businesses, events, tributes, obituaries and memories which define life in the Okanagan Valley.  Articles and stories are contributed by members and non-members and are an integral resource for researchers and pleasure readers all over the world.
The collection will be updated with a new issue annually, five years behind the publication of new issues.  For more information about the Okanagan Historical Society, or to order the more recent issues, please visit www.okanaganhistoricalsociety.org.
No Comments
---
Posted on June 24, 2013 @12:44 pm by pughchr
The Bullock Webster collection has been updated with new high-quality images. 
The original material, an album filled with watercolour and ink sketches, is very delicate. As such, the digital collection up until now was composed of scans we made of the old access photographs. Although we tried to make these scans represent the original sketches as accurately as possible, there were limits to how accurate they could be.
However, we recently re-photographed the original sketches, and the collection is now composed of these new high-quality digital photographs. As you can see from the images below, the new images represent the original sketches much more accurately.
A page-by-page digital copy of the original album can be found here. The individual images may be reached through links on the appropriate pages of the album. To access the links, scroll down to the field marked "Individual Images". (Note: no links appear under the front and back covers of the album.) The individual images can also be found by browsing the collection.
1 Comment
---
Posted on January 27, 2014 @1:30 pm by pughchr

For Aboriginal (Un)History Month, we are featuring our digital collection of the Delgamuukw trial transcripts, which document a landmark case in British Columbian and Canadian history. Click the link above to learn more.
No Comments
---
Posted on May 31, 2013 @11:38 am by pughchr
For Aboriginal (Un)History Month, we are featuring our digital collection of the Delgamuukw trial transcripts, which document a landmark case in British Columbian and Canadian history.
The Delgamuukw case began in 1984 with the Gitxan and Wet'suwet'en Nations claiming ownership and jurisdiction over 58,000 square kilometres of British Columbia, and ended in the Supreme Court of Canada in 1997. No decision was reached on the land claim; however, the Delgamuukw case set many important precedents in Canadian treaty negotiations. These precedents concern many legal questions, such as 
the definitions of aboriginal rights and title
the potential extent of aboriginal title across British Columbia
the potential conflicts between aboriginal title and private property ownership
the standing of aboriginal oral histories as reliable historical records
Furthermore, the Supreme Court decision helps to outline how conflicts between aboriginal and non-aboriginal people may be resolved through open and creative negotiations.
Our digital collection has been recently updated with additional metadata and high-quality PDF downloads, so that the documents may be more easily discovered and accessed. To see our collection, click here.
For a more in-depth summary of the significance of the Delgamuukw case, see the article here.
For UBC's research guide concerning the Delgamuukw case, click here.
No Comments
---
Posted on May 17, 2013 @3:33 pm by Rob
The "Tairiku Nippō" (Continental Daily News) was a predominantly Japanese language newspaper published in Vancouver, British Columbia from January 1908 through December 6, 1941, the eve of Pearl Harbor. One of the few sources of news for Japanese immigrants to Canada the newspaper is a unique cultural record of the Japanese-Canadian experience in Canada. The UBC Library, with the kind permission of Alfred Iwasaki, a descendent of the original publisher and owner Yasushi Yamazaki, is making this resource available again for a new generation of scholars. To view the ongoing project please visit the collection's site.
No Comments
---