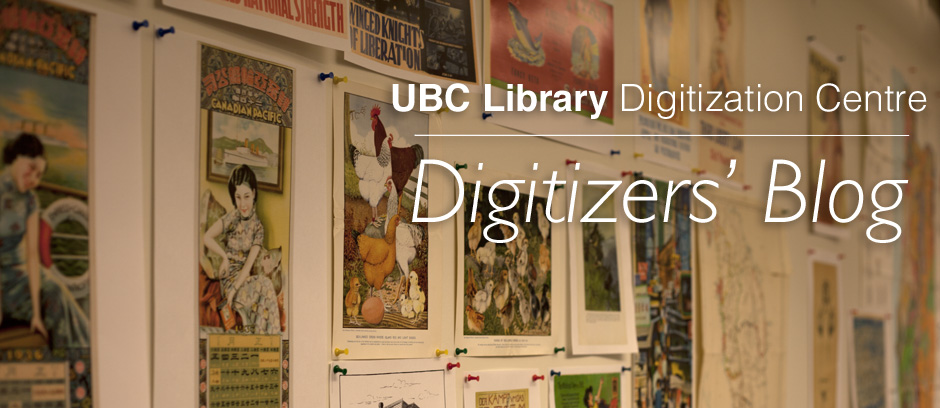 Here at the Digitization Centre we are fascinated and excited by the vast amount of primary-source material that our digitization work exposes us to.  Whether a document of historic significance, a beautiful illustration, or even a particularly fine typeface, we are frequently amazed by the materials we're working to share with the world.  So much so, that not only will we crowd around to ogle a particularly interesting specimen, but we've started decorating our workplace with copies of some of our favorites.  But why stop there?  Surely, we can't be the only ones geeky enough to appreciate such "gems" in our collections, and so we've decided to share them here with you.  Below you will find some of our favorites, hand-picked by staff from both existing and upcoming collections.  We hope you enjoy them as much as we do!   TIP: To view full resolution versions of the images on any size screen, click to enlarge and then right-click and select "open image in new tab."
---
Posted on August 27, 2015 @2:56 pm by Matthew Murray
Last month we announced that we had completed the second phase of our Arkley Croquet Collection digitization project. Some of the images in the collection are pretty amusing, so we thought it would be fun if we re-enacted some of them! I'm sure you'll agree that they're more or less identical



1 Comment
---
Posted on September 29, 2014 @1:18 pm by Matthew Murray
We're excited to announce that the second phase of our Arkley Croquet Collection digitization project has been completed! The collection was donated to the library by Tremaine Arkley, a former player for the U.S. National Croquet Team, and we've been scanning paintings, illustrations, engravings, advertisements, photographs, and lots of other items depicting croquet! Here are a selection of some of our favourite (or you can check out the entire collection here, or some earlier images from the collection on Flickr).
([A fan, depicting five women playing croquet])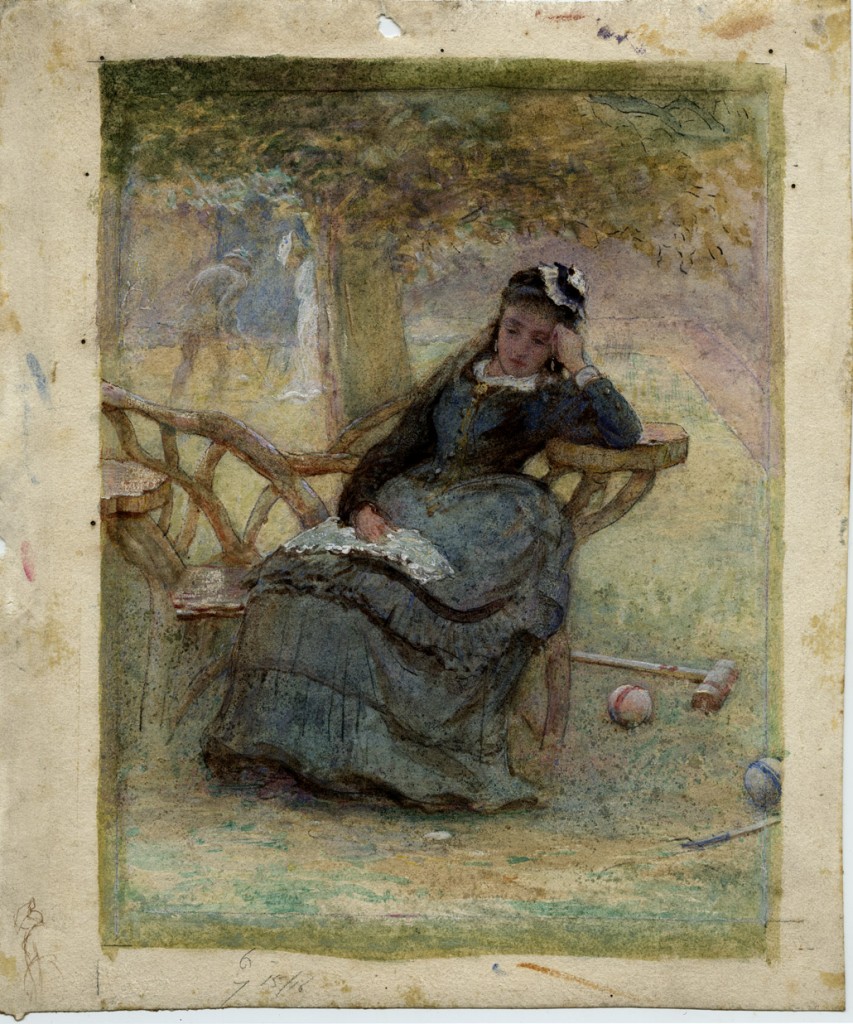 (Jacques croquet mallets and requisites)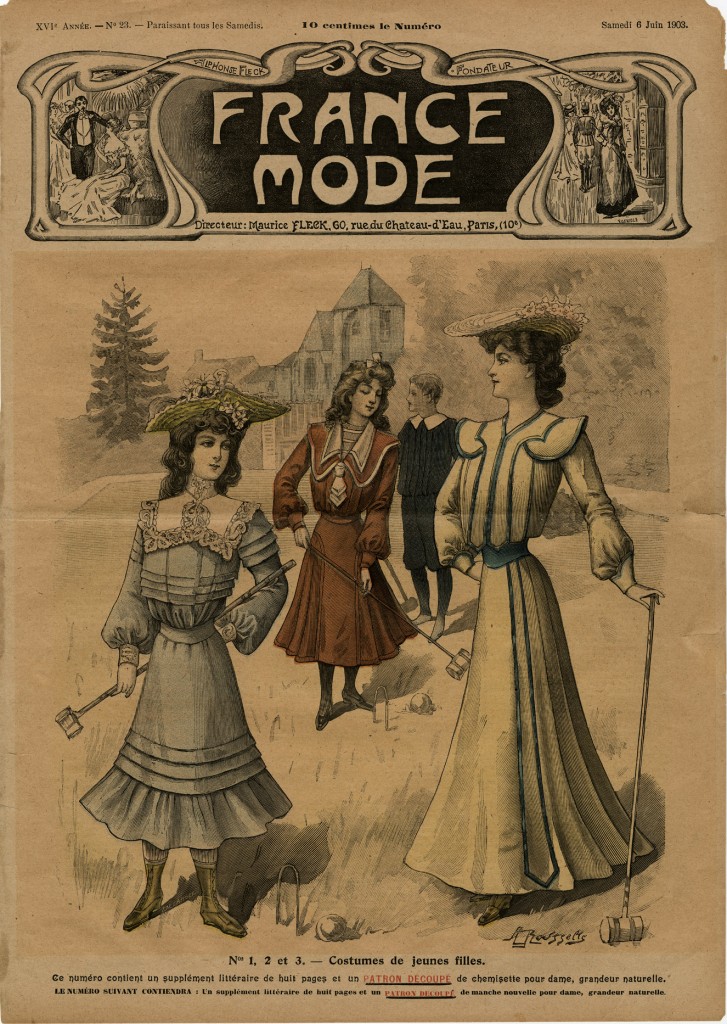 We've also redigitized all of the stereographs that were part of this collection, and every one of them now includes a 3D anaglyphic version of the image! Usually to see a stereograph in proper 3D you would need a special viewer, but now you can replicate the experience with simple red/blue 3D glasses. Here's a previous blog post we did on this process.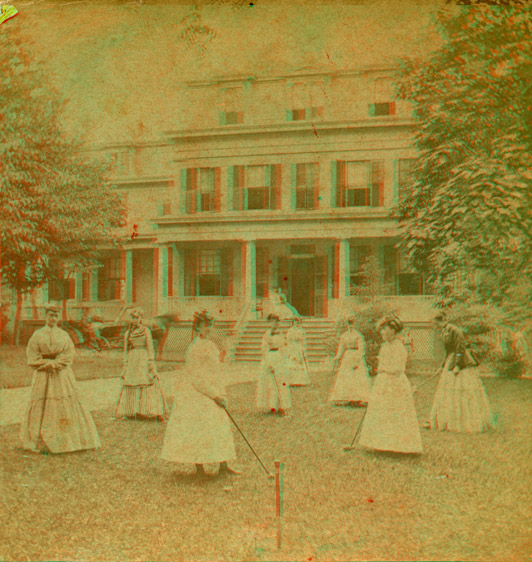 No Comments
---
Posted on August 8, 2014 @2:05 pm by Matthew Murray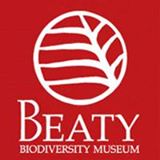 After just over a year of work we've recently completed making the UBC Fish Collection notebooks available online!
These notebooks contain over 11,000 records featuring data on almost a million different specimens of fish! (If you're not sure if that's a lot, it's the third largest collection of its kind in Canada.) Some of the records date back more than 100 years, and the information contained in these records will be invaluable to scientists studying how life in the oceans has changed in the last century.
This project was done in collaboration with the Beaty Biodiversity museum, and you can find more information about the Fish Collection on their website.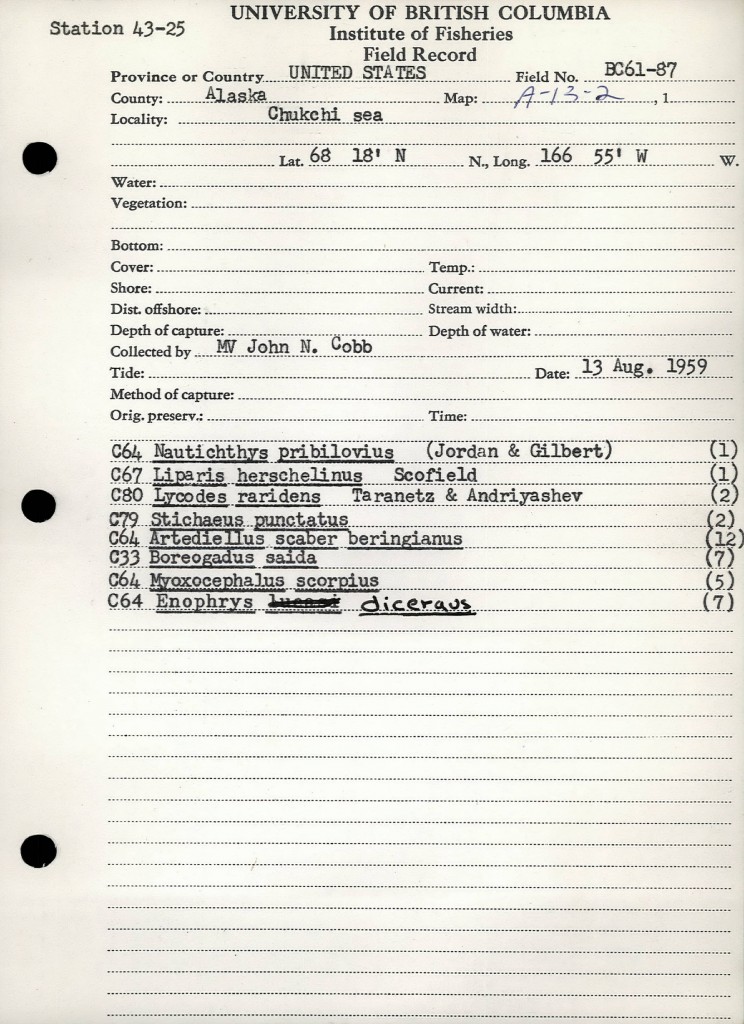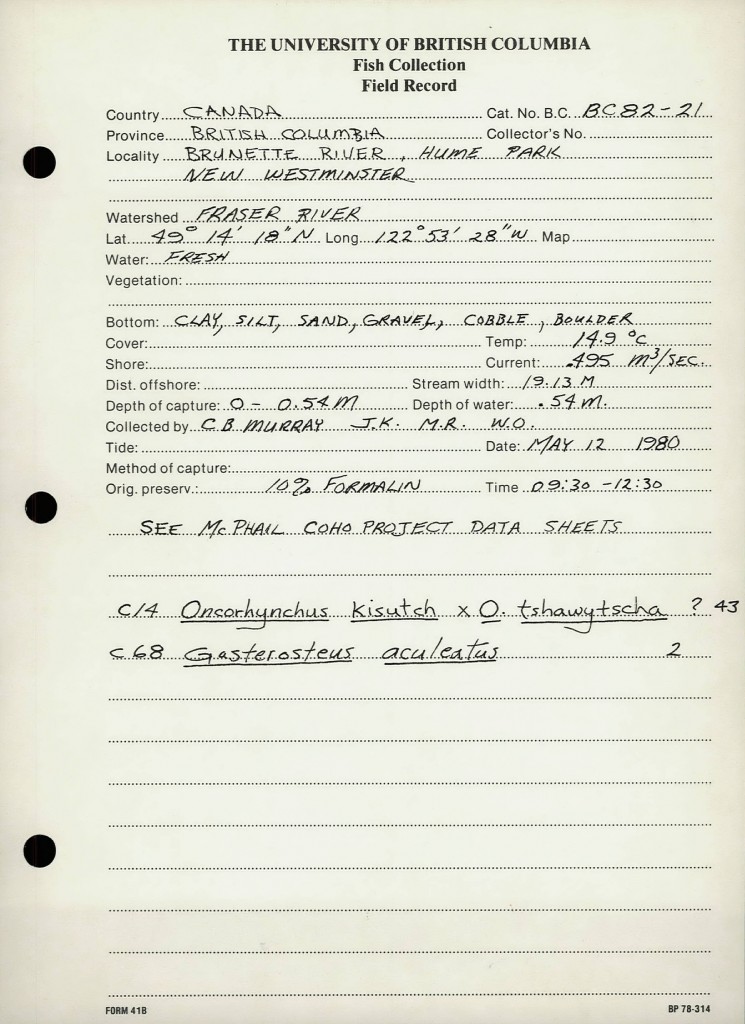 No Comments
---
Posted on July 30, 2014 @2:59 pm by Matthew Murray
You may have seen some pages from the Logroño Antiphonary, a 16th century Spanish chant manuscript, showing up on our Flickr account. (If you haven't, you should go look! It's a pretty neat example of an illuminated manuscript and features lots of musical notation.) To go along with that manuscript we've started scanning some other selections of UBC Rare Book sand Special Collections' holdings of material from the thirteenth to sixteenth centuries!
First here's a page from the Old Testament of the Biblia Germanica, the ninth German Bible published in 1483.
Here's a page from the Books of Hours, Catholic prayers and devotions written in France in the 15th to 16th centuries.
Similar to the Logroño Antiphonary is the next item, a 15th century Italian Gradual (hymn) showing music notation.
Next is Ein gesprech des Teütschen Lands, vnd der hoffnung, dise gegenwertige Kriegsleü̈ff betreffend : jn Welschland beschriben vnd hernach welscher sprach verteütschet, which is written in some archaic form of German that the internet is unable to auto-translate for me. It's apparently a discussion about the political and spiritual aspects of the 1546 crisis, and perhaps you know what that crisis is (I don't!).
Finally, we have a page from a 14th century Latin Vulgate Bible, this one was framed, so it took a bit more work to scan!
RBSC has several dozen items in this collection, so we're going to continue to upload more items in the future. We hope you take a look!
No Comments
---
Posted on July 23, 2014 @10:48 am by Matthew Murray
We announced earlier this year that we were going to be digitizing a huge collection of photos and postcards that were donated to us by local art dealer Uno Langmann. This is quite a large project, but we've been diligently working away at scanning images, and creating metadata for each of them!
We're happy to announce that the collection has now gone live! There are only two albums up right now, but many more will be going up in the coming months. Here's a preview of some of the images that are currently online.
These first few images are from an 1867 album called Views in British Columbia with photos by Frederick Dally. It is a large bound volume and the photos and the book are in quite good shape! The images are of towns, roads, people, mining, landscapes, and buildings, among others, mostly in the Cariboo region near Quesnel.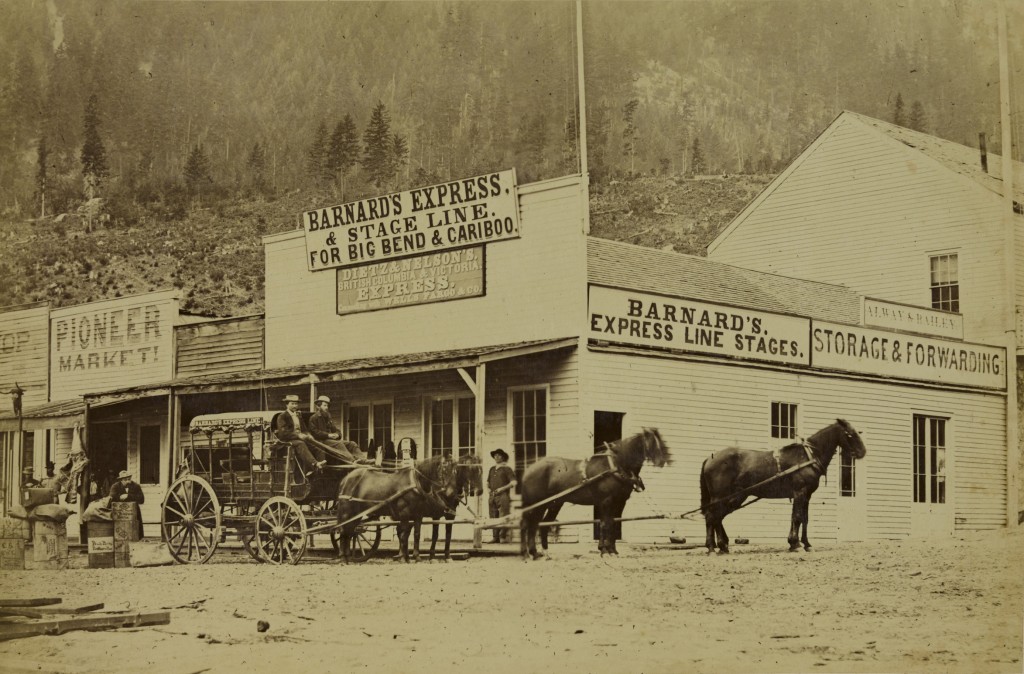 Barnard's Stage starting from Yale
Street scene, Barkerville, Williams Creek
The Never Sweat Tunnel Company
These next images are from an early 1900s album called Fraser River Bridge created by Armstrong, Morrison, and Co. The photos depict the building of the Fraser River Bridge (also known as the New Westminster bridge or the Fraser River Swing bridge) at various stages. Includes images of the consulting engineers and contractors for substructure of the bridge. These photos aren't in quite as good shape as the other album, but they still look pretty good!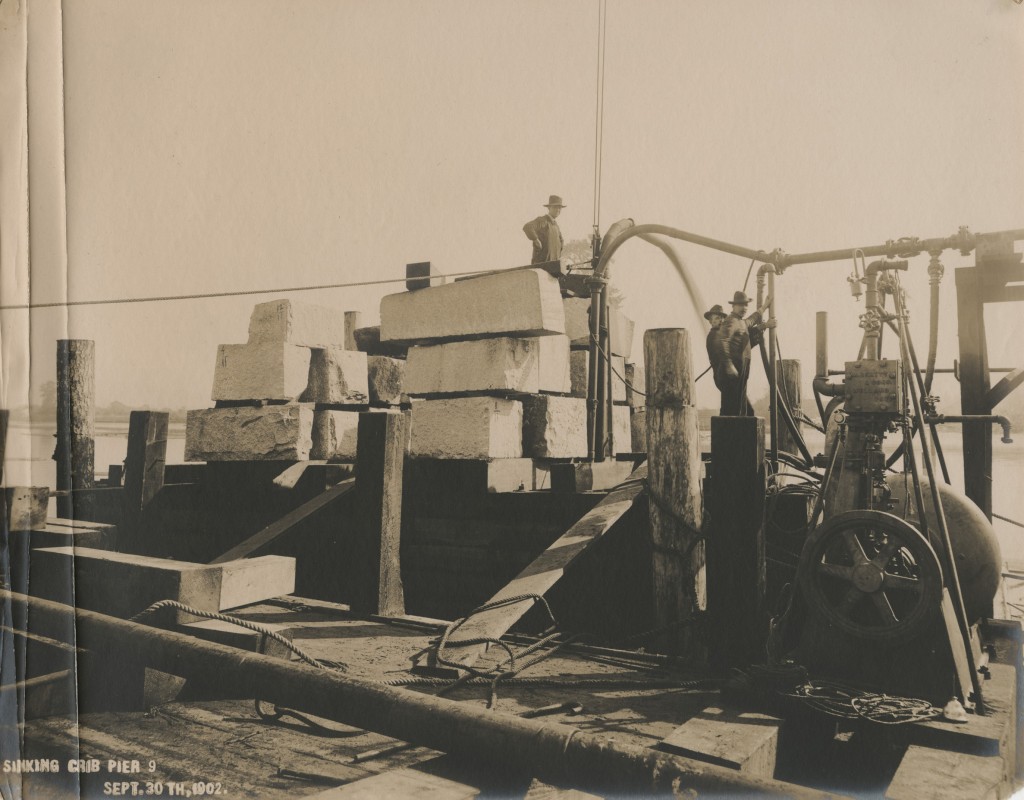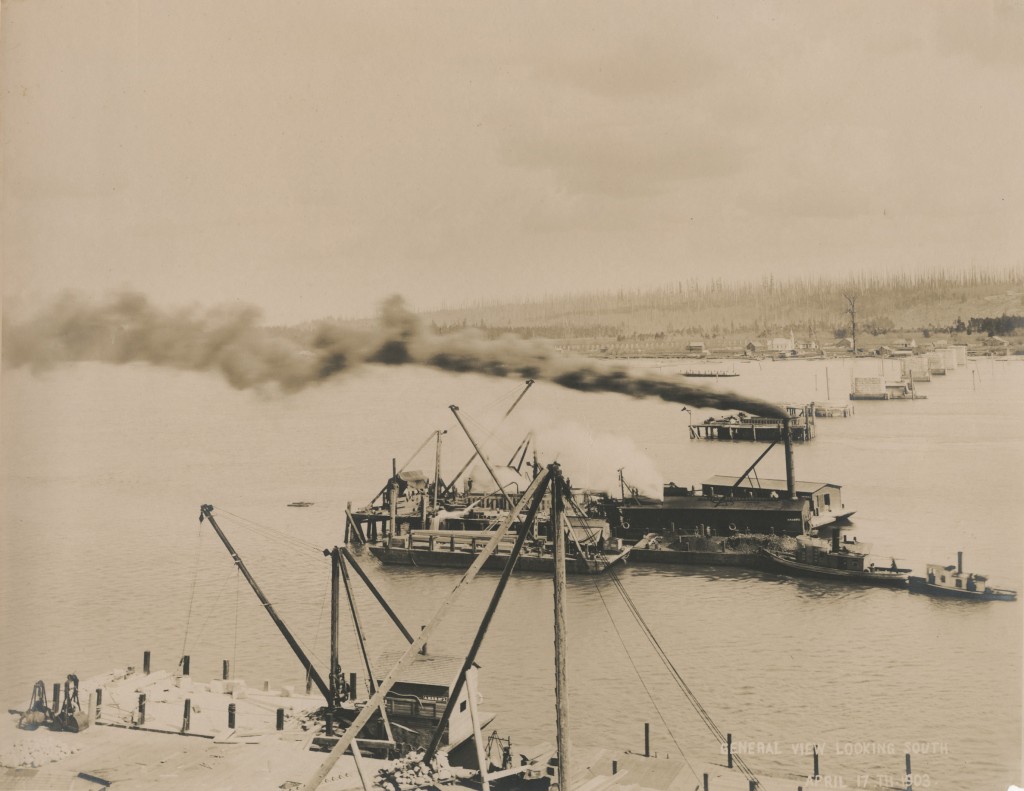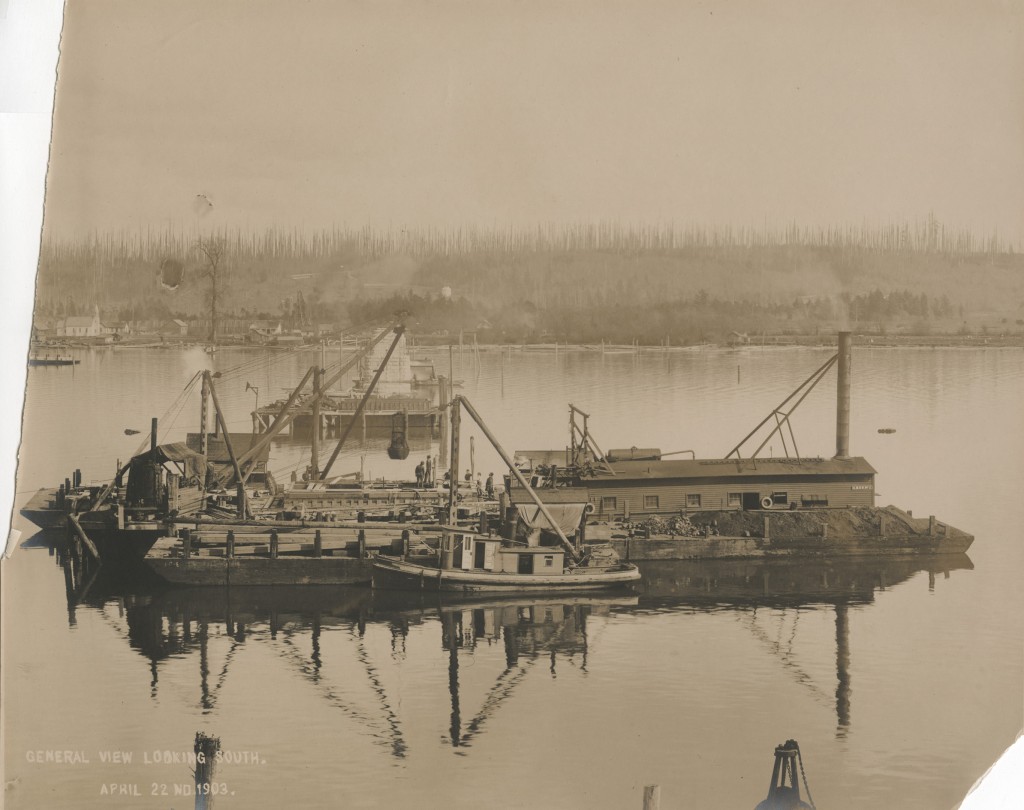 Keep watching this blog or our Twitter account for updates on when new albums are uploaded!
No Comments
---
Posted on April 17, 2015 @3:33 pm by Mimi Lam
We are pleased to present the Digitization Centre Impact and Activity Report!
The impact and activity report describes the work of members of our unit as well as the relationships built with UBC researchers, students and community partners since the Centre's opening in March 2011.
Some highlights from the report:
• More than 500,000 items in locally produced digital collections
• Collaborations with more than 10 UBC Library units and the wider UBC community on projects and collections
• Partnerships with more than 20 community organizations from around BC and beyond to preserve unique resources
• More than $1 million in external funding raised in collaboration with Library Development to support the creation and management of more than 15 digital collections
• Provides work opportunities that enhance the learning experience of more than 100 UBC students many of which are funded through external sources
In 2013/14
• 45 online collections that support teaching, learning, and research at UBC and beyond
• Locally hosted collections see more than 300 visits per day
• Visits from more than 100 countries to access rare and unique library holdings
2014 and beyond
• 18 current and upcoming projects will extend the scope and size of collections
• Partner on projects receiving more than $25,000 in Teaching and Learning Enhancement Fund (TLEF) grants: Epigraphic Squeezes, Gold Rush Letters
• More than $19,000 in BC History Digitization Program (BCHDP) funding for two projects: Uno Langmann Family Historical Photographs, BC Sessional Papers
Many thanks to Jessica Woolman and Jeremy Buhler for their input and assistance.  We look forward to any feedback/comments and also continued collaboration on current and future projects!
No Comments
---
Posted on July 10, 2014 @12:48 pm by Matthew Murray
2014 is the centenary of the First World War. The war started in late July of 1914 and commemoration of the war and the people who died will begin at the Bastille Day celebrations in France on July 14th. While there will undoubtedly be more posts about this in the next four years, we figured we'd show some of the World War One images we have in our collection.
First, we have a collection of WWI era posters and broadsides. You can find them on our website (along with some posers from WWII), or on our Flickr page.
We also have a large number of newspapers from the 1914-1918 time period in our British Columbia Historical Newspaper collection. These can offer some really fascinating information and insight into the war providing news articles, letters from soldiers, and pieces such as this FAQ on enlisting from the July 9th, 1915 issue of the Nicola Valley News.
Finally, a few months ago we mentioned that we were digitizing the World War I British Press Photograph Collection, well we're still working on that project (it was over 6000 photos!), but we have replaced all of the images in our online collection with newer (and better!) images. We're hoping to have the rest of the collection online at some point this year.
 (Official Photographs taken on the British Western Front in France: Scene in a newly-captured village – Children soon make friends with Tommy.)
3 Comments
---
Posted on February 16, 2015 @3:44 pm by Matthew Murray
A few months ago we let you know that we were going to start digitizing Discorder, the music magazine published by UBC's community radio station CiTR.
Well, we've just about completed digitizing every issue from the 1980s (and might well be finished by the time you read this), so we figured now might be a good time to show you some of our favourite covers from that decade! Check them out.
(January, 1984.)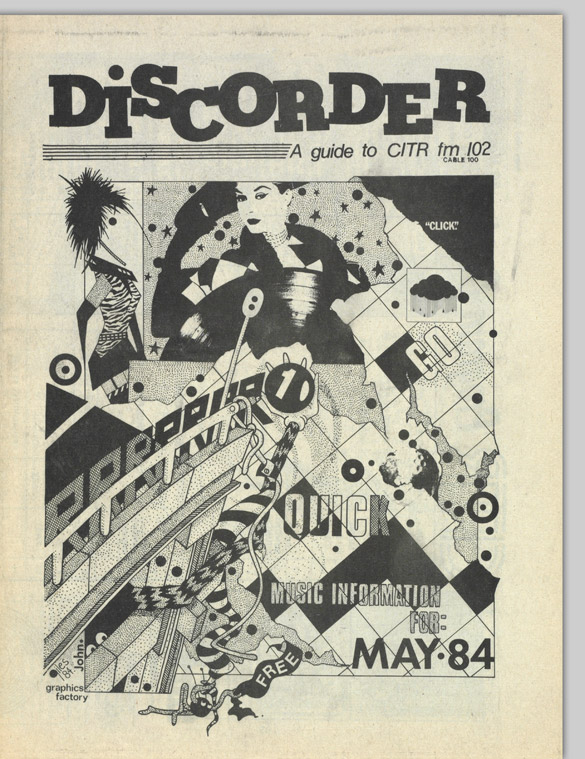 (May, 1984.)
(December, 1985.)
(May, 1986.)
(August, 1986.)
(October, 1987.)
(May, 1988.)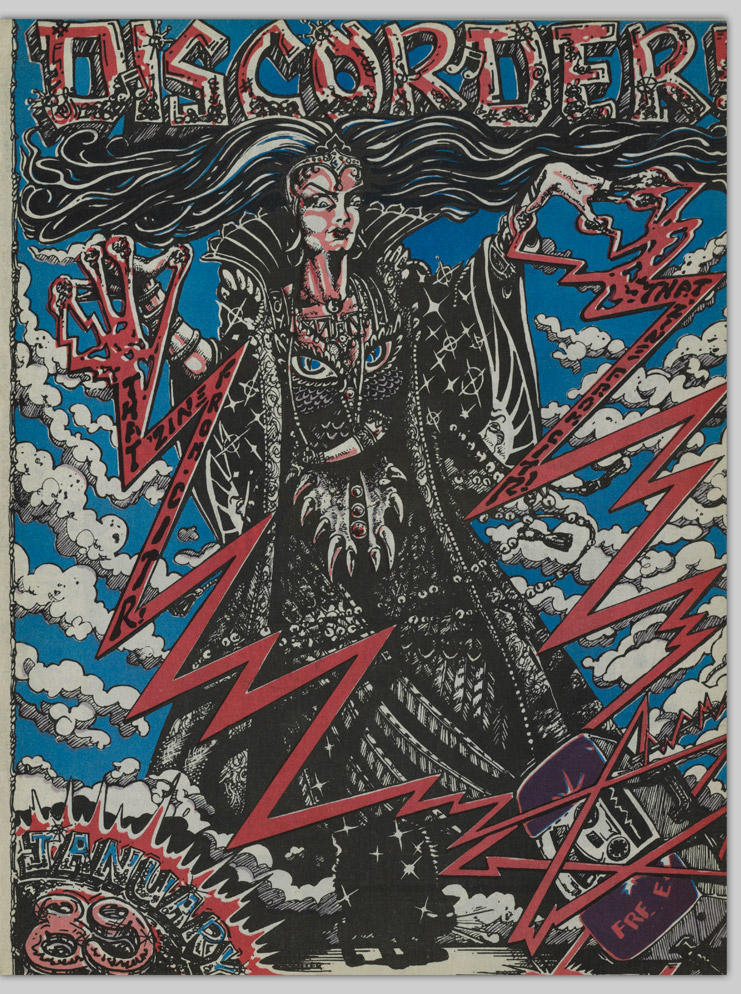 (January, 1989.)
We're not sure when we'll have this project finished and online, but it should be by the end of the year! To see what more recent issues of Discorder look like you can take a look on Issuu.
2 Comments
---
Posted on June 24, 2014 @3:52 pm by Rob
Letters can provide insights in to the details of lives which have otherwise been documented in the extreme. Case in point, Charles Darwin, regarded as the progenitor of modern evolutionary theory. His work in this area is widely known but he also had many other interests including the study of insectivorous plants such as Drosera (sundews) and Dionaea (Venus flytrap). He worked in this area with the noted English physiologist Sir John Burdon-Sanderson to elucidate the mechanisms of their actions and published the results of the research in Insectivorous Plants. Above is the first page of a letter from Darwin to Burdon-Sanderson suggesting that he test for electrical charge in the leaves of Dionaea and offering to send specimens for the research. You can read the rest of this letter here and view the entire collection of letters held by the University of British Columbia Library here.
No Comments
---
Posted on June 17, 2014 @1:30 pm by Matthew Murray
As you might have heard we've been planning on expanding into a new space for several months. It finally happened on Friday, and we're mostly moved in now!
Here's the room we're moving into. I wish we'd taken some photos when it was just a vast empty white room before the carpet was installed.
Here are the computers that we use with our ATIZ scanners. We took them off while moving things.
Here are the ATIZ scanners being prepared for the move. I had no idea they even folded down like this!
We put them on carts to move them.
Adjusting the tables in the new room.
And here they are with the scanners and computers set up!
We're planning on having some more computers on the other side of the room, but so far there's just the one.
So what's going to go in the vast empty space that held the ATIZ scanners?
Our TTI scanner!
Putting dollies under the TTI so we can slowly roll it across the floor.
It barely fit between the pillar and the desks. We had one inch of space to spare!
It actually brushed against one of the lights. So close!
Carefully!
And done! There's lots more space over on this side of the office now.
Plus we were able to move one of our scanners over to where the TTI was and install a white board on the wall. So many changes!
No Comments
---