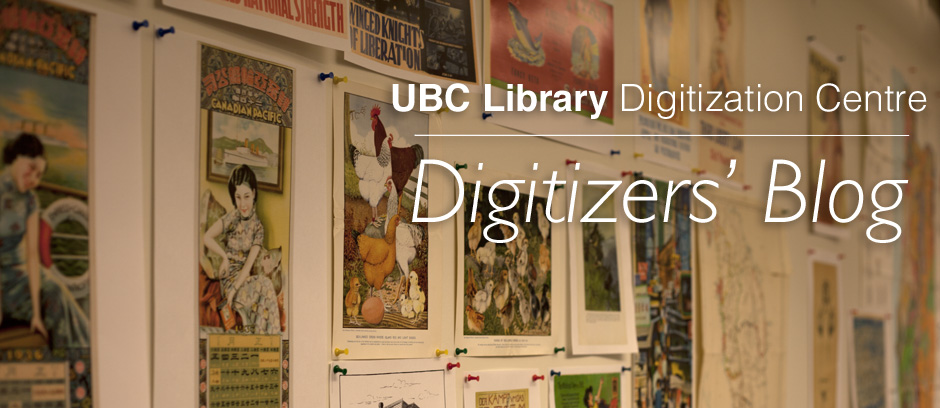 Here at the Digitization Centre we are fascinated and excited by the vast amount of primary-source material that our digitization work exposes us to.  Whether a document of historic significance, a beautiful illustration, or even a particularly fine typeface, we are frequently amazed by the materials we're working to share with the world.  So much so, that not only will we crowd around to ogle a particularly interesting specimen, but we've started decorating our workplace with copies of some of our favorites.  But why stop there?  Surely, we can't be the only ones geeky enough to appreciate such "gems" in our collections, and so we've decided to share them here with you.  Below you will find some of our favorites, hand-picked by staff from both existing and upcoming collections.  We hope you enjoy them as much as we do!   TIP: To view full resolution versions of the images on any size screen, click to enlarge and then right-click and select "open image in new tab."
---
Posted on January 10, 2018 @12:05 pm by Emily Chicorli
The Puban project in collaboration with Sun Yat-Sen Library, part of the Guangzhou library in Guangdong Province in China, is complete. There are 29 digitized titles each with multiple fascicles. The scanning process primarily involved the use of our ATIZ scanners (a How We Digitize blog post about these scanners is coming soon!).
The core of the Puban (蒲坂藏書) was originally a part of the famed Nanzhou Shu Lou (南州書樓), a large private library owned by Xu Shaoqi (徐紹棨) (1879–1948), a professor of Chinese literature and bibliography, curator of the Guangdong Provincial Library and one of the renowned bibliophiles of South China. The focus of the Nanzhou was primarily census and historical records, documents and literature of Xu's native province. Some of these works are unique, original copies drawn from the Nanzhou materials that were transferred from the Mainland to the Yao (姚) Family in Macau during World War II. The new owner, Mr. Yao Junshi (姚鈞石), enlarged the collection with high quality works of a similar nature and gave it its present name, the Puban.
Click here to view the collection 
Click here to read an earlier post about the Puban project.
No Comments
---
Posted on January 10, 2018 @12:25 pm by Emily Chicorli
Another album from the Uno Langmann BC Historical Photograph collection has been uploaded onto our Digital Collections web page!
Thirty-six of the photographs in this album were taken by Carlo Gentile (1835-1893), an Italian photographer who immigrated to North America. In 1863 he traveled through the wilds of British Columbia where he photographed Pacific Coast Indians and gold mines. He is known for his ethnographic documentation about Native Americans. 
Here are some highlights from the album (click on the image to make it larger):
2 Comments
---
Posted on November 19, 2014 @4:04 pm by Emily Chicorli
The Uno Langmann BC Historical Photograph Digital Collection, consisting of over 15,300 photographs and postcards, is being used in ARTH 443 Issues and Problems in Canadian Art and Photography: Photo Fever and the Uno Langmann Archive, taught by John O'Brian from the Department of Art History.The seminar in Canadian art aims to critically think about how photographs and archives raise questions about how memory functions. The Uno Langmann collection includes extensive coverage of B.C. from the 1850s to the 1950s and includes photographs in a wide variety of formats and genres including albums, diaries, portraits, landscapes and city/townscapes.
Wishing the class a successful semester!
ARTH 443 Course Description:
Some of the classes for the seminar take place looking at historical photographs in Rare Books and Special Collections. The purpose is to think through photography and the archive in tandem. Photographs and archives both raise troubling questions about how memory functions. Are they a force for knowing and remembering or a force for forgetting and disavowal? Do they help to reveal reality or do they serve to flatten knowledge of the past? How should we understand the Internet as an archive and the place of photography in it? Because ARTH 443 is a seminar in Canadian art and photography, attention is paid to Canadian images and texts where relevant.
About the Uno Langmann BC Historical Photograph Collection:
The digital collection is a subset of The Uno Langmann Family Collection of B.C. Photographs, donated by Uno and Dianne Langmann and Uno Langmann Limited, which consists of more than 18,000 rare and unique early photographs from the 1850s to the 1970s. It is considered the premiere private collection of early provincial photos, and an important illustrated history of early photographic methods.
Images from the collection are being digitized on an ongoing basis and will be available for viewing on the Library's website. Library users will be able to request items from the collection through UBC Library's Rare Books and Special Collections.
No Comments
---
Posted on November 19, 2014 @4:05 pm by Emily Chicorli
Did you know that the Digitization Centre requires some materials to be assessed and handled by a conservator before they are digitized and put online?
Well I sure did not know this until I met Anne Lama, library conservator, for UBC Library's extensive physical collections. Lama, who has worked at the National Archives in Paris, France, as a conservator for ten years with additional experience in graphic art restoration, manages the degradation of paper, leather, newsprint and other items in UBC's large collections to assist librarians and archivists in making the materials accessible for current and future users.
When the Digitization Centre works with some materials that are very delicate, old, or require conservation methods, Lama provides her expertise on how to handle and take care of these materials, as well as prepares some objects prior to digitization to ensure the materials are handled safely. She has been very kind in taking some time to answer a few questions regarding her work for the Digitization Centre:
What is your role here at UBC? "I am a Conservator at UBC Library, which means that I take care of the preservation of books and heritage documents. The field is wide as it concerns prevention and curation. Mainly, the prevention focus is on users' education (patrons and staff), on climate control, expertise on infestation risks (mold, insects, and rodents), providing protective housing for materials, disaster recovery, and assisting with plans for digitization and restoration. Curation happens when prevention/preservation has failed. Curation can include repairing tears in paper, flattening large maps or photographs, removing harmful residues such as mold, tape, bindings, and so forth. Rare books and books in circulation are concerned, but the level of work is different."
In your opinion, what is the purpose of digitization? "In my opinion, digitization is a means of preservation and conservation of our heritage if it is done with intelligent collaboration between services. Digitization preserves the documents from mechanical damage. Online access allows for a wide diffusion of the information and a reduction of physical handling. Digitization also offers a possibility of information preservation when the document risks disappearing or when the document is not accessible anymore because of the physical condition."
Can you provide some examples of how you prepare documents, books, or objects for digitization? "Preparing documents for digitization is to make the documents safe, make the handling easy for the operator, and improve the visibility. This means that I provide recommendations on how to conserve materials and I inform and work with the operators to manage the conservation. Then, I intervene if the documents need it. Some examples of intervention:a. The intervention may be to clean an object and improve the contrast before the digitization process begins.

b. The intervention may be to dismount a volume and unstick certain parts in order to access hidden information.

c. The intervention may be to dismount a framed picture for unaesthetic reasons.

d. The intervention may be to flatten a large map or photographs curved by climatic conditions, such as high levels of humidity.

e. The intervention may be to repair a tear or fold in paper to limit the possibility of more damage. In the worst case, some documents may have to undergo major restoration.

Can you name one or two favorite projects that you've worked on? So far I have really enjoyed working on the Puban collection. Some of these Asian books are tightly bound which doesn't allow for easy digitization with the margin as it is. A prior test was done in order to evaluate the possibility and the time needed to dismount them. One of the main considerations is that we need to preserve all historical traces, such as the sewing technics and the original materials. After a collaborative decision was made between the Digital Initiatives department, the conservator, and the UBC Asian Library librarians, we decided to dismount and rebind the texts that were in the worst condition (images below). It was a small project, but it was well prepared for in advance that included all involved parties with connection to the collection being involved and on the same page for the good of the documents. Furthermore, the dismounting gave me more knowledge about Asiatic binding."
Thank you to Anne Lama for answering our questions and providing the images for this blog post.
No Comments
---
Posted on February 16, 2015 @3:43 pm by Emily Chicorli
How We Digitize – A new blog series that will reveal some of the tools and machines we use to digitize materials.
Some of the most commonly used machines in the Digitization Centre are flatbed scanners (Epson Perfection V750 Pro). These scanners are typically used for photographs and documents that are 8.5 x 11 inches or smaller, although there are cases when bound books or documents are scanned with these machines. Decisions regarding whether or not to use flatbed scanners depend on the project and the type of materials to be scanned.
The flatbed scanners are one of the preferred machines because they produce some of the best quality images (most images are scanned at 600 PPI – pixels per inch). Even extremely tiny objects, such as tiny cards with writing, can be scanned for excellent quality.
Sometimes the Digitization Centre uses flatbed scanners to scan small physical objects. A few weeks ago we needed to digitize amulets found in a burial site for the UBC CNERS Artifact Collections, a project to create a digital database of the archaeological teaching collections at the University of British Columbia. The staff tried to use one of the more intricate machines, but the best images actually came from the flatbed scanners. Details on the amulets that were invisible before, such as distinct colors, were visible in the scans. (See the UBC CNERS Artifact Collections for more information and additional images of the artifacts taken with the TTI workstation, as well as the Epigraphic Squeezes collection).
Another instance when the flatbed scanners were used to digitize small physical objects involved scanning a cuneiform table the size of an individual mini wheat cereal piece (also part of the UBC CNERS Artifact Collections). The scans produced images that allowed for the texture and details to be represented in the image.

How we use flatbed scanners:
We place the photograph, document or object onto the right hand corner of the glass.
Once the object is in place, we close the top (which has a film pad that helps keep the object in place. Sometimes when additional pressure is required, we add books to the top of the scanner to ensure the document or photograph are laying flat).
Once the object has been previewed and scanned we save the image and open the file in Photoshop to process the image, such as straightening the image, adjusting the color range, sharpening the image, cropping the image and so forth. The goal of processing the image in Photoshop is to enhance it slightly, so that all features are viewable on a device or a print out. We do not want to alter the integrity of the original object by changing too many features. We would not, for example, over saturate an image, or crop huge portions of the image out. If we did this, much of the original context of the object (whether it is a document or a photograph) would be gone.
The image is then ready to have metadata added to it and put online. To view our current online collections, see the UBC Library Digital Collections website.
Stay tuned for the next post in this series about multipage scanners!
No Comments
---
Posted on January 10, 2018 @11:25 am by Matthew Murray
Last month we announced that we had completed the second phase of our Arkley Croquet Collection digitization project. Some of the images in the collection are pretty amusing, so we thought it would be fun if we re-enacted some of them! I'm sure you'll agree that they're more or less identical



1 Comment
---
Posted on January 10, 2018 @11:24 am by Matthew Murray
We're excited to announce that the second phase of our Arkley Croquet Collection digitization project has been completed! The collection was donated to the library by Tremaine Arkley, a former player for the U.S. National Croquet Team, and we've been scanning paintings, illustrations, engravings, advertisements, photographs, and lots of other items depicting croquet! Here are a selection of some of our favourite (or you can check out the entire collection here, or some earlier images from the collection on Flickr).
([A fan, depicting five women playing croquet])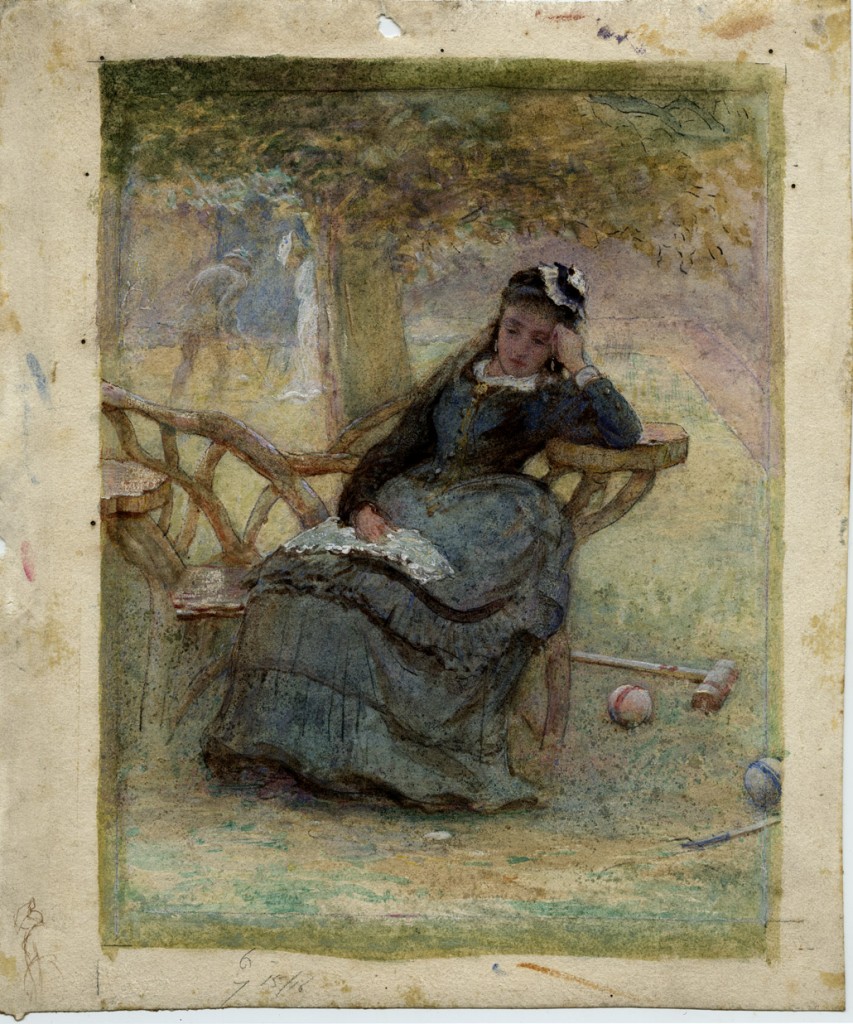 (Jacques croquet mallets and requisites)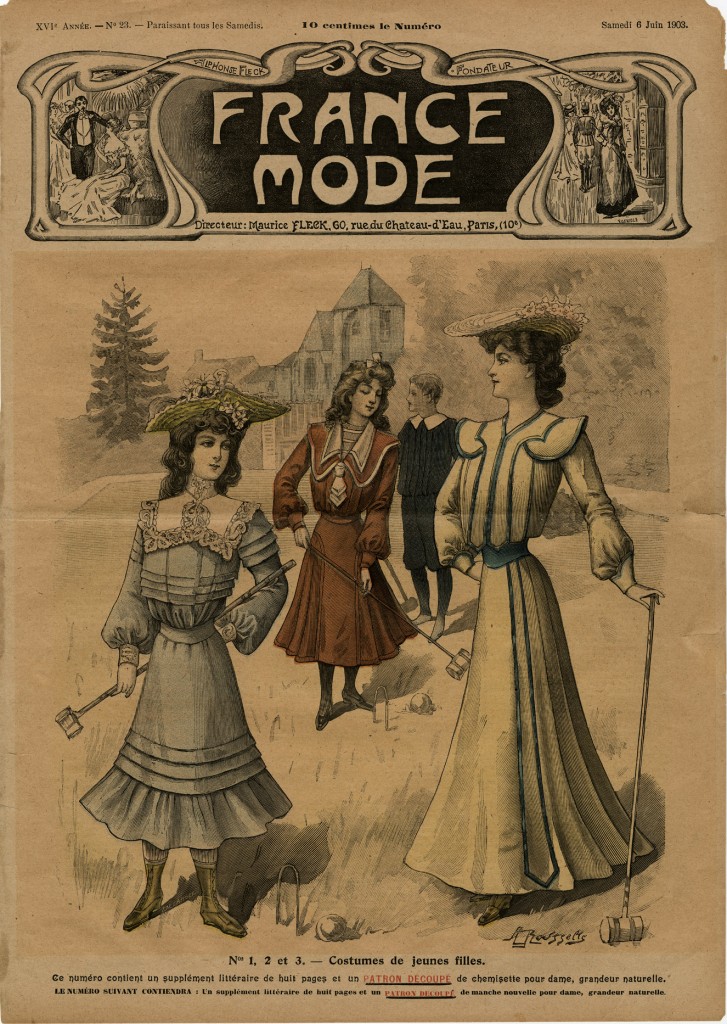 We've also redigitized all of the stereographs that were part of this collection, and every one of them now includes a 3D anaglyphic version of the image! Usually to see a stereograph in proper 3D you would need a special viewer, but now you can replicate the experience with simple red/blue 3D glasses. Here's a previous blog post we did on this process.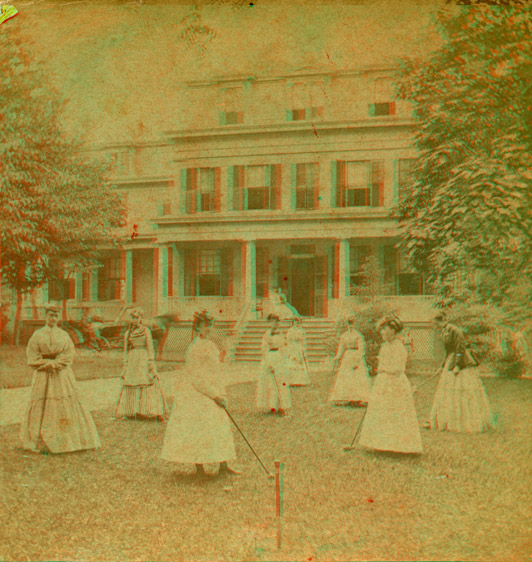 No Comments
---
Posted on January 10, 2018 @12:22 pm by Matthew Murray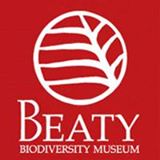 After just over a year of work we've recently completed making the UBC Fish Collection notebooks available online!
These notebooks contain over 11,000 records featuring data on almost a million different specimens of fish! (If you're not sure if that's a lot, it's the third largest collection of its kind in Canada.) Some of the records date back more than 100 years, and the information contained in these records will be invaluable to scientists studying how life in the oceans has changed in the last century.
This project was done in collaboration with the Beaty Biodiversity museum, and you can find more information about the Fish Collection on their website.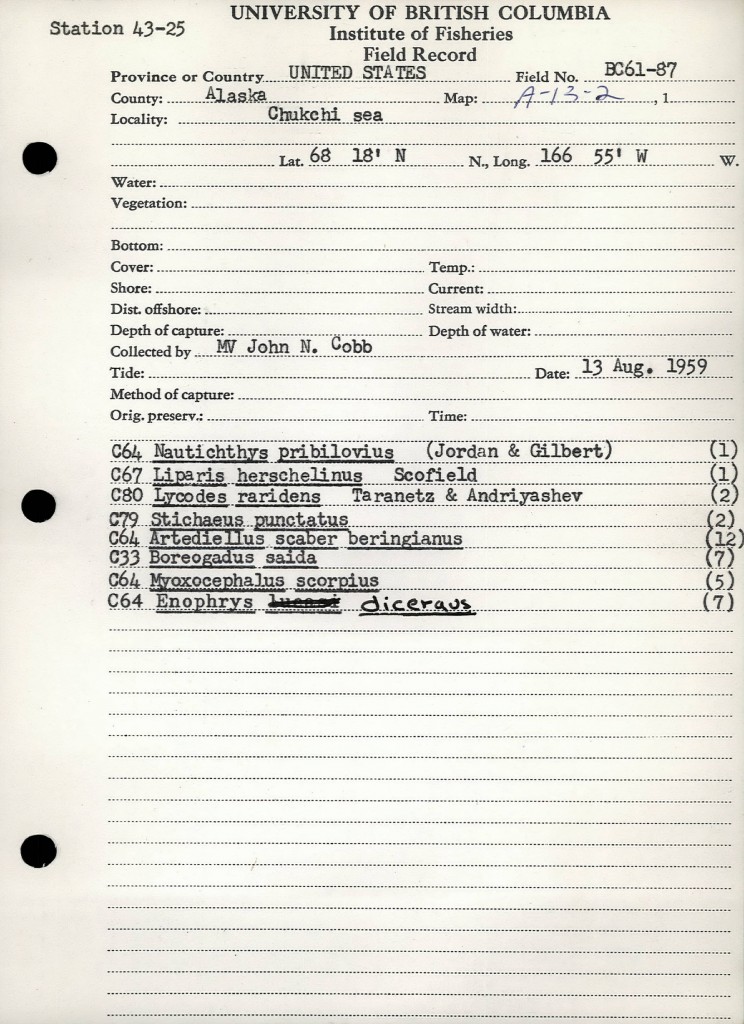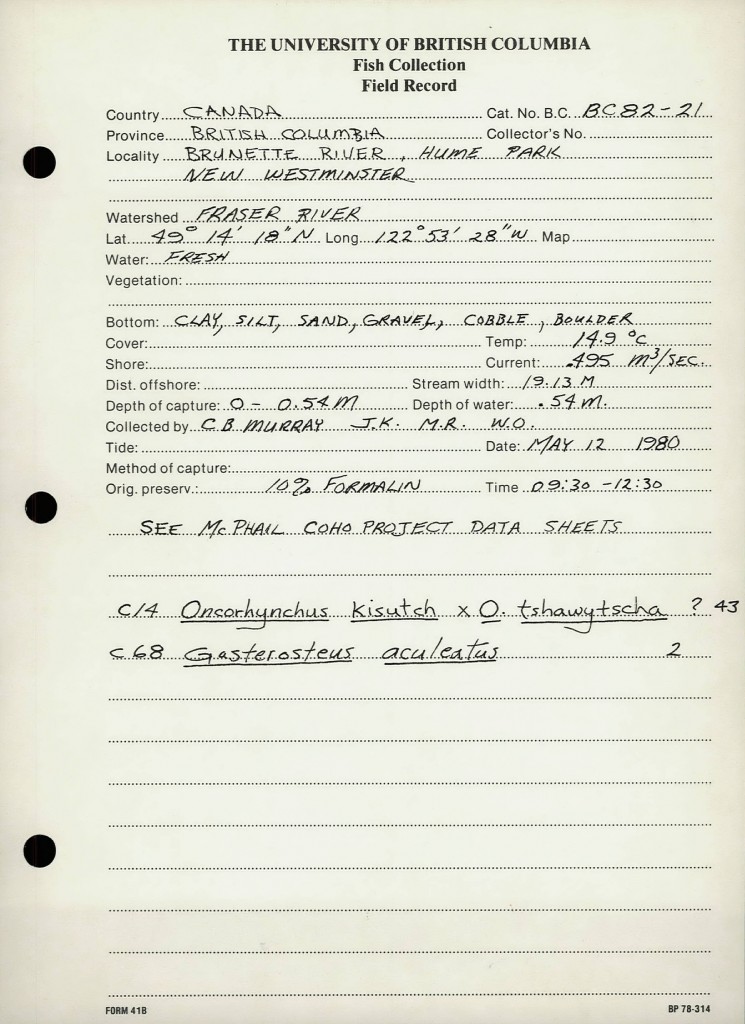 No Comments
---
Posted on January 10, 2018 @12:26 pm by Matthew Murray
You may have seen some pages from the Logroño Antiphonary, a 16th century Spanish chant manuscript, showing up on our Flickr account. (If you haven't, you should go look! It's a pretty neat example of an illuminated manuscript and features lots of musical notation.) To go along with that manuscript we've started scanning some other selections of UBC Rare Book sand Special Collections' holdings of material from the thirteenth to sixteenth centuries!
First here's a page from the Old Testament of the Biblia Germanica, the ninth German Bible published in 1483.
Here's a page from the Books of Hours, Catholic prayers and devotions written in France in the 15th to 16th centuries.
Similar to the Logroño Antiphonary is the next item, a 15th century Italian Gradual (hymn) showing music notation.
Next is Ein gesprech des Teütschen Lands, vnd der hoffnung, dise gegenwertige Kriegsleü̈ff betreffend : jn Welschland beschriben vnd hernach welscher sprach verteütschet, which is written in some archaic form of German that the internet is unable to auto-translate for me. It's apparently a discussion about the political and spiritual aspects of the 1546 crisis, and perhaps you know what that crisis is (I don't!).
Finally, we have a page from a 14th century Latin Vulgate Bible, this one was framed, so it took a bit more work to scan!
RBSC has several dozen items in this collection, so we're going to continue to upload more items in the future. We hope you take a look!
No Comments
---
Posted on January 10, 2018 @12:24 pm by Matthew Murray
We announced earlier this year that we were going to be digitizing a huge collection of photos and postcards that were donated to us by local art dealer Uno Langmann. This is quite a large project, but we've been diligently working away at scanning images, and creating metadata for each of them!
We're happy to announce that the collection has now gone live! There are only two albums up right now, but many more will be going up in the coming months. Here's a preview of some of the images that are currently online.
These first few images are from an 1867 album called Views in British Columbia with photos by Frederick Dally. It is a large bound volume and the photos and the book are in quite good shape! The images are of towns, roads, people, mining, landscapes, and buildings, among others, mostly in the Cariboo region near Quesnel.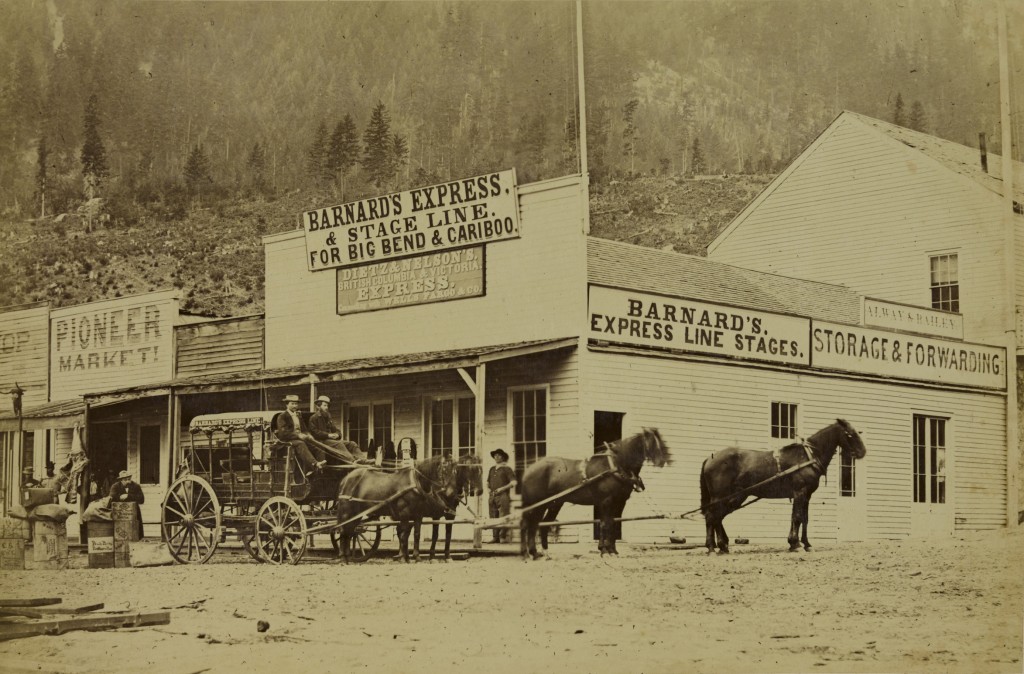 Barnard's Stage starting from Yale
Street scene, Barkerville, Williams Creek
The Never Sweat Tunnel Company
These next images are from an early 1900s album called Fraser River Bridge created by Armstrong, Morrison, and Co. The photos depict the building of the Fraser River Bridge (also known as the New Westminster bridge or the Fraser River Swing bridge) at various stages. Includes images of the consulting engineers and contractors for substructure of the bridge. These photos aren't in quite as good shape as the other album, but they still look pretty good!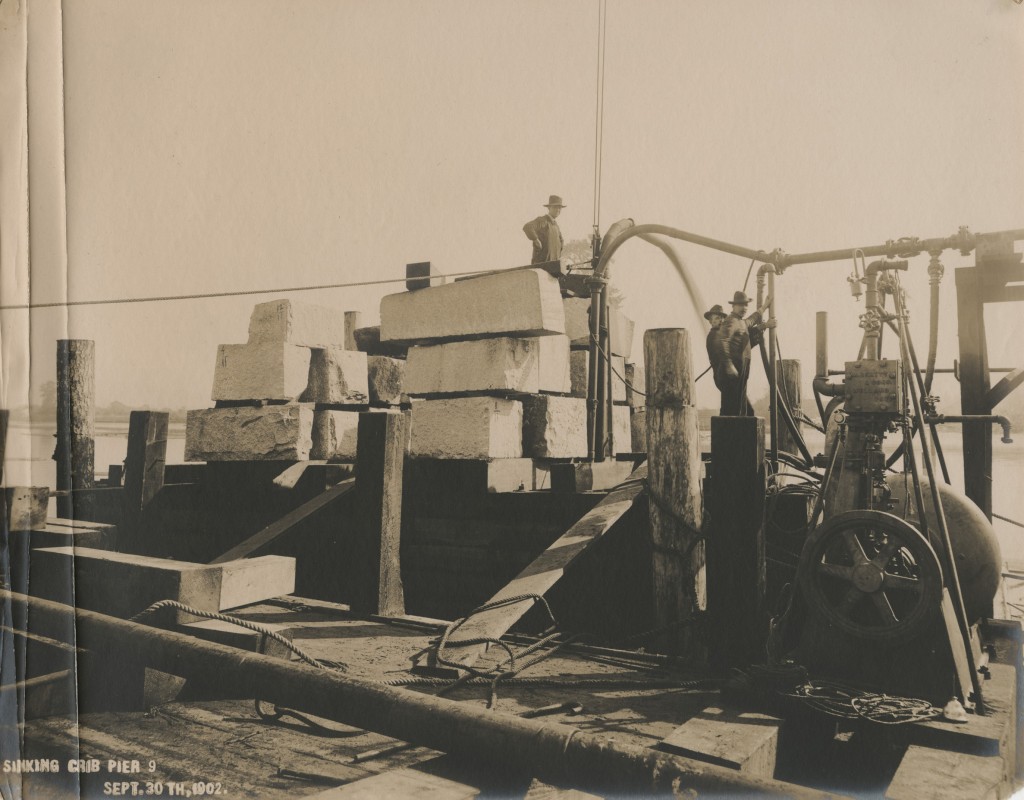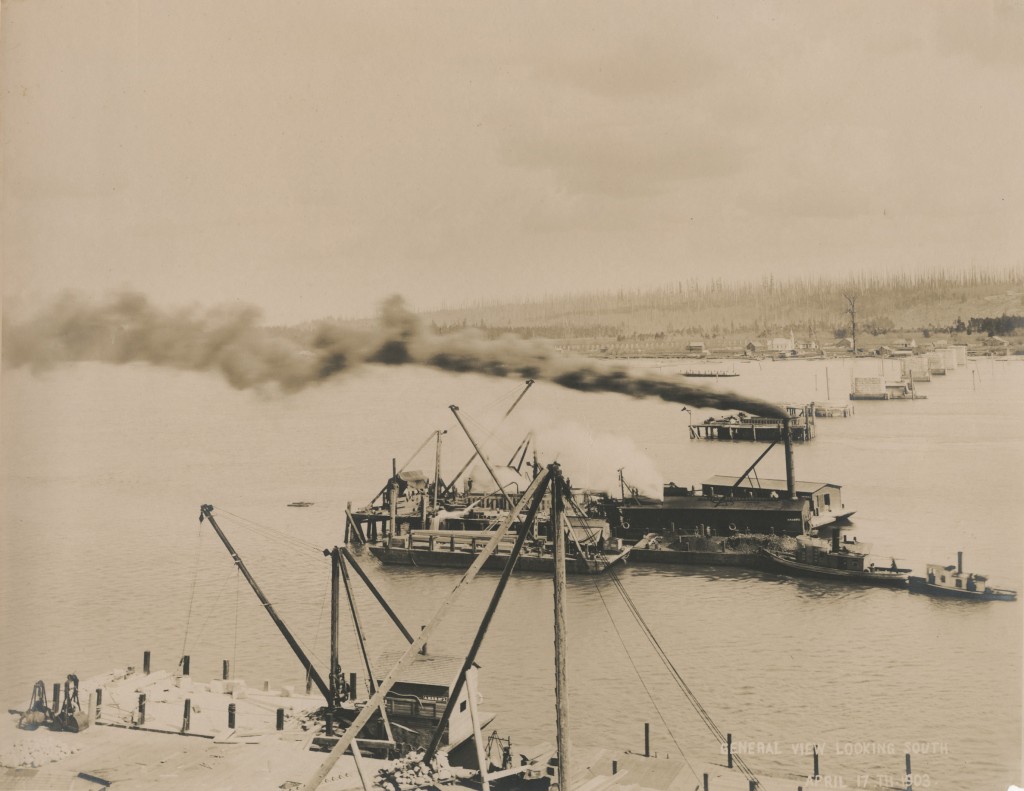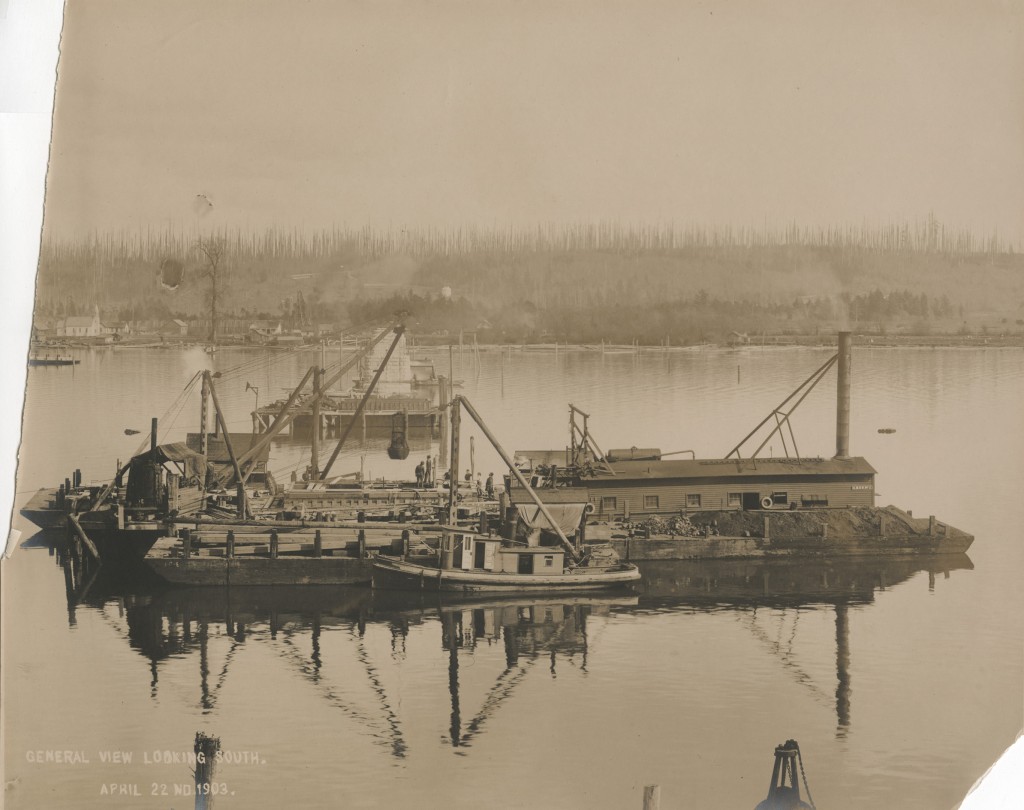 Keep watching this blog or our Twitter account for updates on when new albums are uploaded!
No Comments
---