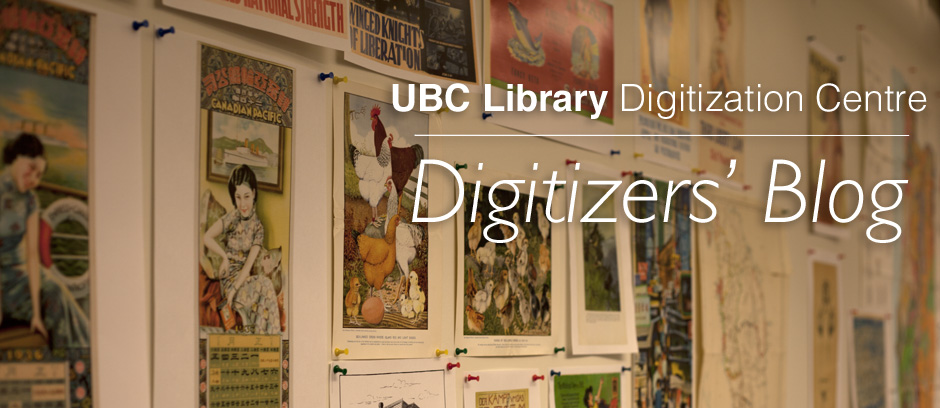 Here at the Digitization Centre we are fascinated and excited by the vast amount of primary-source material that our digitization work exposes us to.  Whether a document of historic significance, a beautiful illustration, or even a particularly fine typeface, we are frequently amazed by the materials we're working to share with the world.  So much so, that not only will we crowd around to ogle a particularly interesting specimen, but we've started decorating our workplace with copies of some of our favorites.  But why stop there?  Surely, we can't be the only ones geeky enough to appreciate such "gems" in our collections, and so we've decided to share them here with you.  Below you will find some of our favorites, hand-picked by staff from both existing and upcoming collections.  We hope you enjoy them as much as we do!   TIP: To view full resolution versions of the images on any size screen, click to enlarge and then right-click and select "open image in new tab."
---
Posted on November 23, 2015 @10:30 am by mikec
'Tis the season to unearth a few Christmas themed gems from our digital collections. Happy Holidays from the digitization team!
No Comments
---
Posted on November 29, 2013 @10:14 am by mikec
In partnership with Creston & District Musuem & Archives we have added issues of the Creston Review from 1909 to 1935 to the BC Historical Newspapers.
The Creston Review was established in 1908 by J. J. Atherton, and was the first newspaper serving the Creston Valley. For many years, the Review was Creston's only local paper, and was usually a weekly paper though there were a few brief periods when it was published semi-weekly. It changed hands a number of times until taken over by long-time publisher Herb Legg in 1938, but retained its name and its unashamedly "local" focus throughout its life. The Review published its last issue in 1983.
3 Comments
---
Posted on November 27, 2013 @9:58 am by esquin
The Digital Initiatives Unit has digitized thousands of rare books and images, and still, in the midst of all these fantastic items, many images stand out and never cease to amaze us. We had not thought of this series of 12 photographs of Igor Stravinsky in a while, and when it was mentioned during a staff meeting a couple of weeks ago, we figured we just had to post it in our blog. There are many photographs of Stravinsky out there, but nothing compares to these ones, where we can see him right in the middle of a rehearsal and we get a glimpse of this astonishing composer in the process of conducting one of his own works.
Here he is 80 years old in 1962, nine years before his death. He's rehearsing the Firebird Suite with the New York Philharmonic at Lewisohn Stadium in New York City. The images were captured by Fred Fehl, a photographer specializing in performance photography and who brought us outstanding images of many other artists as well, like Martha Graham, Mikhail Baryshnikov and Joan Sutherland.
When these photographs were taken, long gone were the times when Stravinsky was booed in a public performance: that was back in 1913 and the Parisian theatre had been packed and filled with expectation. Stravinsky's Rite of Spring had barely begun when the hostile crowds started laughing (the cue for Stravinsky to leave the auditorium and get to the stage wings, from where he watched the rest of the performance). The laughter developed into a full-on attack between factions in the audience and later on towards the orchestra members and the dancers. After the police expelled some of the worst offenders, the performance continued in relative peace. I guess that in this particular performance the Rite of Spring's "Sacrificial Dance" came earlier, and we all know whom the sacrificed victim was.
These photographs show a Stravinsky riding the crest of the wave with one of the best orchestras in the world, and although no one ever forgot what happened during that fateful premiere almost fifty years before, everybody ultimately took the negative reaction as a sign of a true genius who not everyone could understand, one who was so ahead of his time that he aroused rage before stirring gasps of utter astonishment.
The series is part of UBC Library Framed Works Collection, which includes exceptional photographs, prints, and documentary artworks, all originating from diverse sources.
No Comments
---
Posted on November 15, 2013 @1:11 pm by Rob
In January 2014 the UBC Library Digitization Centre will start a project to digitize titles from its Asian Library rare book collection. The project is a collaboration between the UBC Library and the Sun Yat-sen Library of Guangdong province in China. There are many rare and unique titles in the collection which makes is of particular interest to scholars in China and around the world. There is currently a pilot collection and titles will be added as materials are digitized and metadata is created. The image above is from the title 熊廷弼、楊漣書札 [Xiong Tingbi & Yang Lian shu zha], a work on the history of the Ming dynasty, and shows a page with various seals including that of 龐鏡塘藏 [Pang Jingtang] (circled in red) for whom one part of the collection is named. Pang Jingtang owned a variety of important works on history, literature and military matters.
No Comments
---
Posted on November 5, 2013 @1:54 pm by esquin
The Spanish Chant Manuscript is one of our oldest digitized books, dating from sometime between 1575 and 1625. Chant manuscripts from Renaissance Spain can be richly illuminated, like this particular one, which features gold leaf and a very ornamented design. At the time, most antiphonaries (or choral books) used a four-line staff for the notation of plainchant, whereas the Spanish Chant Manuscript uses the five-line staff that would become the norm in the 17th Century. This is the first digitized copy of this superb volume of Gregorian chants, written in ecclesiastical Latin and compiled by the Catholic Church in Logroño, Spain.
In page 8 of the volume, displayed here, we can see the stylistic elements of its illuminations and an elegant handwritten script characteristic of this kind of liturgical work. The manuscript can be found in UBC Library's Rare Books and Special Collections (M2149.L32 S6 1575).
No Comments
---
Posted on October 21, 2013 @9:40 am by esquin
Gender and social justice researchers worldwide –as well as the general public interested in the feminist movement in Canada– will be happy to know of this digital collection that is now freely available online: Kinesis: News about women that is not in the dailies, published by the Vancouver Status of Women (VSW) from 1974 to 2001.
This image (the paper's cover from April 1980) is a good example of what visitors can find in the collection: photographs and articles on issues of particular interest to women and created by feminist voices working to combat all forms of marginalization. This particular issue includes an account of the celebration of that year's International Women's Day, interviews with five women on their professional development, and a feature article on the stigma of illegitimacy and the struggle of single mothers to care for their children by themselves.
This digital collection is a product of a collaborative initiative with the Vancouver Status of Women, the Humanities and Social Sciences Library, and Rare Books and Special Collections at UBC. Although Kinesis is no longer being published, it has a permanent home for browsing and critical analysis in the UBC Library's Rare Books and Special Collections division, and now in our digital collections.
No Comments
---
Posted on October 11, 2013 @2:00 pm by esquin
Beyond our personal reservations regarding evangelism and the missionary enterprise, Emma Crosby Letters collection is exceptionally interesting because it lets us see two very different perspectives on how women lived in the 19th century and on their personal struggles. On one side, we can see how the gender limitations of the time made it impossible for well-to-do women in Canada to pursue a missionary career unless they married a missionary man, and on the other we get a glimpse of what the missionary teachings meant to the Aboriginal girls subjected to them.
The daughter of a Methodist minister in Ontario, Emma Crosby studied at Hamilton's Wesleyan Female College and became a teacher. She was in her mid-twenties when she attended a lecture by Thomas Crosby on the importance of teaching the "savages" the Christian ways. He was then working as a missionary in British Columbia and needed a wife. As for Emma, she was looking for a missionary husband, so the deal was soon signed and started a strong marriage that ended with his death in 1914, after 23 years spent among the Tsimshian people. Thanks to Emma's granddaughter and great-granddaughter's donation to UBC's Special Collections Division, we can now read the letters Emma exchanged with her mother and her husband from 1874 to 1892, as well as those sent between Thomas Crosby and the Port Simpson people.
Isolated in a small Tsimshian community on British Columbia's northern coast, Emma Crosby both assisted her husband in all of his responsibilities as a missionary and replaced him in most mission activities when he was away in his ship, the Glad Tidings, reaching out to communities as far away as Alaska. Thomas, now considered by some as one of the most important Methodist missionaries in Canada, was fast to recognize that Emma was a big part of his missionary work in the far north. On top of helping her husband, Emma taught at the mission day school and originated a girls' residential school in 1880, when this system was coming to existence across the country. In the meantime, she gave birth to eight children, only four of whom survived.
Many Aboriginal girls came into Emma's care, mostly because they had no other choice, and while they helped Emma to maintain her home and take care of her children—allowing her to tackle her mission activities—they were evangelized and trained to maintain a "civilized", Victorian home. The living arrangements of these girls and of many others changed in 1880, when the residential school was built. Although this 'Home' was supposed to be a safe place where the girls would be protected and taught the Christian faith, it soon became a place of confinement with harsh rules preparing the girls for submission to their future husbands.
This unprecedented collection of letters (transcribed for the reader's benefit) will surely answer many questions, but will also give rise to many others. To answer those new ones you can turn to Good Intentions Gone Awry, by Jan Hare and Jean Barman (http://resolve.library.ubc.ca/cgi-bin/catsearch?bid=4191578), a volume you can find in the UBC Library or read online through the library's portal.
No Comments
---
Posted on October 1, 2013 @4:53 pm by esquin
Dorothy Burnett was the first independent artisan bookbinder to set up shop in Vancouver. Her friendship with Anne Yandle, previously head of Special Collections at UBC, compelled Burnett to choose our library to house a rich collection of 224 of her most treasured artifacts used in her bookbinding career. As an example of the Dorothy Burnett Bookbinding Tools collection, here you can see a French iron press used to apply uniform pressure for bookbinding.
After graduating from the Vancouver School of Decorative and Applied Arts, and getting a teaching certificate in art education, Dorothy Burnett set out for the Ontario College of Art and later on for the California College of Arts and Crafts in Oakland in the 1930s. Back in Vancouver, she opened the Craft Center Studio at the corner of Dunsmuir and Granville. She was 32 years old at the time.
With no interest whatsoever in mass production, Dorothy Burnett created handcrafted bindings that are regarded today as some of the best examples of the art of her trade. The slogan of the Craft Center Studio accurately describes her life's work and her approach not only to bookbinding, but to calligraphy as well: "Art in Form and Function".
Complementing the collection is Norman Amor's Dorothy Burnett: Bookbinder, published by the Alcuin Society in 2007, which can be found in UBC's Rare Books & Special Collections division (http://webcat1.library.ubc.ca/vwebv/holdingsInfo?bibId=3707625). After you take a look at Dorothy Burnett's bookbinding tools, in Amor's book you can find fascinating information on the bookbinder herself and on her work. This beautiful edition is stunningly illustrated with digitized covers and interior pages of the books bound by Burnett, for example of a 1935 edition of Barrie's Peter Pan, a 1937 edition of Elizabeth Barrett Browning's Sonnets from the Portuguese and an illustrated edition of Defoe's Robinson Crusoe.
No Comments
---
Posted on September 26, 2013 @7:01 pm by esquin
As a co-op student working at UBC Library Digital Initiatives Unit I get to see incredibly interesting materials that I would never see otherwise. Have I ever thought, for example, of reading anything by Daniel M. Gordon? No, never, not before digitizing his book Mountain and Prairie, A Journey from Victoria to Winnipeg, Via Place River Pass (http://resolve.library.ubc.ca/cgi-bin/catsearch?bid=1586120).
If you enjoy travel books like I do, you will love this jewel from 1880 that will soon be available in digital form in the BC Bibliography collection.
Gordon's book includes four outstanding maps and many beautiful illustrations. I want to share my favorite with you. Nowadays it is not that difficult to find a gorgeous, untouched spot like this one near Vancouver, is it?
No Comments
---
Posted on September 16, 2013 @2:40 pm by Rob
Metro Vancouver (previously the Great Vancouver Regional District), the regional political and corporate body representing 24 Lower Mainland authorities, has granted permission to the UBC Library to digitized a series of planing department land use maps. There are four series: 1965, 1971, 1980 covering the Lower Mainland and 1983 for the City of Vancouver only. These maps, as shown in the example above, are highly detailed representations of the various uses of land at the aforementioned time points. They are still heavily used by planners, historians, genealogists, attorneys and many others. The maps are being scanned at 600 pixels per inch using a Contex HD5450 wide-format scanner. They will then be edited, metadata created and uploaded in to our digital content management system. The maps are expected to be made available to the public in the first quarter of 2014.
No Comments
---