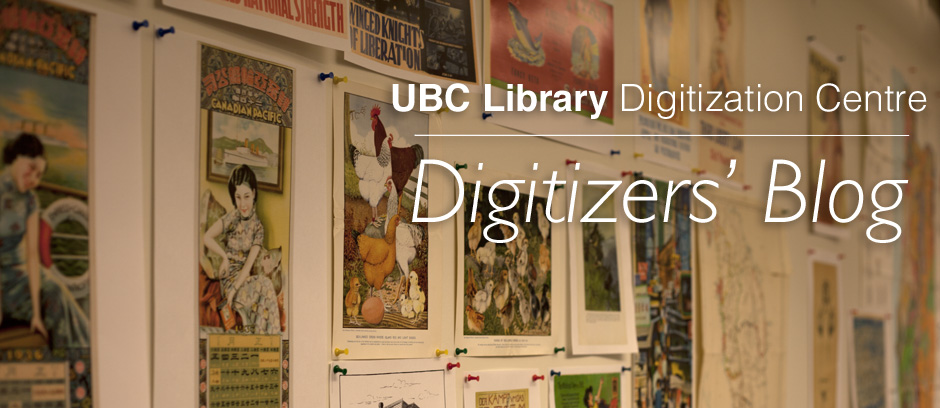 Here at the Digitization Centre we are fascinated and excited by the vast amount of primary-source material that our digitization work exposes us to.  Whether a document of historic significance, a beautiful illustration, or even a particularly fine typeface, we are frequently amazed by the materials we're working to share with the world.  So much so, that not only will we crowd around to ogle a particularly interesting specimen, but we've started decorating our workplace with copies of some of our favorites.  But why stop there?  Surely, we can't be the only ones geeky enough to appreciate such "gems" in our collections, and so we've decided to share them here with you.  Below you will find some of our favorites, hand-picked by staff from both existing and upcoming collections.  We hope you enjoy them as much as we do!   TIP: To view full resolution versions of the images on any size screen, click to enlarge and then right-click and select "open image in new tab."
---
Posted on March 4, 2016 @12:39 pm by Alexandra Kuskowski

Here at DI we occasionally get special orders for digitization. Every once and a while the orders are for pretty exciting stuff.
Recently we got an order to digitize an illustrated poster from the 1970's about the Royal Canadian Mounted Police (RCMP) in Canada currently stored in the vaults of Rare Books and Special Collections at UBC.
One interesting thing about this poster is that it has a UBC seal stamped on it. At one time many libraries UBC used seals to mark items that belonged to the library. A few libraries still do! It's a very faint imprint in the bottom right hand corner of poster.
The poster is even signed by the artist!
The poster had some pretty cool illustrations including a few mounted police, a seal, and a running story framing the picture.
We also have two cool video of the scanning process as well. The first video shows the image going through the scanner- something we've featured here before. The second video is what we see on a screen as we scan things- sped up of course!
No Comments
---
Posted on February 17, 2016 @2:14 pm by Alexandra Kuskowski

One of the best things about Open Collections is the amazing amount of images and items focused on the local area. It's easy to look back in time. Our Now & Then blog for example is a fun way to see how the UBC campus has changed.
We're turning our time machine to another beloved local landmark, Stanley Park. The park, which was dedicated over 125 years ago in 1888, has been a gathering spot long before settlers arrived.
Originally home to First Nations peoples the park land has evidence suggesting habitation up to 3,000 years ago. At the turn of the 17th century the settlements of Whoi Whoi and Chaythoos were removed to make was for the development of the area.
The landmark of Siwash Rock, located near  Third Beach, was once called Slahkayulsh which translates to he is standing up. Oral histories relate to story of a fisherman was transformed into the rock by three brothers as punishment for immorality.
Much of the park is still densely forested. With half a million trees it's close to what it was in the late 1800s. Some of the trees, which stand as tall as 76 meters (249 ft) and can are hundreds of years old.
Can you spot the men in these pictures? They are worthy of a 'Where's Waldo' photo!
Many trees tourist attractions and have been for over a hundred years. Take for example the Hollow tree- which still exists in the park! Here's a photo from over 100 years ago!
One famous tree landmark that is gone now but can still be seen in our photo collections is the Seven Sisters, a grouping of seven enormous trees. Legend has it that the trees were seven kind souls lined up to protect visitors from an evil soul embodied in a white rock.
So, if you have an hour or two get dressed in your Sunday best and see the park for yourself! Or explore the history of Stanley Park through Open Collections.
Learn more about Stanley Park, learn about the history behind the park
No Comments
---
Posted on January 28, 2016 @9:31 am by Alexandra Kuskowski
As the end of one year approaches and the beginning of a new year sneaks up it's always good to take a moment (or 5) to reflect.
The Digitization Centre and UBC have seen a lot of changes, this year and over time. Our new portal Open Collections premiered this year and UBC turned 100.
What's fun about reflecting at DI is you can see a visual of how everything has changed. One of the oldest buildings on campus is our home, the Irving K Barber (IKB) Center and we're taking the opportunity to compare a few recent photos from in and around IKB, to some digitized photos from the UBC Archives!
We hope you enjoy!
If you enjoy this blog post make sure to check out UBC Library's post on the changing library and the evolution of libraries at UBC. Also take a look at the UBC Archives Photograph Collection!
And have a Happy New Year from everyone here at the Digitization Centre!
No Comments
---
Posted on January 7, 2016 @9:56 am by Alexandra Kuskowski
Happy Holidays everyone!
Hope you are all enjoying the holiday break. We compiled a few items for your to peruse from our collections that run in the holiday spirit. Click on any image to see it closer or download it. Hope you enjoy!
No Comments
---
Posted on October 31, 2016 @11:41 am by Alexandra Kuskowski

We've got a special treat for the blog today! An advance peek at new digitizations:
This hand tinted shot of Vancouver taken between 1925 and 1933 is from some of the Uno Langmann Collection items awaiting digitization. It is a panorama taken from the Boundary Road and Trinity Street area showing much of Vancouver proper as well as North Vancouver.
From the photo you can see a clear view of the Lions mountains. In the lower righthand side you can see what is today known as the Second Narrows train crossing bridge. It is one of the few things that date the photo. The original bridge was constructed in 1925 mainly for train travel, and was the first to connect Vancouver to the North Shore. After being hit a number of times by ships passing through  it was bought in 1933 be the government, and had a lift section added- which is not seen here.
Here's a video of the image being scanned. Curious? Learn more about our scanners!
On the left side of the photo you can see the Giant Dipper, a rollercoaster built in 1925, in what is now the PNE, but was then known as the Vancouver Exhibition. It  was demolished in 1948 to make room for an expanding Hastings Racecourse track.
There is also something missing from this photo. The Lions Gate Bridge isn't hidden behind the clouds, it wasn't built until 1938.
Other cool things to note about this image – it was printed on the back of "Empress Jam" cardboard. Empress Manufacturing Co., Ltd.,  imported coffees and made local jams and jellies and one of the earliest and most successful of the local food supply companies.
1 Comment
---
Posted on February 5, 2016 @10:42 am by Alexandra Kuskowski

This week we are going give you a sneak preview of one of the coolest new machines coming soon to the Digital Initiatives, and even better a new collection we are partnering with Woodward Library!
The machine sounds about as futuristic as it gets—a 3D imager. But not to worry, it is far from HAL territory.
Currently the 3D imager is being used to digitize the Memorial Artifact Collection at Woodward. The collections of 450 medical artifacts are from mainly the 19th and 20th centuries (though there are a few from as early as the the 18th century and as last as the 21st century). People from the British Columbia area, including retiring doctors and antiques collectors, donated the bulk of the collection. The items range from brass microscopes, to cough syrup bottles – with cough syrup still in them, to electroshock therapy machines
Check out one of the first items to be digitized: a Whitehead mouth gag. It was once used to hold patient's mouths open during mouth examinations. The camera snaps each item as it rotates on the table 16 times.
It allows for cool gif's like this! [here's hoping this works on wordpress]
No Comments
---
Posted on January 4, 2016 @9:34 am by Alexandra Kuskowski

We've uploaded a few new collection albums to our Flickr account! All of our Flickr account albums are curated to between 25 and 50 images that represent the collections. Check out all of our albums.
The newest collection is 50 curated bookplates from our RBSC bookplates collection. Here are a few of the images up on Flickr now.
The other new collections include:
Epigraphic Squeezes (added to Flickr in November). Learn more about how we digitized the collection in our blog Digitizing the Ancient Past.
Cuneiform Tablets and Papyri (added to Flickr in October)- It's the oldest collection we have on Flickr – dating up to  Learn more about the provenance of our ancient collections by checking out our other blog posts: Relics from a Lost Age: Cuneiform Tablets & Provenance, Part 2: Mysterious Histories, Discover Lost Ancient Egyptian Papyri!
And last but not least One Hundred Poets Collection (added to Flickr in August).
No Comments
---
Posted on January 4, 2016 @9:35 am by Alexandra Kuskowski
It's time again for another "Exploring Open Collections" installment! This week we're taking a look at one of our biggest collections (and one that's featured) B.C. Historical Books. Previous to the Open Collections launch B.C. Historical Books was known as B.C. Bibliography and was a standalone site associated with Digital Initiatives – now it's been incorporated into Open Collections for even more amazing search capabilities!
Combining the tools of a bibliography (published work description) with the tools of a digital library, the we are offering a searchable database of the Bibliography of BC by digitizing as many works from this traditional print bibliography (and some additional materials) on the area.
If that's a bit of a mouthful for you, think of it as an astonishing assembly of resources on British Columbia.
The collection is made up of everything, from the obvious (almanacs, guide books, government reports) to the surprising (albums, printings, diaries) to the downright bizarre (poems, scores!). But that's not the most amazing part… keep reading to find out the best-kept secret of B.C. Historical Books!
To get into the collection there's a lot of fun ways to explore including looking at the cornerstone works. All of which are clickable on the collections' main page.
Or you can click through a visual representation of the collection!
Plenty to see remains even if you stick straight to the books. Take the Klondyke souvenir a photograph book published in 1901. It has amazing high quality scans for you zoom in, check out, and even download if the fancy should strike you.
But that's not the best-kept secret about B.C. Books, not by a long shot.
The best secret is that you can search the text entire collection- all 1,158+ items- in the main search bar. Any text you see has been input into the system and can be accessed at a moments' notice. If that doesn't define the information age, I don't know what does.
What is your favorite thing in B.C. books? Let us know in the comments!
No Comments
---
Posted on January 20, 2016 @9:16 am by Alexandra Kuskowski

B.C. Historical Newspapers collection is a priceless resource for anyone interested in the history of British Columbia. In fact it is one of our most well used, well-loved collections!The [current] selection of 94 papers [and growing!] and 30,000 items reflects the social and culture life of the communities they were published in, making them invaluable to researchers, historians and curious folk alike. A resource, with the introduction of Open Collections, that just got even better!
The papers come from all around the province with titles ranging from the Abbotsford Post to Westward Ho! The dates span over a hundred years, from 1865 to 1989.
With Open Collections you can now browse through the papers by text, date, creator, through a listed scrolling bar, or even, most visually stunning, by map.
Clicking on a collection will take you to its personalized page where you can browse by date with a scrolling year bar.
Clicking on a date will take you to that paper- where you are free to scroll, zoom and  download!
This collection is one that we are continually making better. Many of the papers are being updated so that you can have the best information possible, so keep checking back to see what new things you can find!
No Comments
---
Posted on January 4, 2016 @9:45 am by Alexandra Kuskowski
Check the date of this post Friday November 13. A special day for Triskaidekaphobes, people who fear the number 13. Traditionally, in the Western world any Friday the 13th is considered unlucky. Are you freaked out? If you are, you're not alone. Recorded fears start as early as the 19th century, but some say the practice  may date all the way to the middle ages.
Today many people avoid trips, traveling and any number of activities- with an estimated 80 million dollars lost in revenue in a single day. Considering there is at least one and as many as three Friday the 13ths in a given year, that's pretty significant.
This post isn't about freaking out people dislike the most feared date of the year though, it's about exploring the past! In the past 115 years there have been sixteen Friday November 13ths – a lot of which we can explore in the BC Historical Newspapers –and use them to discover cool features on Open Collections!
To see any of the papers in more detail – click on the image to go to the listing.
First up: The daily newspaper the Boundary Creek Times on Friday November 13, 1908.
That type is a little small. You can toggle to the full text by clicking the paper image on the upper left hand side.
Even better, compare the type and the paper picture by clicking the open page diagram!
Friday November 13, 1914  shows the first world war is had begun. The cartoon in the center of The Western Call has an interesting take on modernity too.
If you want to save the page click on the download button with the arrow on the upper left hand corner. It will only download the page you are on, not the whole paper.
By Friday November 13, 1925 things have cooled down. The Creston Review reports that people were able to attend whilst parties – as detailed in the upper righthand corner.
Last bust not least take a quick peek the Ubyssey from Friday November 13, 1953. The anti-red commission makes the headlines – suggesting the Cold War and fear of communists was in full effect.
Some other cultures point to Tuesday the 13th (Hispanic and Greek) or Friday the 17th (Italian) as bad luck- but that's a post for another time.
Happy Friday the 13th!
No Comments
---