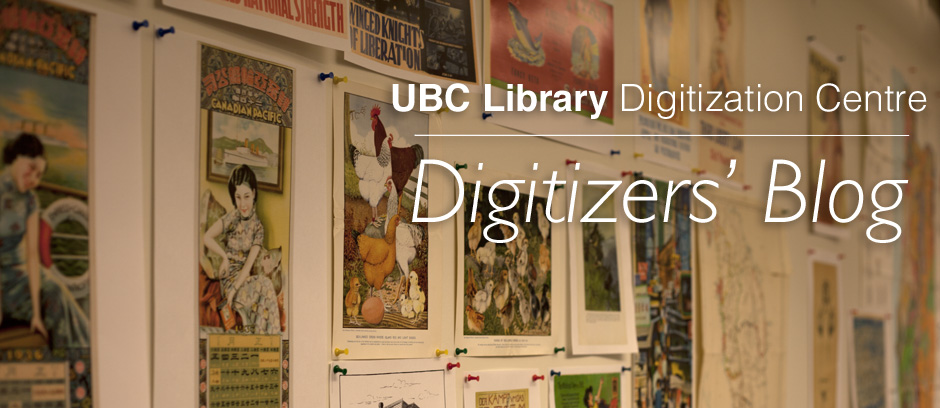 Here at the Digitization Centre we are fascinated and excited by the vast amount of primary-source material that our digitization work exposes us to.  Whether a document of historic significance, a beautiful illustration, or even a particularly fine typeface, we are frequently amazed by the materials we're working to share with the world.  So much so, that not only will we crowd around to ogle a particularly interesting specimen, but we've started decorating our workplace with copies of some of our favorites.  But why stop there?  Surely, we can't be the only ones geeky enough to appreciate such "gems" in our collections, and so we've decided to share them here with you.  Below you will find some of our favorites, hand-picked by staff from both existing and upcoming collections.  We hope you enjoy them as much as we do!   TIP: To view full resolution versions of the images on any size screen, click to enlarge and then right-click and select "open image in new tab."
---
Posted on January 10, 2018 @4:29 pm by Alexandra Kuskowski

Here at UBC it is Reading Week, which means of course most students book it to the library… kidding! Nearly every person on campus has escaped the ivory tower for greener pastures, but that doesn't mean our faithful readers can't take a look at our collections still. Did you know since they are digital accessible online, for everyone all over the world? Of course you did!
For our blog this week we're going dive right into reading theme across the ages in our digital collections.
Or, if looking at people reading or books about reading isn't your bag check out this article on the cultural production of reading and readers from UBC Theses and Dissertations – one of the many in our collection.
Of course… you don't have to take my word for it – check out the collections for yourself by clicking on the images or searching Open Collections!
No Comments
---
Posted on January 10, 2018 @12:26 pm by Alexandra Kuskowski

Forget watching Star Wars, Avengers, and Lord of the Rings on your cellphone– if you are looking for a larger-than-life story delivered to you in a small container check out our newly digitized epic poem Orlando Furioso in Western Manuscripts. The full size of the book is only 11 by 5 cm.
This preciously small package packs a punch though! Orlando Furioso is an Italian epic poem written in 1516. With 46 cantos (or chapters) this is one of the longest poems in literature. Our version, one of the earliest, was published in 1577.
The poem follows Orlando, a singular knight involved in the war between Charlemagne's Christians and the Saracen army that attempted to take over Europe. The setting ranges over the whole world, with a trip to Hell and the moon thrown in! As befitting any epic there are also soldiers, sorcerers, gigantic sea monsters, and even a hippogriff.
The poem focuses romantic chivalry, especially on Orlando's love for a princess, which among other things drives him into a mad killing frenzy – romantic enough for Valentine's day?
For us the tiny, tightly bound book was a challenge to digitize. Not only was it old, small, and fragile- the print often goes very close to the center binding, making it difficult to get a complete picture of for digitization.
However here at the Digitization Centre we are nothing if not dogged in our pursuit of world digitization. To bring this epic poem to you in a digital format we used our ATIZ machine, shifting the book cradle from side to side as we digitized. It may have taken a few tries and a long while but, and this is a direct quote from our main digitizer, Leslie Fields "all in all it was really worth it"
So check it out for your self to see what all the fuss is about!
No Comments
---
Posted on March 4, 2016 @12:38 pm by Alexandra Kuskowski

Known as the Spring Festival the Chinese New Year is a holiday determined by the lunisolar Chinese calendar- meaning the date changes from year to year. Festivities start the day before the New Year (Feb 8th this year) and continue until the Lantern Festival – celebrated this year on February 27th.
For Vancouver this holiday is a pretty big deal! The Chinese community is as old as the city itself – and is also the third largest in North America. So you can bet there will be some celebrations going on.
Each year is characterized by an animal. This year is the Monkey – the 9th animal in the cycle.
Take a minute to check out the Chinese related material in our collections! Click on any of the images pictured here or search through the
Asian Rare Books collection
– filled with all sorts of interesting things census forms, literature, even 
wall map of China published in late Ming dynasty (between late 16th century and early 17 century)
 or check out the
Yip Sang Collection
 filled with letters (translated in English and Chinese) of Yip Sang who settled in Vancouver in 1881. All these letters are currently stored at the Vancouver City Archives.
 Xīnnián hǎo (New Year Goodness) to you all!
No Comments
---
Posted on February 12, 2016 @12:16 pm by Alexandra Kuskowski

One of our most dazzling collections is the One Hundred Poets. Originating from the personal collection of Professor Joshua Mostow of the UBC Department of Asian Studies with material largely from the Edo-period (1615-1868), and currently the buzz around it is heating up.
While our metadata is pretty comprehensive – check out the information on this piece in English and Japanese!
It will not give all the background you might get from, say talking to the collection owner! That's why you should check out Professor Mostow's talk "Japanese Early Modern Literary Literacy and Material Culture" at the Museum of Anthropology tomorrow night (1/28/2016) from 4-5 pm. The talk will discuss in depth the digitized books (hanpon 版本), single-sheet woodblock sheets (hanga 版画) and card sets (karuta) to the public. This is an amazing chance to learn more about collection in person in depth, straight from the source.
Don't miss out go learn about the most important collection of Japanese poetry in the literary canon!
If collection development is more your thing check out this great article written by our own Saeko Suzuki written in Japanese on the 100 Poets collection : Digitization of Japanese Pre-modern Materials. It covers extensive collections from both the UBC Open Collections and the University of Washington
No Comments
---
Posted on January 10, 2018 @12:30 pm by Alexandra Kuskowski

UBC Open Collections has lots of hidden gems to discover. One of the most historically fascinating is the women of the World War I 1914-1918 British Press photograph collection. The collection images depict multi-faceted views of World War I, and were originally distributed by the British government during the war to diplomats overseas for use in official projects.
Searching "women" in this collection brings back a multitude of photos picturing women working over the war years in what traditionally were considered male jobs from farming to building, to factory work.
The women pictured in this collection are particularly fascinating. These images show a time when women were in transition.
Click on any of these pictures to see the original!
Before the war women were mainly restricted to working in textiles or in the home. After Word War 1 began the need for women workers to replace men fighting on the front was serious, and it only became more urgent after the conscription act in 1916 went into effect. The act was actually passed in January 1916- exactly a hundred years ago this month!
From 1914 only 23.6% of the female population was employed and by 1918 that had doubled to 46.7%. Women, though performing the same jobs, were paid less than men for nearly all of the war. This began to change in 1918 when women working for the London buses and trams when on an equal pay strike.
After the war the UK government endorsed the 'equal pay for equal work.' This of course didn't end the of equal pay, it only began a new chapter. In the meantime, these images depict an amazing slice of life in a changing time.
Take a look at the collection by clicking on the pictures. Or search the collection yourself!
Do you have a favorite photograph? Let us know in the comments below!

No Comments
---
Posted on March 4, 2016 @12:39 pm by Alexandra Kuskowski

Here at DI we occasionally get special orders for digitization. Every once and a while the orders are for pretty exciting stuff.
Recently we got an order to digitize an illustrated poster from the 1970's about the Royal Canadian Mounted Police (RCMP) in Canada currently stored in the vaults of Rare Books and Special Collections at UBC.
One interesting thing about this poster is that it has a UBC seal stamped on it. At one time many libraries UBC used seals to mark items that belonged to the library. A few libraries still do! It's a very faint imprint in the bottom right hand corner of poster.
The poster is even signed by the artist!
The poster had some pretty cool illustrations including a few mounted police, a seal, and a running story framing the picture.
We also have two cool video of the scanning process as well. The first video shows the image going through the scanner- something we've featured here before. The second video is what we see on a screen as we scan things- sped up of course!
No Comments
---
Posted on February 17, 2016 @2:14 pm by Alexandra Kuskowski

One of the best things about Open Collections is the amazing amount of images and items focused on the local area. It's easy to look back in time. Our Now & Then blog for example is a fun way to see how the UBC campus has changed.
We're turning our time machine to another beloved local landmark, Stanley Park. The park, which was dedicated over 125 years ago in 1888, has been a gathering spot long before settlers arrived.
Originally home to First Nations peoples the park land has evidence suggesting habitation up to 3,000 years ago. At the turn of the 17th century the settlements of Whoi Whoi and Chaythoos were removed to make was for the development of the area.
The landmark of Siwash Rock, located near  Third Beach, was once called Slahkayulsh which translates to he is standing up. Oral histories relate to story of a fisherman was transformed into the rock by three brothers as punishment for immorality.
Much of the park is still densely forested. With half a million trees it's close to what it was in the late 1800s. Some of the trees, which stand as tall as 76 meters (249 ft) and can are hundreds of years old.
Can you spot the men in these pictures? They are worthy of a 'Where's Waldo' photo!
Many trees tourist attractions and have been for over a hundred years. Take for example the Hollow tree- which still exists in the park! Here's a photo from over 100 years ago!
One famous tree landmark that is gone now but can still be seen in our photo collections is the Seven Sisters, a grouping of seven enormous trees. Legend has it that the trees were seven kind souls lined up to protect visitors from an evil soul embodied in a white rock.
So, if you have an hour or two get dressed in your Sunday best and see the park for yourself! Or explore the history of Stanley Park through Open Collections.
Learn more about Stanley Park, learn about the history behind the park
No Comments
---
Posted on January 10, 2018 @12:16 pm by Alexandra Kuskowski
As the end of one year approaches and the beginning of a new year sneaks up it's always good to take a moment (or 5) to reflect.
The Digitization Centre and UBC have seen a lot of changes, this year and over time. Our new portal Open Collections premiered this year and UBC turned 100.
What's fun about reflecting at DI is you can see a visual of how everything has changed. One of the oldest buildings on campus is our home, the Irving K Barber (IKB) Center and we're taking the opportunity to compare a few recent photos from in and around IKB, to some digitized photos from the UBC Archives!
We hope you enjoy!
If you enjoy this blog post make sure to check out UBC Library's post on the changing library and the evolution of libraries at UBC. Also take a look at the UBC Archives Photograph Collection!
And have a Happy New Year from everyone here at the Digitization Centre!
No Comments
---
Posted on January 7, 2016 @9:56 am by Alexandra Kuskowski
Happy Holidays everyone!
Hope you are all enjoying the holiday break. We compiled a few items for your to peruse from our collections that run in the holiday spirit. Click on any image to see it closer or download it. Hope you enjoy!
No Comments
---
Posted on October 31, 2016 @11:41 am by Alexandra Kuskowski

We've got a special treat for the blog today! An advance peek at new digitizations:
This hand tinted shot of Vancouver taken between 1925 and 1933 is from some of the Uno Langmann Collection items awaiting digitization. It is a panorama taken from the Boundary Road and Trinity Street area showing much of Vancouver proper as well as North Vancouver.
From the photo you can see a clear view of the Lions mountains. In the lower righthand side you can see what is today known as the Second Narrows train crossing bridge. It is one of the few things that date the photo. The original bridge was constructed in 1925 mainly for train travel, and was the first to connect Vancouver to the North Shore. After being hit a number of times by ships passing through  it was bought in 1933 be the government, and had a lift section added- which is not seen here.
Here's a video of the image being scanned. Curious? Learn more about our scanners!
On the left side of the photo you can see the Giant Dipper, a rollercoaster built in 1925, in what is now the PNE, but was then known as the Vancouver Exhibition. It  was demolished in 1948 to make room for an expanding Hastings Racecourse track.
There is also something missing from this photo. The Lions Gate Bridge isn't hidden behind the clouds, it wasn't built until 1938.
Other cool things to note about this image – it was printed on the back of "Empress Jam" cardboard. Empress Manufacturing Co., Ltd.,  imported coffees and made local jams and jellies and one of the earliest and most successful of the local food supply companies.
1 Comment
---