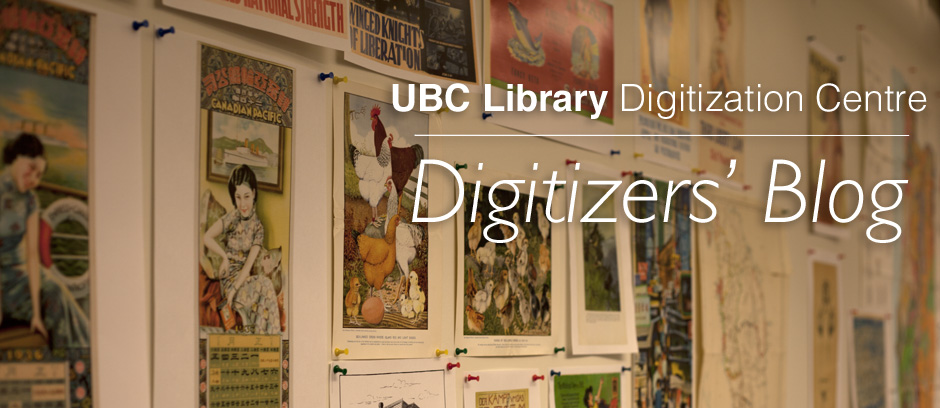 Here at the Digitization Centre we are fascinated and excited by the vast amount of primary-source material that our digitization work exposes us to.  Whether a document of historic significance, a beautiful illustration, or even a particularly fine typeface, we are frequently amazed by the materials we're working to share with the world.  So much so, that not only will we crowd around to ogle a particularly interesting specimen, but we've started decorating our workplace with copies of some of our favorites.  But why stop there?  Surely, we can't be the only ones geeky enough to appreciate such "gems" in our collections, and so we've decided to share them here with you.  Below you will find some of our favorites, hand-picked by staff from both existing and upcoming collections.  We hope you enjoy them as much as we do!   TIP: To view full resolution versions of the images on any size screen, click to enlarge and then right-click and select "open image in new tab."
---
Posted on November 6, 2015 @10:35 am by Alexandra Kuskowski

We've got an exciting announcement! You can now check out our 2014-2015 Impact Report. To download it click here.
It's a short 2 pager, packed with tons of cool information, and pictures! Learn about the new projects we've added over the year, get some juicy quotes from our collaborators, and find out whats coming up.
Some Fun Facts from our Impact Report:
We increased out online visitors over 10% from last year.
Each month we average 18,000 impressions (tweet views) on twitter.
We've been developing a new portal, calledOpen Collections. We are launching it this fall.
If you want even more check out both our Impact Reports under "Reports" in our Documentation section.
No Comments
---
Posted on November 5, 2015 @1:55 pm by Alexandra Kuskowski
UBC had a centennial birthday yesterday! On September 30th 1915 the University of British Columbia held the first lectures for the newly formed University. To celebrate this momentus occasion we're  taking a look back here on the blog at DI. Memories abound all over the campus and beyond.
Check out some of the amusing, amazing, even astonishing photos of what else was going on in the year 1915. Click on the pictures to see even more.
The year 1915 was also a major year in WW1. Many people were volunteering for the army, being shipped overseas, or participating in the war effort however they could.
At home people kept on living- getting married, working, and gardening- and of course, going to school!
No Comments
---
Posted on October 21, 2015 @4:25 pm by Alexandra Kuskowski

UBC Okanagan + DI = Gold Mine of Information
Digital Initiatives is at it again with UBC Okanagan Library, to provide you with new historical resources from the resource industry!
Employees at DI helped to consult and work collaboratively with Arielle Lomness, Collections Librarian at UBC Okanagan and Dual MAS/MLIS candidate Paige Hohmann, in digitizing two collections belonging to the UBC Okanagan Library: the Simpson Family fonds and Doug and Joyce Cox Research Collection.
Along the way UBC Okanagan also set benchmarks for their upcoming digital collections. Overall digitization of both donations will continue over the coming year, but are available currently for in-person research at the UBC Okanagan Library
.For now, learn more about the cool fonds and collection that are coming to a computer near you soon!
Simpson Family Fonds
In July 2014, Sharron J. Simpson donated her family papers to UBC Okanagan Library's developing Okanagan Special Collections (OSC). The Simpson Family fonds, documents Ms. Simpson's grandfather, Stanley M. Simpson of Kelowna, his wood processing plants known collectively as S. M. Simpson Ltd. and its corporate successors. For almost fifty years, S. M. Simpson oversaw one of the largest and most important forestry and wood processing operations in the Okanagan Valley. At the time the company was also one of the most relied upon employers in the area.
The collection features a photographic record of the changes of the forestry industry in B.C.'s interior during the first half of the twentieth century, and includes collection of labour and union related documents, including collective agreements and administrative documents.
Doug and Joyce Cox Research Collection:
In January 2015, Doug and Joyce Cox donated the aggregate of Mr. Cox's records supporting Mr. Cox's career as a writer and self-publisher (Skookum Publications), 12.2 meters of material, to the Okanagan Special Collections' (OSC). The material collected ranges in dates from 1870 to 1960.
The Cox Collection features a wealth of collected materials, including those of prominent pioneers: F.X. Richter (Kelowna, B.C), Valentine Haynes (Osoyoos B.C.), and J.M. Robinson (Naramata, B.C.). In addition to family photo collections, there are other aggregations collected on a basis of subject (i.e. ranching, mining) and geography in the region.
Full descriptions of the collections are available now online – http://rbscarchives.library.ubc.ca/. In addition to the digital collections, a website featuring the newly updated Special Collections and archival collections will be available this fall through the UBC Okanagan Library website. More information will be made available shortly through http://library.ok.ubc.ca/.
No Comments
---
Posted on October 21, 2015 @9:43 am by Alexandra Kuskowski

How do you image the REALLY big items? Or the items that won't fit in a normal scanner?
The largest (and most exciting!) image-processing machine we have here at DI is definitely the TTI.
The TTI is used to scan large, fragile, or otherwise oddly shaped items. You may have caught glimpses of it here.
To show you how it works we are scanning a few delicate maps from the Chung Collection. The maps are foldouts from a book by Sir George Simpson that are still attached, so we couldn't use THIS machine.
To start, we boot up Capture Flow. Capture Flow is an image-processing program with settings for the exposure time and color adjustment. We also turn on the camera back (Sinarback Evolution 86 H with a Sinaron Digital HR 5.6/90 CMV lens) pointed at the TTI flatbed, and two banks of LED lights that evenly illuminate any item being imaged.
Laying the map on the large TTI bed (40" by 60") the color corrector, a QPcard 101, and a Better Light focus card are used. They help color correct the image in the editing phase and focus the image properly, respectively,  so the picture comes out as true to life as possible.
Test images are taken. They are viewed on the attached screen to check everything is working properly. The color sometimes looks off in the image, but we will correct that later.
Then the real fun begins! To flatten the map we turn on a vacuum built in to the flatbed of the TTI. It will draw the scanned item gently flat. A clean glass plate is set over the map to smooth it out even more.
The camera's CCD sensor's pixel matrix is shifted three times laterally or vertically by exactly one pixel width from one exposure to the next, so that every image point is covered by every primary color (red, blue, 2x green).. Captureflow receives the images as a single unit for a more color-realistic and detailed image.
This particular map is too big to image all at once. The map gets flipped and moved to image additional sections.
Later the images are stitched together in the post processing step, using Adobe Photoshop. The final product you end up with is a beauty that looks like this:
No Comments
---
Posted on October 2, 2015 @10:56 am by Alexandra Kuskowski

The One Hundred Poets project originated from the personal collection of Professor Joshua Mostow of the UBC Department of Asian Studies. It was made possible through generous funding from the Toshiba International Foundation (TIFO) and collaboration between the UBC Department of Asian Studies, Asian Library, Digitization Centre, Rare Books and Special Collections and Technical Services.
You've heard of (and hopefully explored!) Phase 1 of this project. It was completed earlier this summer. If you haven't had a chance yet, check it out here.
This week we've got a sneak peek of Phase 2! Check out the amazingly beautiful woodblock prints already digitized.
Phase 2 of the One Hundred Poets Project will digitize around 70 more items including about 50 books and 19 woodblock prints. Phase 2 will also focus on metadata enrichment for the existing collection – making it easier to search access by adding more information!
In addition we will be working with the UBC conservator Anne Lama to preserve these priceless items!
Stay tuned for more information!
No Comments
---
Posted on January 10, 2018 @11:20 am by Alexandra Kuskowski
Ready for part 2 of our postings on the cuneiform tablets in the Ancient Artefacts Collection? In the previous post we learned a little about the cuneiform tablets and provenance in general – with a cliff hanger of course.
What IS the provenance of Rare Books & Special Collections cuneiform tablets?
This post we will come closer to finding out. Lisa Cooper, Associate Professor of Near Eastern Art & Archaeology in UBC's Department of Classical, Near Eastern, and Religious Studies Department, was able to help us start to unravel the mystery.
Arriving at UBC at some time in the early 20th century CE the tablets were accompanied by a typed note intended to provide information about their provenance. However the note was full of, at best, misinformation and at worst? Lies.
The note endowed the tablets with significant cachet – including stating that the tablets had originated in the famed city of Ur (mentioned in the Bible, among other things). It also states that the tablets been excavated through a University dig between 1905 and 1912 by Yale University under the direction of Professor A.T. Clay. Sounds pretty important doesn't it? Too bad not one part of it is true.
We know today the first excavation of Ur wasn't until 1922 – by the British Museum and the University of Pennsylvania. The professor in question, A.T. Clay, didn't even visit Mesopotamia until 1920, about 10 years after the dates indicated in the notes.
So where did these tablets come from? How were they found? Who brought them to UBC?
We still don't know all the answers to these questions, but we are starting to learn more. Unprovenaced items like the RBSC tablets can end up being the subject of much discussion. The debate centers around the morality and legality of the acquisition of these items by western institutions. For more information on that debate, check out Professor Lisa Cooper's UBC news piece on antiquities from the Middle East.
The little we can conjecture about the RBSC tablets is that they were likely purchased in an antiquities market in the early 20th century.
Someone may have translated the tablets, seen the Third dynasty of Ur marking the era, and mistakenly believed the tablets were from Ur. The mistranslation could have been because the tablets were originally translated 50-60 years ago – before we have the knowledge of the past we do now.
Put that misinformation together with someone looking to make a profit, or even just guessing at a possible provenace, and volia! You have items originating out of thin air.
Due to contextual information in the tablet writing, we now believe that three tablets originate from the Umma region and two come from Puzrish-Dagan region. As well, recent scholarship dates the reigns of Shulgi and Amar-Sin – the two kings mentioned in the tablets – to almost 300 years earlier than originally thought.
Tomorrow, who knows? With the provenance of many ancient items, including ones such as these, there is always more to uncover.
No Comments
---
Posted on January 10, 2018 @11:20 am by Alexandra Kuskowski
Made in partnership with Rare Books and Special Collections and the From Stone to Screen project, the cuneiform tablets are among the most ancient objects Digital Initiatives has ever digitized! The tablets are part of Ancient Artefacts collection, which also includes Egyptian papyri.
Considered today to be one of the most significant cultural contributions by the Sumerians, cuneiform is one of the earliest known systems of writing. The RBSC tablets were created during the 20th century BCE, between 2029 – 1973 BCE, over 4,000 years ago. Cuneiform translates to "wedge shaped" from the Latin word "cuneus" meaning wedge and refers to the shape of the writing. The marks were often made with a reed. It replaced the pictorial style of writing from the 31st century BCE to about the 1st century CE.
By the 2nd century CE the script had been replaced with Phoenician alphabet, and all knowledge of how to read the script was lost until the 19th century.
Most of the found cuneiform tablets have not been translated, as there are few qualified individuals in the world. Luckily here at UBC, we have qualified individuals willing to translate the ancient script. Today we can say they were written in Sumerian. Where they came from? That's another story.
Determining the provenance is not easy and is sometimes impossible.
Provenance is a tricky thing especially when the items in question are thousands of years old. It's made even trickier by people lying in order to give an object a history it doesn't have, or even those with good intentions but inadequate or misleading information.
Which is exactly what happened with the history of these tablets. Want to know the misinformation, lies, and mysterious history behind these tablets? Stay tuned for Part 2 next week!
No Comments
---
Posted on January 10, 2018 @11:56 am by Alexandra Kuskowski

The David Conde Fonds is a long-standing project we've been working on in partnership with UBC's Asian Library, Rare Books and Special Collections, and the University of Tokyo (thanks to a grant the latter organization received from the National Diet Library). We are happy to announce that many of the materials from the Conde fonds are now uploaded and available for consultation, including transcripts of the International Military Tribunal For the Far East (IMFTE).
The IMFTE, also know as the Tokyo War Crimes Trials, convened on April 29,1946 to try the leaders of the Empire of Japan for war crimes. The range of crimes was significant including prisoner abuse, torture, rape, execution without trial and inhumane medical experiments, among others.
David Conde was a Canadian journalist working in Japan from the 1940's to the 1960's. He is best known for his reporting on the IMTFE trials from 1946-1948. This notoriety may be because General Douglas MacArthur threw Conde out of the trial about halfway through and banned him from further proceedings.
Conde's time in the courtroom however, was not without benefit. Conde collected extensive documentation at these trials, as well as during his time in Japan, where he spent many years as a critical journalist of Japanese and American politics. Conde's documentation provides a valuable resource for study of this important period in post-War history. The portions of the David Conde fonds that have been digitized can be accessed, along with a detailed finding aid for the fonds listing all materials,  here.
No Comments
---
Posted on January 10, 2018 @3:51 pm by Alexandra Kuskowski
BC Historical Newspapers is one of Digital Initiative's largest and most popular collections—and for good reason! A treasure trove of information is to be discovered within them. With over 24 different papers published from 1887-1911, there is a lot to choose from. The news then wasn't so much a bulletin of events, but rather a Facebook for a century that didn't have the internet.
Many would send information to the newspaper, to post items about their doings.
The newspaper would also quiet generously post important information such as say… a flock of geese flying over town.
But the most interesting (and lets face it- hilarious) part of the whole endeavor is diving into the world of backstabbing and general catcalling these newspapers participated in, printing almost daily attacks on one another.
Often a few men owned the majority of the papers published in the region and would use multiple papers in their employ to attack their rivals. What's more these guys did not pull their punches.
Here's the District Ledger discussing the "paper bullets" (aka pot shots) the local papers sent at one another.
Below a string of insults is first directed at other papers in general (comparing them to posters – though today that might not be such a bad thing), then to a specific editor of a rival newspaper, and finally at the populace general.
Another insult was published in the Creston Review and is completely indecipherable without either a good dictionary or the internet.
The best backstory though is the one of the Creston Review paper, which was owned by paper conglomerate J.J. Atherton, who owned a number of papers in the BC area. According to his daughter Atherton was a terrible gambler, both in that he loved to try is luck and that he hadn't much luck to begin with.  Due to this, he lost the Creston Review to a rival publisher after a game of cards!
The paper, under new ownership, went on to jab him in print in the coming months in the best way possible- with nicknames and questioning his sanity.
Of course Jay Jay jabbed right back using one of his other papers.
Who knew there was so much gossip to be had in 100 year old papers? And there is plenty more where that came from. Check out the interesting world of the BC Historical Newspapers for yourself. And stay tuned, we will be adding more newspapers soon!
No Comments
---
Posted on January 10, 2018 @12:07 pm by Alexandra Kuskowski

What might drive a man to eat his own coat? The answer can be found in the newly digitized journal of Percy Broughton, an Anglican missionary. The journal itself originates from the Museum of Anthropology (MOA) and the digitization is a joint project filed under Special Projects with Digital Initiatives.
Broughton, a missionary whom we know little about, served the Church Missionary Society in Lake Harbour (Kimmirut) on Baffin Island from 1911 to 1912. His most famous circulating story is that of eating part of his own deerskin coat while being stranded outdoors for two days after losing his Inuit guides  .
But eating his own wardrobe wasn't his only adventure outlined in his journal. Broughton discusses his experiences, expenses, and trips taken through Europe, East Asia, South Africa, Australia, the South Pacific as well as various parts of Canada. He also incorporates descriptions of everyday life from the hardships of Inuit and mission life, to sickness, to lack of food. Other notations include biblical notations for sermons, lists of names of sick people with dates, baptismal records, and commentary on World War I.
The log is laid out as a day journal with writings for multiple years appearing on the same page. Broughton's writings appear both before and after his trip to Baffin Island, a journey that changed the course of his life.
Check out his journal here or just click on the pages.
If you are interested to see more a number of things he collected on his journeys are now housed in the MOA. You can check them out here.
Some of the information for this blogpost was retrieved here:
Harper, Kenn. "Percy Broughton, the Unknown Missionary – Part 2." Nunatsiq Online. NUNATSIAQ NEWS, 11 Nov. 2010. Web. <http://www.nunatsiaqonline.ca/stories/article/taissumani_nov._12/>.
No Comments
---