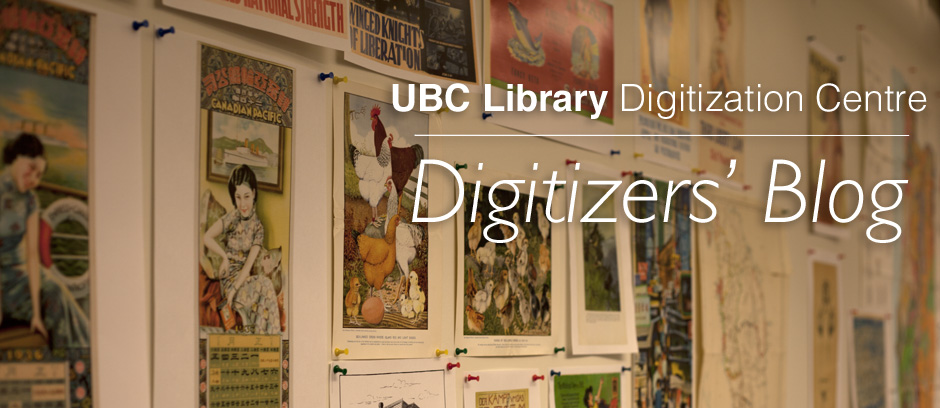 Here at the Digitization Centre we are fascinated and excited by the vast amount of primary-source material that our digitization work exposes us to.  Whether a document of historic significance, a beautiful illustration, or even a particularly fine typeface, we are frequently amazed by the materials we're working to share with the world.  So much so, that not only will we crowd around to ogle a particularly interesting specimen, but we've started decorating our workplace with copies of some of our favorites.  But why stop there?  Surely, we can't be the only ones geeky enough to appreciate such "gems" in our collections, and so we've decided to share them here with you.  Below you will find some of our favorites, hand-picked by staff from both existing and upcoming collections.  We hope you enjoy them as much as we do!   TIP: To view full resolution versions of the images on any size screen, click to enlarge and then right-click and select "open image in new tab."
---
Posted on January 10, 2018 @11:40 am by Alyssa Hamer

Phase 3 of the British Columbia Sessional papers have been digitized, and extend the collection over a further twenty-year period, from 1912 to 1932. With the addition of these 664 new papers, the collection now totals 2409 items!
The Sessional Papers are an annual collection of selected papers tabled in BC's Legislative Council (1865-1871) and Legislative Assembly (1872-1982). These papers highlight the cultural, economic, social and political atmosphere of their historical era.
The project is a collaboration between several provincial institutions, known as the BC Government Publications Digitization Group, which aims to increase access to high-demand government materials.
This multi-year project now enters into Phase 4. Learn more about the BC Sessional Papers, or check out previous posts about the project here and here.
No Comments
---
Posted on January 10, 2018 @12:08 pm by Alyssa Hamer

May is Asian Heritage Month in Canada, and in order to celebrate, today's post will feature highlights from UBC Library's collection of Japanese-Canadian newspaper, Tairiku Nippō (Continental Daily News). Published in Vancouver between 1907 and 1941 and written primarily in Japanese, the Tairiku Nippō acted as an important informational resource and community touchstone for Japanese immigrants to British Columbia prior to the internment of Japanese Canadians during World War II.
This newspaper provides insight into the lives of pre-war Japanese Canadians in the Lower Mainland, covering religious announcements, community events, and other information relating to the community at the time. There are also some pretty nifty advertisements throughout the newspaper too, including shoe mongers and even a steam car wash.
This collection has been digitized by UBC as a part of its Japanese Canadian Student Tribute, which honours the 76 Japanese-Canadian students who were unable to complete their UBC degrees or could not attend their graduation ceremonies as a result of the 1942 internment.
Digital Initiatives has partnered with Dr. Norifumi Kawahara, of Ritsumeikan University in Japan, in order to identify key pieces of information contained within each issue, such as major headlines and cover stories. Dr. Kawahara's graduate students interpret the text and then provide transcriptions of this information in both Kanji and Romaji. This is important work, especially since computer software to read and interpret Asian languages (OCR), especially in relation to older documents, is much more challenging than with Latin script!
Join UBC Library in commemorating Asian Heritage Month – check out a number of exhibitions taking place this month on campus, review the Asian Library's Great Reads, or browse some of our other online collections relating to Asian Heritage below!
No Comments
---
Posted on June 15, 2016 @10:11 am by Alexandra Kuskowski

Loyal blog readers (and you unloyal ones – you know who you are) it is time for a change in regime. Every week for the past year I have been bringing you the news from Digital Initiatives. Next week you will be getting a new coop student, Alyssa, bringing the best behind the scenes look at what we do here.
For my last blog post I will share a bit of digitization humour using images from Open Collections of course. The jokes focus on what coop students do with the 96% of time they aren't on social media– i.e. cleaning the data attached to all the content you access everyday on OpenCollections shared via our content online (read more about it here).
If you want to see the original images in all their glory, just click on the pictures!
Learn more about digital preservation here!
Blogging for the Digitization Centre has been a blast for the past year, and I hope you enjoyed reading the posts! If not, don't tell me. Tell the new coop student. She will be sure to avoid my mistakes.
Hope everyone has a great summer!
No Comments
---
Posted on June 22, 2016 @10:08 am by Alexandra Kuskowski
This week we have a quick peak at the behind the scenes stuff we do here at Digital Initiatives.
Some of these images are new and some are a bit older, but all give a fun look at the secret stuff that happens to get the content you see online! Scroll to the bottom to see links to our longer articles about the process behind many of these pictures.
If you would like to learn more about the Uno Langmann Collection click here.
If you are interested in how we scan posters and large maps click here.
If the disbinding intrigued you click here.
No Comments
---
Posted on January 10, 2018 @12:07 pm by Alexandra Kuskowski

Way back in January UBC Library scored a rare book coup, acquiring two exceptional examples of early gay literature that share a connection with famed Victorian writer Oscar Wilde.
Teleny and its prequel, Des Grieux, were first published in the 1890s. It's long been suspected, but never confirmed, that Wilde may have authored or contributed to the texts.
Now both of these texts are available for online study and access through Open Collections. (But be aware before you click- this literature is a bit racy – don't let anyone ever tell you the library isn't exciting!)
"Even if Wilde didn't write them, the speculation is still a fascinating part of his enduring mythology," said Gregory Mackie, Assistant Professor in UBC's Dept. of English.
Only five known sets of the two-volume publication Teleny remain, and there are only three known copies of Des Grieux. UBC is the only collection in the world with both texts- and now you can see them too!
No Comments
---
Posted on January 10, 2018 @12:24 pm by Alexandra Kuskowski

We are pleased to announce the newest exhibition NANITCH: Early Photographs of British Columbia from the Langmann Collection. Here at Digital Initiatives the Langmann Collection is one of our most popular collections, one that we love to share!
The exhibition is a collaboration between the UBC Library and the Presentation House – and a chance for you to see some of your favourite images from Open Collections in person!
NANITCH is on view now at the Presentation House in North Vancouver until June 26th 2016.
In the exhibition you will see the curated photos, hand-coloured albumen prints, stereocards, cartes de visite, postcards and glass negatives from the Langmann Collection. The photos on display span a sixty-year period from the 1860s to the early 1920s. They showcase the amazing transformation British Columbia when through during that time period and looks into how and why the photographs were made. The exhibition goal is to look at the "significant role of the camera in colonization and calls on viewers to question colonialist narratives of progress".
For those of you who can not get enough of this stuff please take a look at the 7,900 images with over 5,000 postcards you can access through Open Collections in the Langmann collection.
You can explore the collection by famous photographers like Carlo Gentile, Charles Horetzky, Frederick Dally, and Charles Mac Munn. Or try scrolling through our timeline of uploaded albums for intriguing browsing.
Find out more about the Uno Langmann Family Collection of BC Photographs here. Or click any of the photos above!
No Comments
---
Posted on June 22, 2016 @10:08 am by Alexandra Kuskowski
One of the most intriguing parts of Open Collections is the API search function. API, Application Programming Interface, is a set of defined tools that people use to communicate with a software system.
Basically this translates to asking a data program questions in computerese* – and getting back defined answers on that data that a computer (and, with practice humans) can read and use for research.
*computerese here translating to : A request URL sent over in HTTP with data/text sent back. The URL has everything needed to make a response. It's called a RESTful approach.
What does this mean for Open Collections though?
It means, that API can help users run queries and do advanced analysis on Open Collections data. Or if you are really technically inclined you can make custom views, apps, widgets etc with full access to all the Open Collections Data.
Cool, I'll bite. I want to see this data for myself. How do I do it?
First step asks you to Register an API key.
Step two involves using your web browser URL to make a request ( aka your questions) you can access collection metadata  information (about our collections as a whole) or collection item metadata (information about items individually.
There are a few ways to do this – use UBC's Query Builder for an easy input…
OR you can make a URL to submit an a HTTP Open query.
That's a lot of words, but basically you use a root URL https://oc-index.library.ubc.ca/ and change it to include the collections/items you want in your query
Here we input the Uno Langamann Collection for collection metadata:  https://oc-index.library.ubc.ca/collections/langmann
and this is the answer we got back:
And step 3? That's obvious — Profit!
… well not really. However, you can read the response that comes back! See the answers we posted above as examples.
In case you are curious – check out items (if you are searching by collection items) by copy pasting the item number – with parenthesis – in Open Collections to see the item for yourself.
OR check out our International Interoperability Image Framework (IIIF) documentation on  querying IFF documents  which gives you access to our images programmatically
If you are interested, UBC explains the whole thing wonderfully – and in more detail – here.
Our API is pretty famous, it was even mentioned regarding Open Collections in this article.
Give our API queries a try! You never know what you might find!
No Comments
---
Posted on January 10, 2018 @12:25 pm by Alexandra Kuskowski

We've got another new (but actually really really old) addition to our digital collection. We're excited to share that we have digitized a rare Latin Bible from the 13th century! You can check it out in out Western Manuscripts collection where many of our oldest books live.
This Bible is an amazing addition to our collection for a few reasons. First, it was a Student Bible made in Oxford England around 1250 AD, something that at the time was pretty remarkable. Back then most Student Bibles were produced on the continent, typically in Paris, for university pupils and professors who used them for their studies. This makes our Bible unique – and the only one like it in a Canadian collection.
A second special aspect of this Bible is the concordance at the end of the book. The concordance, pictured below, is an index created for the Bible on where to find certain words or phrases within the book.
One of the early owners created this concordance shortly after the book was finished. The concordance is obviously not part of the original book. We don't know exactly when or who created it – and if any of you scholars out there want to try to find out, take a shot and let us know about it! We wholeheartedly support you!
Even you are not a scholar take a look at the book for yourself, or take a look at the UBC press release on this book. It might make you into a bibliophile!
No Comments
---
Posted on January 10, 2018 @11:39 am by Alexandra Kuskowski

Digitization of BC Sessional Papers, from 1933-1952,
 is on its way.
Phase 3 of Sessional Papers has been approved and digitization will start this summer! This phase will look at 41 bound volumes from the British Columbia Sessional Papers. It will increase our current collection by 19 years – and as an added bonus there will be fold out maps and charts to check out.
The Sessional Papers are important provincial legislative documents that capture the economical, historical, political, and cultural atmosphere of British Columbia history. The Sessional Papers include official committee reports, orders of the day, petitions and papers presented, records of land sales, correspondence, budgetary estimates, proclamations, maps, voters lists by district, and departmental annual reports.
Click here to visit our digital collections page to view the volumes we have digitized.
Click here to read more about what sessional papers are and how they can be utilized for research.
No Comments
---
Posted on January 10, 2018 @12:07 pm by Alexandra Kuskowski
The Royal Fisk Gold Rush Letters are collection of over 900 original manuscript letters from the Cariboo Gold Rush period, 1862-1868.  Merchants in the Victoria area wrote the letters to Royal Fisk, a shipping agent in San Francisco, during the height and decline of the Cariboo Gold Rush.
To transcribe the letters – hopefully making it easier to access our content – we partner with the UBC History 305 course. Each the letter is scanned and uploaded to Open Collections the students in the History 305 decode and transcribe the scanned letter for a class project. In order to match the transcript to the letter file all of the transcripts are labeled with a code of numbers eight numbers 01-01-001 –the first four digits of the number code is used to match the file name of the letter which are labled fisk_XX_XX. The last three numbers are for the pages within the letter
Then the transcript of the letter makes its way to us at DI, where one of our coop students, Carolina, double checks the transcript of the letter matches the real thing. The transcript is put into the "Full Text" field; complete with manual line breaks input by the long-suffering Carolina. These line brakes help readers navigate the (mostly) cursive lettering. A block of text would be difficult to match to the original letter!
Both of the letters in this post were written James Alexander McCrea  an upright auctioneer and merchant from Victoria.  Surprisingly he was involved in not one but two murder scandals!
(You were wondering when we'd get the murder part weren't you?)
McCrea moved to Victoria from the southern US states in the 1850's. You can see our letters are dated in the 1860's. In Victoria he auctioned off materials damaged in shipping such as rope or coffee. Respected in the community he was part of the fire department and a teetotaler. In 1869, after his wife's death, he sold out his business and moved back south to the states. That is where the trouble started. In 1870 it was reported in Victoria that McCrea had been killed in Arizona or New Mexico by an Apache tribe. The rumor was revealed later to be false in the papers– there was still hope! – at least until 1881. That was when he was shot in Deming, New Mexico. He made the mistake of asking a cowboy in a saloon "Does it pop?" about his gun. How's that for a wild west story?
If you'd like to learn more about the fascinating lives of the Victorian Gold Rush Tradesmen check out :
Green, Valerie. (2000). Upstarts and outcasts: Victoria's not-so-proper past. Victoria, B.C: TouchWood Editions.
See if you can find anyone else in our Royal Fisk Gold Rush Letters collection who appears in this book – then let us know.
Thanks to Carolina for her help on this article!
No Comments
---