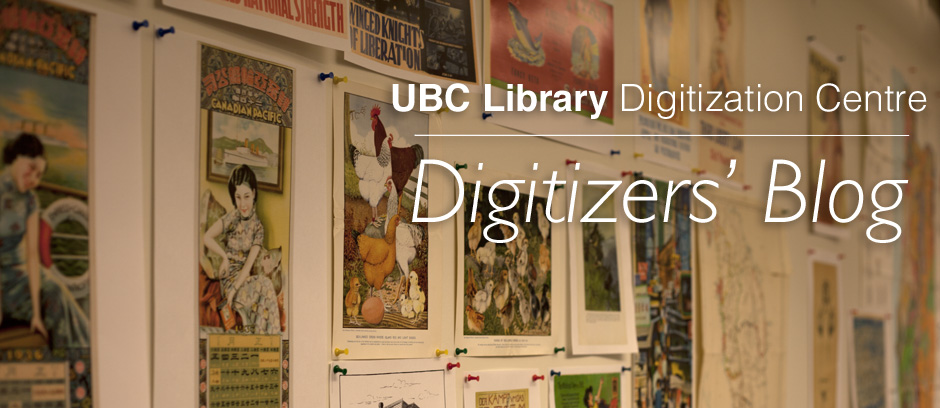 Here at the Digitization Centre we are fascinated and excited by the vast amount of primary-source material that our digitization work exposes us to.  Whether a document of historic significance, a beautiful illustration, or even a particularly fine typeface, we are frequently amazed by the materials we're working to share with the world.  So much so, that not only will we crowd around to ogle a particularly interesting specimen, but we've started decorating our workplace with copies of some of our favorites.  But why stop there?  Surely, we can't be the only ones geeky enough to appreciate such "gems" in our collections, and so we've decided to share them here with you.  Below you will find some of our favorites, hand-picked by staff from both existing and upcoming collections.  We hope you enjoy them as much as we do!   TIP: To view full resolution versions of the images on any size screen, click to enlarge and then right-click and select "open image in new tab."
---
Posted on July 23, 2012 @12:47 pm by Schuyler Lindberg
Woodcuts by unknown authors from "Disaster Prints," a part of the Japanese Maps of the Tokugawa Period digital collection. 
UBC Library's Rare Books and Special Collections holds one of the world's largest collections of maps and guidebooks of the Japanese Tokugawa period, ca. 1600-1867. Most of this collection was acquired from George H. Beans, the original collector, and is accompanied by his inventory A List of Japanese Maps of the Tokugawa Era. To that has been added a small collection from George Bonn, as well as a number of maps acquired from various other sources.  Much of this collection has been digitized and is available for online browsing and is in the process of being updated with higher-resolution images.
No Comments
---
Posted on July 23, 2012 @12:47 pm by Schuyler Lindberg
A brief (and almost fawning) biography and impressive etching of William Fraser Tolmie from British Columbia Pictoral Biographical printed by the British Alaskan Boundary Tribunal, 1903.
In addition to the quality of the etchings, typography and illuminations in this volume, the DI team was struck by this image due to the remarkable likeness Mr. Tolmie bears to our own beloved technical supervisor, Mr. Leslie Field.  Unfortunately, unlike his historical doppelgänger, he has yet to have a street named after him.
The two-volume set comprises a veritable who's who of the early British Columbia elite, with hundreds more etchings and short biographies of men (and a few women) whose names grace many of our local streets and parks.  The full work will be included in the upcoming B.C. Bibliography digital collection.
No Comments
---
Posted on April 17, 2015 @3:31 pm by Schuyler Lindberg
Photographs from the Klondyke Souvenir published by H.J. Goetzman in 1901 depicting pioneer life and the Klondike gold rush from the upcoming B.C. Bibliography collection.
Images contributed by the University of Northern British Columbia.
If you are looking for more related Klondike gold rush resources, please visit this blog post: British Columbia, the Gold Rush and the Klondike
1 Comment
---
Posted on July 23, 2012 @12:47 pm by Schuyler Lindberg
Illustrations of Victoria BC from Souvenir British Columbia by the Canadian Department of Agriculture, 1885, and Souvenir of British Columbia: Views No. 1, printed by T.N. Hibben & Co., 1880 (respectively).
The full volumes and many other illustrated and photographic "souvenirs" of early BC will be featured in the upcoming BC Bibliography digital collection.
Both images contributed to the collection by Simon Fraser University Library.
No Comments
---
Posted on July 23, 2012 @12:47 pm by Schuyler Lindberg
Second World War era Japanese poster depicting allied bombers from UBC Rare Books and Special Collections' David Conde fonds.
David Conde was born in Ontario. He moved to the United Sates in the early 1920s and became an American citizen in 1932. In 1945/1946 Conde worked for the U.S. State Department during the occupation of Japan as the head of the Motion Picture Department of Civil Information and Education Section. In late 1946 to 1947 he covered the Tokyo War Crimes Trials. He was ultimately expelled from Japan by General Douglas MacArthur. In 1964 he returned to Tokyo as a regular correspondent for various periodicals, including the Far Eastern Economic Review and Ta Kung Pao. Several of his full-length books on Japanese, Korean, Chinese and Asian-American political policies have been published in Japanese. Most of his articles have appeared in English-language publications.
The fonds includes records of the International Military Tribunal for the Far East (1946-47), research notes including printed materials, photographs, ephemera, and interview transcripts used for the writing of hundreds of short articles, news programmes, and full-length books (manuscripts also included in the collection), correspondence, and radio programme transcripts reflecting Conde's integral involvement in Asian foreign affairs.
A digital collection is under development.
No Comments
---
Posted on July 23, 2012 @12:47 pm by Schuyler Lindberg
Souvenir of British Columbia, No. 1 printed by T.N. Hibben & Co. circa 1880.
Look for lots more photographs of historic Vancouver in the upcoming B.C.Bibliography Collection!
No Comments
---
Posted on July 23, 2012 @12:47 pm by Schuyler Lindberg
Birds' Eye View of A Proposed Scheme for the University of British Columbia – Hooper, Victoria, B.C.
Hooper was one of the original bidders for the construction of the University of British Columbia, and while this European-style campus plan was never made a reality, the sketch, along with the rest of the original submissions, persist in the UBC Library Archives.
From the Thomas Hooper fonds.
No Comments
---
Posted on June 16, 2014 @3:09 pm by goritsas

History is full of amazing stories—of triumph and of loss, of laughter and of tragedy, of hope and of bitterness. But so many stories have been forgotten or ignored.
The stories of Chinese Canadians have either been left out of our history, or the stories we hear are often about the terrible things that were done to them, rather than what they were doing. Who will remember our forgotten elders–the sacrifices they made, the struggles they fought for us?
They are uncommon stories, seldom heard, but in order to create a common past for all Canadians, we must remember those who have been forgotten.
These are Canadian stories. These are family stories. These are our stories.
Please visit us at Chinese Canadian Stories beta site you can also learn more about our project on our placeholder site at chinesecanadian.ubc.ca.
No Comments
---
Posted on January 27, 2014 @1:29 pm by goritsas

Search and view B.C. community newspapers published from 1865 to 1924. The British Columbia Historical Newspapers Collection makes 24 of B.C.'s earliest newspapers freely available in digital format for the first time! http://historicalnewspapers.library.ubc.ca
No Comments
---
Posted on January 27, 2014 @1:29 pm by mikec


photo by Martin Dee
No Comments
---