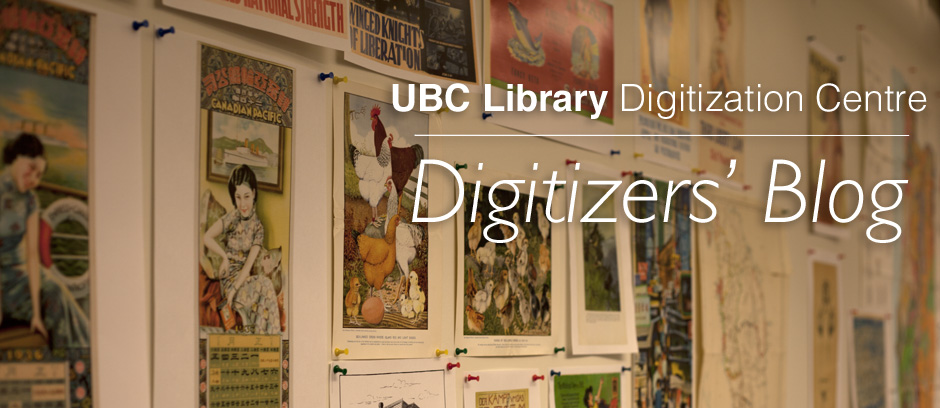 Here at the Digitization Centre we are fascinated and excited by the vast amount of primary-source material that our digitization work exposes us to.  Whether a document of historic significance, a beautiful illustration, or even a particularly fine typeface, we are frequently amazed by the materials we're working to share with the world.  So much so, that not only will we crowd around to ogle a particularly interesting specimen, but we've started decorating our workplace with copies of some of our favorites.  But why stop there?  Surely, we can't be the only ones geeky enough to appreciate such "gems" in our collections, and so we've decided to share them here with you.  Below you will find some of our favorites, hand-picked by staff from both existing and upcoming collections.  We hope you enjoy them as much as we do!   TIP: To view full resolution versions of the images on any size screen, click to enlarge and then right-click and select "open image in new tab."
---
Posted on January 10, 2018 @11:58 am by pughchr
This image is from the Augustus Pemberton collection, one of two collections donated to Rare Books and Special Collections by John Keenlyside in 2008. We are currently digitizing both collections, and they should appear on the Rare Books and Special Collections website in the near future.
The image is of a calendar of prisoners who were tried at the Court of Assize in Victoria on January 4th, 1866. Of the five prisoners tried, three were discharged, one was sentenced to death, and one was sentenced to "penal servitude" for five years.
There are a number of interesting things in this picture. Two of the prisoners do not have last names written on the calendar, and instead have "An Indian" written after their first names. In one case the first name is in brackets, while "An Indian" is not. It is also worth noting that one prisoner, who was sentenced to death by the court, was ordered to be kept in jail (spelled "Gaol" on the calendar) until "Her Majesty's pleasure be known".
There is also a double entendre in the calendar. In the case of the first prisoner, who was been sentenced to death, the order to the jailor ("Gaoler") reads "To be executed". We assume this means that the jailor is to carry out the sentence, not that the jailor is to execute the prisoner.
No Comments
---
Posted on January 10, 2018 @11:49 am by pughchr
One of our current projects is to digitize the David Conde fonds in partnership with the University of Tokyo. We are discovering first hand that David Conde was a hugely prolific journalist who had much to say about a lot of subjects. As such, the David Conde fonds contains vast quantities of manuscripts for books and articles.
Though he mostly wrote about Japanese and American politics and culture, he would sometimes venture into other subject areas as well. This page (click the image to enlarge) is the first page of an article about historical anthropology entitled "Mankind from Beginning to End". With a title like that, this article is a fitting example of how prolific David Conde was. We are half expecting to find an article called "Everything under the Sun", or maybe even "The Kitchen Sink"!
For more information on the David Conde fonds, click here. To see our previous blog posts about the David Conde fond, click here and here.
No Comments
---
Posted on October 21, 2016 @11:03 am by Peter D James
Update on project: Due to various reasons, the RG 10 Departmental Letterbooks Project did not move beyond the pilot stage.
The RG 10 Departmental Letterbooks Project is a collaborative venture between the University British Columbia Library and the University Library, University of Saskatchewan to digitize, describe and provide online access to a volume of Department of Indian Affairs correspondence, 1871-1880. This material is currently only available on microfilm issued by Library and Archives Canada.
These letterbooks include the outgoing correspondence from the Department of Indian Affairs, providing insight into department-wide policies and a national view of Indian Affairs. The documents are important to researchers throughout Canada as they cover Indian Affairs activities from the perspective of government agents from coast to coast in English and French.
The Departmental Letterbooks are an important complement to the heavily utilized and now digitized 'Red and Black Series' of RG-10. The potential user community for this digital content and associated metadata and user interface will include academic faculty, staff and students especially those working in the fields of Indigenous Studies, History, Political Studies, Law, Anthropology and Sociology; those in Aboriginal communities conducting research related to Aboriginal history, rights, land claims, the residential school experience and genealogy; and independent researchers. The online letterbooks would also be an excellent teaching tool for educators who want their students to make use of and appreciate the value of primary documents in their research on Aboriginal issues. The image accompanying this text provides an example of the work done on this content.
At present the two libraries have created approximately 5,000 records that include digital reproductions of the letter originals, image identification, descriptions and transcriptions of the letters' content, and subject analysis which will aid researchers' attempts to review the Department's activities across regions and over time. Project teams at the two libraries continue to review and revise the entries with a view to making a site public in 2014-2015.
No Comments
---
Posted on January 10, 2018 @11:58 am by Larissa
A new year brings with it new projects, and we're excited to spotlight an upcoming digitization project with valuable local content.
Kinesis is an important local women's newspaper that was published by the Vancouver Status of Women organization from 1974 to 2001 (the early iteration of the publication is entitled Vancouver Status of Women).  It is the only Canadian national newspaper focusing on women and women's issues, and it is an invaluable and well-referenced resource for researchers in the area of gender, sexuality and social justice.
The project will digitize all 330 issues of the newspaper and make them freely available online in our digital collections.  We hope to have the publication up by summer … stay tuned for the launch announcement.
The material is held in the UBC Library's Rare Books and Special Collections division at HQ1101.V24 N49.
No Comments
---
Posted on January 22, 2013 @4:52 pm by Larissa
In order to track the digitization projects that are underway, we've put up a Gantt chart on our site that shows the timelines and overlap of all current projects. We will be updating this regularly, so check out our http://diginit.library.ubc.ca/projects page under the Current tab to view the most recent Digital Initiatives project list. Note that this chart reflects the longer-term (ie. 2 months or longer) projects only; projects with a timeline of a few weeks or less are not reflected.
More posts on project planning coming in the new year. Until then, happy holidays everyone!
No Comments
---
Posted on January 10, 2018 @12:07 pm by Rob
A beautiful glass plate negative from the Rosetti studios in Vancouver, British Columbia, Canada. This image depicts Siwash Rock located on the northwest edge of Stanley Park in Vancouver. These negatives have a great depth to them yielding lustrous digital images. Check out the other images in the collection (N.B. We are in the process of upgrading the images in the collection to match the resolution of this one. Please stay tuned.)
No Comments
---
Posted on January 10, 2018 @11:45 am by Mayu
Victor Wong is a WWII veteran from Victoria, BC. He was one of thousands of Chinese immigrants enlisted by the Canadian forces during the war and assigned to the British forces. The British territories in Asia had been occupied by Japan, and English speakers of Chinese origin were sent there to engage in guerrilla warfare and take back the territories. At that time, Chinese immigrants were not allowed Canadian citizenship.  Victor recalls:
"'Why should you go when you're not even a Canadian?' So we all decided in our town hall meetings that the best way to do is to go and sign up and go and come back and lobby for the franchise. This is exactly what we did."
By fighting in WWII, Chinese immigrants won not only freedom for Europe and Asia, but also won Canadian citizenship for their community. You can read and hear more of his story at http://www.thememoryproject.com/stories/480:victor-eric-wong/
The picture of Victor and his army discharge certificate have been digitized in partnership with the Chinese Canadian Military Museum Society (http://www.ccmms.ca/) and are part of a project "Chinese Canadian Stories: Uncommon Histories from a Common Past" (http://chinesecanadian.ubc.ca/).
No Comments
---
Posted on January 10, 2018 @11:46 am by Larissa
Have you ever ordered food from hotel room service and were shocked when your clubhouse and coffee came to $30?  Well, it looks like steep room service prices aren't a recent phenomenon.
Take this 1962 menu from the historic CP Empress Hotel in Victoria.  Billed as a typical winter menu for the hotel dining room, it includes contemporary delicacies such as Jellied Beef Tea and Chantilly Raisin Pie.  It also lists broiled petit filet mignon with béarnaise sauce for $3.25 – according to the Bank of Canada inflation calculator, the cost today would be $24.94.
The convenience of ordering a filet mignon with béarnaise sauce to be delivered to your room – perhaps while enjoying a nice martini – is tempting.  According to the Empress' room service menu from the same time period, the same filet will set you back $8.50.  Or, $61.66 in today's prices.  Although the room service filet does come with sautéed mushrooms. Perhaps mushrooms were extraordinarily expensive in the 1960's?
If we move over to the mainland, an earlier (1939) room service dinner menu from the Hotel Vancouver has filet mignon for $1.30 – that's $20.97 in 2012 prices, 19% less than the adjusted cost of the 1962 dining room filet.  Why so much cheaper – the local economy?  Food costs?  The fact that béarnaise sauce wasn't offered in 1939?
But if $1.30 was still too much for you back then, never fear.  Cheaper options were also available, like a tongue sandwich for 45¢ ($7.22 today). Or a salad of "avocado with shrimps" (shrimps! more than one!) for 85¢ ($13.64 today).
These menus are part of the Chung Collection's Canadian Pacific materials that are currently being digitized thanks to support from CP, and will soon be available online.
No Comments
---
Posted on January 10, 2018 @11:56 am by Mayu
The Japanese Canadian Photograph Collection (JCPC) chronicles the experiences of Japanese Canadians / Nikkei in British Columbia including their internment during World War II. These photographs from the JCPC are a testament to the popularity of baseball at internment camps.  (Left: at Lucerne, B.C. in the Yellow Pass, Bottom: at an unidentified camp) Baseball was a cornerstone of social life in internment camps, and at the forefront were former players of the Vancouver Asahi, a Nikkei baseball team based at Oppenheimer Park. Before disbanding after the 1941 season, the Vancouver Asahi competed against Nikkei and Euro-Canadian teams and won multiple championships. When playing at camps, they helped ease the pain of internment, and their sportsmanship brought about mutual respect between the Nikkei and Euro-Canadians.
No Comments
---
Posted on January 10, 2018 @11:41 am by Rob
The Berkeley Posters collection, housed in Rare Books & Special Collections at the UBC Library, comprises 250 posters from the years 1968 to 1973. Covering anti-war and pro-social justice themes the posters run the gamut of concerns of the time such as the Vietnam War and corporate responsibility. Produced by student and underground groups on the University of California Berkeley campus and around the San Francisco Bay Area the posters feature striking art and often used found materials such as used continuous form paper as in the featured image above (note the dot-matrix or line printing on the poster verso [back]). Highly ephemeral in nature the posters were collected by Helmut Jung of Gold River, British Columbia and donated to the UBC Library.
4 Comments
---