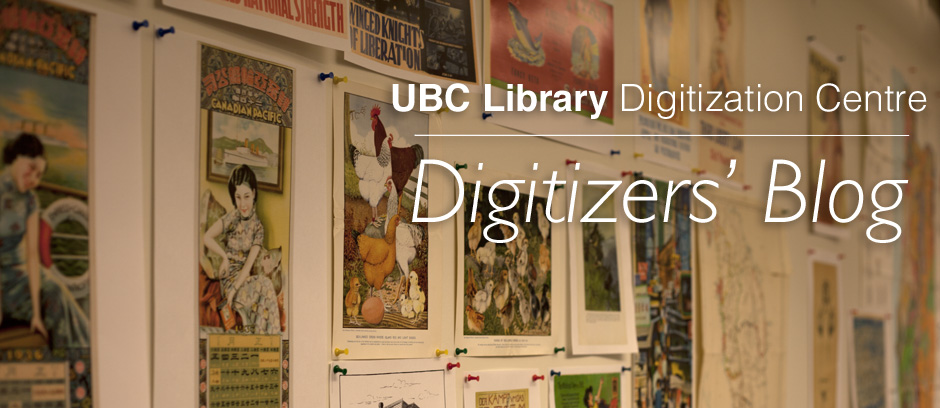 Here at the Digitization Centre we are fascinated and excited by the vast amount of primary-source material that our digitization work exposes us to.  Whether a document of historic significance, a beautiful illustration, or even a particularly fine typeface, we are frequently amazed by the materials we're working to share with the world.  So much so, that not only will we crowd around to ogle a particularly interesting specimen, but we've started decorating our workplace with copies of some of our favorites.  But why stop there?  Surely, we can't be the only ones geeky enough to appreciate such "gems" in our collections, and so we've decided to share them here with you.  Below you will find some of our favorites, hand-picked by staff from both existing and upcoming collections.  We hope you enjoy them as much as we do!   TIP: To view full resolution versions of the images on any size screen, click to enlarge and then right-click and select "open image in new tab."
---
Posted on June 12, 2015 @3:51 pm by Emily Chicorli
We have digitized an original work by calligrapher and painter, Fan Zeng (b. 1938), created when he was in Vancouver in 1980. The piece's dedication is to the "UBC Asian Centre" (which opened in 1981). Fan's intention was to create the piece as a gift to the Asian Centre to display within the building when it opened. It is a copy of the Tu Fu poem "Gazing at Taishan" and is considered one of Fan's better works, given his age/maturity as an artist when it was created. The piece is made of Japanese paper with some silk remaining from when it was mounted to its original frame, making it quite fragile.
So how did we digitize this delicate, large, original work?
Because of its large size we used our "Magnetic Wall", which is basically a wall in our department that has paint with metal embedded inside it so magnets stick, in order to fully display the object.
After much testing with camera and Photoshop settings, we were able to photograph individual sections of the object.
We then used Photoshop to post-process the images and stitch them together to obtain the final digitized copy of the original.
The calligraphy had been mounted and displayed within the Asian Centre lobby, but was recently removed for conservation and preservation. The original now resides in the RBSC vault and a replica will be displayed, as produced from the digitization.
No Comments
---
Posted on January 10, 2018 @11:43 am by Emily Chicorli
Bookplates, otherwise referred to as ex-libris (From the books of..), are used to indicate ownership of a book. They are often personalized, artistic and indicative of the time or place of creation.
Images of bookplates are from books and collections donated to UBC Library, developed and maintained by UBC's Rare Books and Special Collections.
Check out the rest of the collection here and let us know which ones are your favorites!
No Comments
---
Posted on January 10, 2018 @11:52 am by Emily Chicorli
Collaborative projects are at the heart of the Digitization Center. Today, we are highlighting the work done with UBC's Department of Classical, Near Eastern, and Religious Studies (CNERS) and students from the From the Stone to Screen project.
From Stone to Screen is a multidisciplinary, open access and collaborative digitization project entirely run by students that is increasing access to two collections of epigraphic squeezes. An epigraphic squeeze is the impression of an inscription made by placing wet filter paper on stone letters and using a horse haired brush to press the paper into the grooves of the stone. Once the paper has dried, it is carefully peeled off and a mirror copy is revealed. Here at the Digitization Centre, students involved in the project digitize the squeezes and other artifacts using our TTI table, allowing for exceptional details to be maintained in the digitized copy.
The epigraphic squeezes come from the collections held by CNERS, which were originally donated by two Canadians: Dr. Malcolm MacGregor, a scholar in Athenian history and Greek epigraphy in addition to being a UBC alumnae and eventual head of the department until retirement, in 1975; and by George Fuller's father, a diplomat who purchased artifacts from antiquity shops in a number of cities including Cairo, Jerusalem and Baghdad, in 2001.
What makes this collection so awesome is that unlike a photograph, an epigraphic squeeze provides 3-dimensional information and an exact replica of the inscription. The squeezes can be scanned, digitized and manipulated in many ways. Digitizing these epigraphic squeezes is resulting in invaluable resources for researchers and users around the world, since inscriptions are only available in unmovable stones, getting access to inscriptions can be difficult. For example, many physical stones are in fragments and the majority of stones in the collection are found in the Epigraphical Museum of Athens, as well as the National Archaeological Museum of Athens and the agora. In many cases, researchers require special permission to take photographs of the original stones. Another barrier to accessing the physical stones is many are in storage and not accessible to the public without special permission. Numerous institutions have also stopped allowing epigraphic squeezes to be made on stones. Thus, the digitized squeezes in these collections allow unrestricted access to scholars to virtually transport the stones to research institutions worldwide.
The fact that the project is primarily run by a small group of ten volunteers and four paid staff positions (for 2014-2015), partially funded by the Teaching and Learning Fund (TLEF), is remarkable. The students oversee the curating, research, volunteer coordination, grant writing, management of funds and other responsibilities necessary for the advancement of the project, all in addition to undergraduate, masters and PhD level course and thesis work.
The students are already looking ahead to the future by brainstorming and planning what will happen to the digitized squeezes once the metadata and images have been fully processed. One plan is to create teaching packages, or "classroom modules", for Greek language courses, Greek history courses and archaeology courses at UBC with ready-made assignments. These learning modules would be made available online for instructors and teachers outside the university to use. The students are also thinking of creating short videos that describe what a squeeze is, how archaeologists get them, how they transcribe and basically, how epigraphic squeezes get from stone to screen.
Currently, there are over 200 epigraphic squeezes available online, with many more to come! Click here to visit the collection via our digital collections webpage.
Thank you to Chelsea Gardner, the Project Director and a PhD student in Classical Archaeology in the CNERS department here at UBC, for taking the time to discuss the project.
Visit the official From Stone to Screen website. You can also follow the project's progress and updates on Twitter.
No Comments
---
Posted on March 9, 2015 @10:52 am by Emily Chicorli
We are excited to announce that we will be digitizing issues of PRISM International, Western Canada's oldest literary magazine out of Vancouver, British Columbia, whose mandate is to publish the best in contemporary writing and translation from Canada and around the world. The digitization project is in partnership with the UBC Creative Writing department and is set to start in May.
Stay tuned for updates!
No Comments
---
Posted on January 10, 2018 @11:51 am by Emily Chicorli
In a collaborative effort between the UBC Library Digitization Centre and CiTR 101.9 FM, the Student Radio Society of the University of British Columbia, we have completed digitizing the entire run of the Discorder, a magazine devoted to in-depth coverage of Vancouver's independent music scene and published by CiTR 101.9 FM. This collection greatly enhances access to a rare slice of Vancouver's music history as it provides extensive documentation of 30+ years of music and culture unique to the city.
The Discorder has been published continuously from February 1983 to the present, making it the longest running independent music magazine in Vancouver. Issues include articles, reviews, photos, features, interviews and advertisements. In recent years, Discorder has extended its scope to include coverage of local artists, books, films and other cultural materials.
The UBC Library Digitization Centre will continue to add issues to the collection as they are published.

Click here to access Discorder through our Digital Collections.
Below are some sample images of the issues in the collection.
Don't forget to check out the full collection online! 
No Comments
---
Posted on January 10, 2018 @11:53 am by Emily Chicorli
Last week we mentioned in a tweet that UBC Library's Digital Collections site has the records of Ethel Johns, the first director of the School of Nursing at UBC, available online, which includes correspondence, reports, minutes, notes, photographs, drafts of Johns' unfinished autobiography and related papers, and manuscripts of a considerable number of her articles and speeches the majority of which were published.
On February 10, 2015, Ethel Johns was inducted as a Person of National Historical Significance at UBC's Vancouver campus, recognized by the government for her work relating to the improvement of nursing education, writing academically about public health and research in nursing, and for pushing forward studying nursing in universities.
Ethel Johns' records provide great insight into to her role in advancing nursing education in Canada.
You ask me whether I think that the [combined] course in British Columbia has attracted young women capable of assuming leadership. On the whole, yes. It must be remembered that this course has only been graduating students for about fifteen years and there has been a high incidence of marriage, as might reasonably be expected in any group of normal, intelligent young women…
Click here to view the Ethel Johns fonds online.
Click here to read the full article written by Professor Sally Thorne of UBC's School of Nursing.
Interested in seeing more records from Ethel Johns up close? Contact UBC Archives for more information.
No Comments
---
Posted on March 8, 2015 @4:46 pm by Emily Chicorli
In celebration of Family Day we are sharing some of our favorite family portraits found within our digital collections. Want to see more? Simply type in "family" in on our digital collections page! Refine your search to only find images within specific collections. Click on the images to see them enlarged.
What are your plans for the long weekend?
 Which one was your favorite? 
No Comments
---
Posted on February 5, 2015 @11:56 pm by evanwill
In the last post we looked at Why a digital preservation strategy is necessary. This post outlines a few of the steps we are taking here at the Digitization Centre to enact our preservation goals.
Planning for preservation starts at the creation of our digital objects. We need to choose digital formats that are suitable for the long-term and follow best-practices for their creation. There are many factors that go into the choice of formats, for example check out the detailed information from the Library of Congress.
In general, it is necessary to avoid proprietary formats and compression, and look for open formats with wide adoption. These factors contribute to the sustainability of the file into the future, ensuring that the bits will not be corrupted, the data will be readable, and the image can be properly rendered. To meet these goals, our master images are stored in uncompressed TIFF, which has been the standard for many years. Some of our capture devices, such as the ATIZ or TTI, create proprietary RAW format images that need to be converted.
The next step is managing the long-term storage of our files. As described in the last post, this is a difficult problem. Here at the Digitization Centre, a big part of the solution is our developing use of Archivematica.  We have been working with UBC IT and the developer Artefactual to integrate digital preservation into our digitization workflow.
Archivematica is an open-source digital preservation platform that conforms to the relevant standards and best-practices. It is a pragmatic tool for implementing a digital preservation strategy defined by an organization's policy. UBC has a contract with the lead developer Artefactual to support and customize our system. This means we help shape the future of Archivematica. Since it is open-source, our investments will not only benefit UBC internally, but contribute to the preservation community at large. This is a great way to pool resources, as many organizations collaborate, partner, and contribute to the project.  Archivematica users/partners include repositories around the world, such as the City of Vancouver Archives, Harvard Business School Baker Library, the Museum of Modern Art (MoMA), the University of Alberta Libraries, the Rockefeller Archive Center, Simon Fraser University Archives, Yale University Library, Zuse-Institute Berlin, Council of Prairie and Pacific University Libraries (COPPUL), Bentley Historical Library, and University of Michigan.
Here is a video demonstration of Archivematica shared by Artefactual:
It is important to note that Archivematica is not a single piece of software, but a system that links a series of open source tools called Microservices. Each microservice carries out a small task and provides output for the next step in the chain. The advantage of this system is that each microservice can be swapped out without needing to rebuild the entire platform. The full chain of processes and the various servers that the digital files move in is called a Pipeline. UBC has several pipelines, each geared towards different types of material. For example, the Wolf pipeline is highly automated to handle the Banff International Research Station lecture series videos being sent to cIRcle.
Our pipelines integrate directly with our public websites (Digital Collections, RBSC Archives, and cIRcle) to ensure that preservation will be part of the standard workflow of providing access to our resources. Users configure, monitor, and control each Archivematica pipeline via a web-based graphical user interface called the Dashboard. It is divided into "tabs" allowing the user to manage the complete preservation process.
Archivematica puts all the information we know about an object, including both descriptive and technical metadata, together in a single package and places it in our archival storage service. This ensures we can find the information we need to make preservation management decisions going forward. As our system ramps up, all digital objects produced at the Digitization Centre will be processed through the system to enable digital preservation.
These efforts will allow us to be good stewards of our digital assets and ensure they will be useable for generations to come!
No Comments
---
Posted on May 22, 2015 @2:31 pm by evanwill
The How We Digitize series has been looking at the process of creating files for UBC Digital Collections. But how do we store them all for the long term?
Well, that is a BIG issue!
In general, for each item you see displayed in Digital Collections we have one unedited master file and one edited file. These images typically range in size from about 20 MB to 200 MB each. For some maps imaged on the Contex Scanner we have single files as big as 1.5 GB and some video files from the Westland collection are larger than 20 GB. This adds up quickly as we are constantly adding new material. We currently have at least 69 TB of data on our network storage!
Our network storage drives are great for everyday use. They are fast and easy to use, with automatic backup snapshots and geographically distributed redundancy built in. However, UBC Libraries has been working on building a Trusted Digital Repository. Progress towards that goal can be measured by using the Trustworthy Repositories Audit & Certification (TRAC) check list.  TRAC takes a holistic look at the organization and the requirements to responsibly steward digital information into the future. Is there trained staff and sustainable funding? Are preservation policies in place? Does the organization have the technology and infrastructure necessary to properly store the digital objects?
These are HARD questions! But, as the TRAC assessment points out, to guarantee the long-term survival of our materials requires more than just big storage drives—we really need a Digital Preservation strategy.
With so much electronic information in our world today, its hard to realize that digital is fragile. If you drop a print book in a dry spot it could survive on its own for centuries. Not so with an ebook! Digital files are completely dependent on technology to make them usable which means they face many challenges.
In the high tech world of rapid change, the most obvious is obsolescence. The software necessary to open the file or the hardware necessary to read the storage media may disappear. Just think, could you get your old Word Perfect documents off the stack of 3½-inch floppies you used in 1990? Probably not. The hardware to read the floppies and the software to open the files is already very rare—even if the bytes survived intact without errors!
Which brings us to media degradation. The physical materials our digital files are stored on decay or become damaged. Unlike printed paper, no digital storage media are truly stable. The electric or magnetic charges storing the data on the media may slowly be lost. Furthermore, items such as hard drives depend on moving parts and complicated circuitry that have expected life spans of less than a decade. Even optical media decays as the reflective layer breaks down.  If your photo CD is scratched, will you be able to recover any of the images?
Why do we do digital preservation? Because we NEED to—digital files require active and continuous management to remain usable. If we want to preserve our Digital Collections for future users, we need to take positive steps to steward our data assets.
You can learn more about what we are doing in the next post!
No Comments
---
Posted on January 10, 2018 @3:57 pm by Emily Chicorli
The Gold Rush (1858 to 1863) was an important period in British Columbia's history that brought thousands of prospectors and adventurers to the province. All the activity produced by the Gold Rush led to significant impacts on BC's people and land, such as conflicts with the native peoples who inhibited the land, increased development throughout BC, and increased business and activity on Vancouver Island. Similarly, the Klondike Gold Rush (1897-1899) affected the landscape and development of the Yukon with the discovery of gold in 1896, resulting in the establishment of the Yukon Territory.
UBC's Digital Collections has a number of materials relating to the Gold Rush within various collections, such as: The Chung Collection, BC Bibliography, the Royal Fisk Gold Rush Letters, Delgamuukw Trial Transcripts, BC Sessional Papers, BC Historical Newspapers, and the Okanagan Historical Society Reports.
Have you found resources in our collections about the Gold Rush that have helped you with research or peaked your interest? Let us know in the comments!
Below are some examples of the resources you can find in our digital collections:
Sources:
http://www.canadahistoryproject.ca/1871/1871-05-gold-rush.html
http://www.thecanadianencyclopedia.ca/en/article/fraser-river-gold-rush/
http://www.thecanadianencyclopedia.ca/en/article/klondike-gold-rush/
No Comments
---