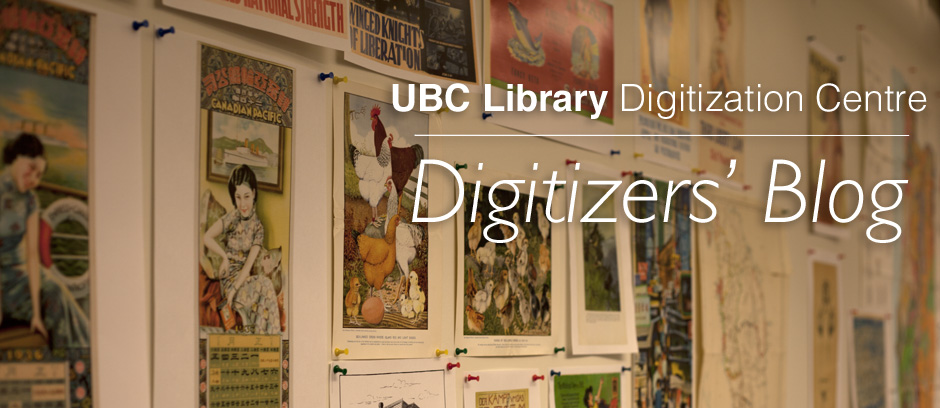 Here at the Digitization Centre we are fascinated and excited by the vast amount of primary-source material that our digitization work exposes us to.  Whether a document of historic significance, a beautiful illustration, or even a particularly fine typeface, we are frequently amazed by the materials we're working to share with the world.  So much so, that not only will we crowd around to ogle a particularly interesting specimen, but we've started decorating our workplace with copies of some of our favorites.  But why stop there?  Surely, we can't be the only ones geeky enough to appreciate such "gems" in our collections, and so we've decided to share them here with you.  Below you will find some of our favorites, hand-picked by staff from both existing and upcoming collections.  We hope you enjoy them as much as we do!   TIP: To view full resolution versions of the images on any size screen, click to enlarge and then right-click and select "open image in new tab."
---
Posted on February 17, 2015 @11:22 am by Emily Chicorli
Last week we mentioned in a tweet that UBC Library's Digital Collections site has the records of Ethel Johns, the first director of the School of Nursing at UBC, available online, which includes correspondence, reports, minutes, notes, photographs, drafts of Johns' unfinished autobiography and related papers, and manuscripts of a considerable number of her articles and speeches the majority of which were published.
On February 10, 2015, Ethel Johns was inducted as a Person of National Historical Significance at UBC's Vancouver campus, recognized by the government for her work relating to the improvement of nursing education, writing academically about public health and research in nursing, and for pushing forward studying nursing in universities.
Ethel Johns' records provide great insight into to her role in advancing nursing education in Canada.
You ask me whether I think that the [combined] course in British Columbia has attracted young women capable of assuming leadership. On the whole, yes. It must be remembered that this course has only been graduating students for about fifteen years and there has been a high incidence of marriage, as might reasonably be expected in any group of normal, intelligent young women…
Click here to view the Ethel Johns fonds online.
Click here to read the full article written by Professor Sally Thorne of UBC's School of Nursing.
Interested in seeing more records from Ethel Johns up close? Contact UBC Archives for more information.
No Comments
---
Posted on March 8, 2015 @4:46 pm by Emily Chicorli
In celebration of Family Day we are sharing some of our favorite family portraits found within our digital collections. Want to see more? Simply type in "family" in on our digital collections page! Refine your search to only find images within specific collections. Click on the images to see them enlarged.
What are your plans for the long weekend?
 Which one was your favorite? 
No Comments
---
Posted on February 5, 2015 @11:56 pm by evanwill
In the last post we looked at Why a digital preservation strategy is necessary. This post outlines a few of the steps we are taking here at the Digitization Centre to enact our preservation goals.
Planning for preservation starts at the creation of our digital objects. We need to choose digital formats that are suitable for the long-term and follow best-practices for their creation. There are many factors that go into the choice of formats, for example check out the detailed information from the Library of Congress.
In general, it is necessary to avoid proprietary formats and compression, and look for open formats with wide adoption. These factors contribute to the sustainability of the file into the future, ensuring that the bits will not be corrupted, the data will be readable, and the image can be properly rendered. To meet these goals, our master images are stored in uncompressed TIFF, which has been the standard for many years. Some of our capture devices, such as the ATIZ or TTI, create proprietary RAW format images that need to be converted.
The next step is managing the long-term storage of our files. As described in the last post, this is a difficult problem. Here at the Digitization Centre, a big part of the solution is our developing use of Archivematica.  We have been working with UBC IT and the developer Artefactual to integrate digital preservation into our digitization workflow.
Archivematica is an open-source digital preservation platform that conforms to the relevant standards and best-practices. It is a pragmatic tool for implementing a digital preservation strategy defined by an organization's policy. UBC has a contract with the lead developer Artefactual to support and customize our system. This means we help shape the future of Archivematica. Since it is open-source, our investments will not only benefit UBC internally, but contribute to the preservation community at large. This is a great way to pool resources, as many organizations collaborate, partner, and contribute to the project.  Archivematica users/partners include repositories around the world, such as the City of Vancouver Archives, Harvard Business School Baker Library, the Museum of Modern Art (MoMA), the University of Alberta Libraries, the Rockefeller Archive Center, Simon Fraser University Archives, Yale University Library, Zuse-Institute Berlin, Council of Prairie and Pacific University Libraries (COPPUL), Bentley Historical Library, and University of Michigan.
Here is a video demonstration of Archivematica shared by Artefactual:
It is important to note that Archivematica is not a single piece of software, but a system that links a series of open source tools called Microservices. Each microservice carries out a small task and provides output for the next step in the chain. The advantage of this system is that each microservice can be swapped out without needing to rebuild the entire platform. The full chain of processes and the various servers that the digital files move in is called a Pipeline. UBC has several pipelines, each geared towards different types of material. For example, the Wolf pipeline is highly automated to handle the Banff International Research Station lecture series videos being sent to cIRcle.
Our pipelines integrate directly with our public websites (Digital Collections, RBSC Archives, and cIRcle) to ensure that preservation will be part of the standard workflow of providing access to our resources. Users configure, monitor, and control each Archivematica pipeline via a web-based graphical user interface called the Dashboard. It is divided into "tabs" allowing the user to manage the complete preservation process.
Archivematica puts all the information we know about an object, including both descriptive and technical metadata, together in a single package and places it in our archival storage service. This ensures we can find the information we need to make preservation management decisions going forward. As our system ramps up, all digital objects produced at the Digitization Centre will be processed through the system to enable digital preservation.
These efforts will allow us to be good stewards of our digital assets and ensure they will be useable for generations to come!
No Comments
---
Posted on May 22, 2015 @2:31 pm by evanwill
The How We Digitize series has been looking at the process of creating files for UBC Digital Collections. But how do we store them all for the long term?
Well, that is a BIG issue!
In general, for each item you see displayed in Digital Collections we have one unedited master file and one edited file. These images typically range in size from about 20 MB to 200 MB each. For some maps imaged on the Contex Scanner we have single files as big as 1.5 GB and some video files from the Westland collection are larger than 20 GB. This adds up quickly as we are constantly adding new material. We currently have at least 69 TB of data on our network storage!
Our network storage drives are great for everyday use. They are fast and easy to use, with automatic backup snapshots and geographically distributed redundancy built in. However, UBC Libraries has been working on building a Trusted Digital Repository. Progress towards that goal can be measured by using the Trustworthy Repositories Audit & Certification (TRAC) check list.  TRAC takes a holistic look at the organization and the requirements to responsibly steward digital information into the future. Is there trained staff and sustainable funding? Are preservation policies in place? Does the organization have the technology and infrastructure necessary to properly store the digital objects?
These are HARD questions! But, as the TRAC assessment points out, to guarantee the long-term survival of our materials requires more than just big storage drives—we really need a Digital Preservation strategy.
With so much electronic information in our world today, its hard to realize that digital is fragile. If you drop a print book in a dry spot it could survive on its own for centuries. Not so with an ebook! Digital files are completely dependent on technology to make them usable which means they face many challenges.
In the high tech world of rapid change, the most obvious is obsolescence. The software necessary to open the file or the hardware necessary to read the storage media may disappear. Just think, could you get your old Word Perfect documents off the stack of 3½-inch floppies you used in 1990? Probably not. The hardware to read the floppies and the software to open the files is already very rare—even if the bytes survived intact without errors!
Which brings us to media degradation. The physical materials our digital files are stored on decay or become damaged. Unlike printed paper, no digital storage media are truly stable. The electric or magnetic charges storing the data on the media may slowly be lost. Furthermore, items such as hard drives depend on moving parts and complicated circuitry that have expected life spans of less than a decade. Even optical media decays as the reflective layer breaks down.  If your photo CD is scratched, will you be able to recover any of the images?
Why do we do digital preservation? Because we NEED to—digital files require active and continuous management to remain usable. If we want to preserve our Digital Collections for future users, we need to take positive steps to steward our data assets.
You can learn more about what we are doing in the next post!
No Comments
---
Posted on June 3, 2015 @11:06 am by Emily Chicorli
The Gold Rush (1858 to 1863) was an important period in British Columbia's history that brought thousands of prospectors and adventurers to the province. All the activity produced by the Gold Rush led to significant impacts on BC's people and land, such as conflicts with the native peoples who inhibited the land, increased development throughout BC, and increased business and activity on Vancouver Island. Similarly, the Klondike Gold Rush (1897-1899) affected the landscape and development of the Yukon with the discovery of gold in 1896, resulting in the establishment of the Yukon Territory.
UBC's Digital Collections has a number of materials relating to the Gold Rush within various collections, such as: The Chung Collection, BC Bibliography, the Royal Fisk Gold Rush Letters, Delgamuukw Trial Transcripts, BC Sessional Papers, BC Historical Newspapers, and the Okanagan Historical Society Reports.
Have you found resources in our collections about the Gold Rush that have helped you with research or peaked your interest? Let us know in the comments!
Below are some examples of the resources you can find in our digital collections:
Sources:
http://www.canadahistoryproject.ca/1871/1871-05-gold-rush.html
http://www.thecanadianencyclopedia.ca/en/article/fraser-river-gold-rush/
http://www.thecanadianencyclopedia.ca/en/article/klondike-gold-rush/
No Comments
---
Posted on April 24, 2015 @12:27 pm by Emily Chicorli
Phase 2 of the BC Sessional Papers project (from 1887-1911) is now complete and available online. Phase 2 has increased our collection by 25 years!
Click here to visit our digital collections page to view the volumes we have digitized.
Click here to read more about what sessional papers are and how they can be utilized for research.
No Comments
---
Posted on December 15, 2014 @10:41 am by Emily Chicorli
Managing metadata might not seem like a glamorous task when working with digital materials, but it is one of the most important. Managing metadata means ensuring digital materials are identified, maintained, made accessible, made searchable and preserved over time so that the digital materials can be accessed in the future.
 What is metadata?
The classic definition is: "metadata is data about data". Our digital collections, for example, contain data (i.e. information) about the objects, which can include elements such as the creator of an object, the date or date range the object was created, the publisher and so forth. These fields (date, creator and so on) is data (information) about a particular object, document, photograph or object.
In the image below we have a snapshot of a digital object found on our digital collections webpage. Below the image is the metadata. This metadata provides users with additional information/data about the original digital object, which is the image. Click on the image to enlarge it.
The digital object, the map, gives us information. It is a map of North America. On the map we can view different places, see borders, and so on. The additional information below the digital object, the metadata, provides further data about the digital object. It tells us the size, or extent of the map, in the note field we are given information on how to access similar maps, we are told which collection the map belongs to, the format of the image, etcetera.
Metadata can also be generated as we use technology. When we take a photograph of an object, or scan an object, information like the date and time of the image/scan and the machine we used and the settings are all bits of information added to the object. Thus, the data generated by the computer programs add data to the digital object.
Currently, the Digitization Centre is working on standardizing our metadata to make it more consistent throughout the collections and to ensure prolonged access and usability in the future.
No Comments
---
Posted on December 4, 2014 @9:59 am by Emily Chicorli
How do large maps get scanned? How do materials larger than average size get digitized?
While we may use our TTI device (more about it coming soon in a new post!) we often use our Contex HD5450 scanner that can handle large format materials up to 54″ wide and of unlimited length. Not only does the Contex scanner produce fast high-resolution scans, it also has a gentle mode to protect delicate materials. Inside the Contex are three built in cameras. Once the material is scanned the scanner and software stitch the images together.
One of the most recent uses of the Contex is for oversized materials in the BC Sessional Papers. Often the volumes have pull out documents that range in sizes and cannot be scanned by the Fitjistu machines like the other pages in the volumes can be.
To use the Context:
We lay the documents to be scanned flat on an empty table. The first image shows a bunch of maps and charts from a volume of the BC Sessional papers. The second image shows what they look like when they are unfolded.
We place the document, in this case a chart, face down. The centre of the document is centred with the centre marker on the scanner.
We then go to the computer and click preview to make sure the entire document is visible in the image. The preview we see on the computer is a low resolution image.
If we are happy with the preview, we click scan and the document goes back through the feeder and is scanned in a high resolution format. If we are not happy with the preview, we will manually replace the document and try again.
Stay tuned for more behind-the-scenes posts about the Digitization Centre! 
No Comments
---
Posted on December 1, 2014 @10:03 am by Emily Chicorli

Back in 2012 we digitized materials from the David Conde Fonds. We are currently working with UBC Rare Books and Special Collections (RBSC) to make materials from the International Military Tribunal for the Far East (IMTFE) available up on UBC RBSC's Access to Memory (AtoM) database once they are uploaded through archivematica and descriptions are finalized.
David Conde was a Canadian journalist working in Japan from the 1940's through the 1960's who reported on the IMTFE (International Military Tribunal for the Far East) trials for Reuters from 1946-1948.  Also known as the Tokyo War Crimes Trials, the tribunal brought charges against leaders of the Japanese Empire for war crimes. Conde was ultimately expelled from the trial proceedings by General Douglas MacArthur, but not before collecting a massive amount of documentation.  Aside from the court proceedings, there are biographical profiles on the defendants, copies of exhibits, evidence, and diplomatic communications, as well as Conde's copious research materials.
Here are some page examples of the materials to be uploaded from the David Conde Fonds' documents related to the IMTFE:
No Comments
---
Posted on January 16, 2015 @10:42 am by Emily Chicorli
Project update:
Early next year, the Digitization Centre will make the second phase of the BC Sessional papers digitization project from years 1887 to 1911 available online for all to access.
What are sessional papers?
Sessional papers contain materials that document the political, historical, economic and cultural history of British Columbia. The sessional papers include official committee reports, orders of the day, petitions, correspondence, maps, images, voters lists by districts, and more.
Using sessional papers for research
Sessional papers are great resources for research. From birth, marriage and death registries, to reports, graphs, maps, and photographs related immigration, mining, fisheries, famers' institutes, education, the Canadian Pacific Railway and more, the sessional papers can aid providing context and facts for a certain period on BC's history.
Check out our current selection of BC Sessional Papers tabled in the Legislative Council of BC (2nd to 8th Sessions, 1865-1871) and the Legislative Assembly (1st to 32nd Parliaments, 1872-1982).
Page examples from Sessional Papers:
No Comments
---