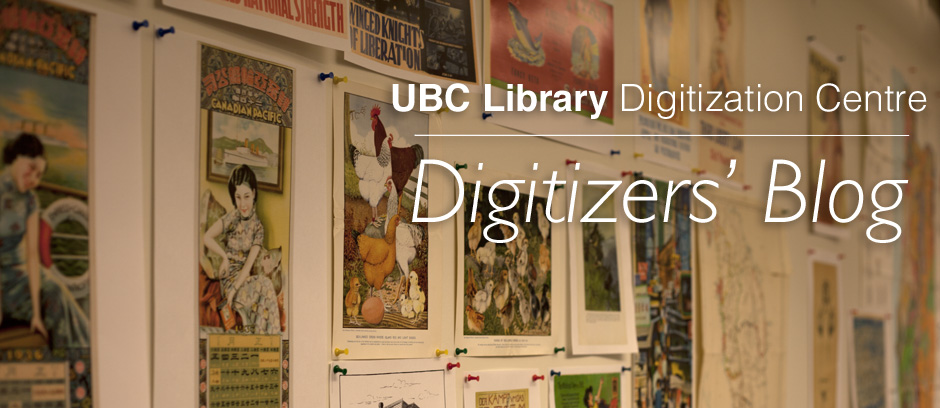 Here at the Digitization Centre we are fascinated and excited by the vast amount of primary-source material that our digitization work exposes us to.  Whether a document of historic significance, a beautiful illustration, or even a particularly fine typeface, we are frequently amazed by the materials we're working to share with the world.  So much so, that not only will we crowd around to ogle a particularly interesting specimen, but we've started decorating our workplace with copies of some of our favorites.  But why stop there?  Surely, we can't be the only ones geeky enough to appreciate such "gems" in our collections, and so we've decided to share them here with you.  Below you will find some of our favorites, hand-picked by staff from both existing and upcoming collections.  We hope you enjoy them as much as we do!   TIP: To view full resolution versions of the images on any size screen, click to enlarge and then right-click and select "open image in new tab."
---
Posted on January 10, 2018 @11:22 am by Alyssa Hamer

­The Andrew McCormick collection contains nearly 200 historical maps and illustrations which document the history of early European maritime exploration, cartographic evolution and settlement in North America. The documents were donated to UBC's Rare Books and Special Collections by Dr. Andrew Quinn McCormick, a well-respected former faculty member in the Department of Ophthalmology.
Documenting more than three centuries of exploration, these maps offer an intriguing look at what explorers got right, as well as what they got wrong, in their quest to "discover" the New World. Enjoy these relics from the Age of Exploration, and be sure to visit the full collection of Andrew McCormick's Maps & Prints to view all of these remarkable resources.
No Comments
---
Posted on October 12, 2016 @10:14 am by Alyssa Hamer

"You can have anything you want in life if you dress for it." – Edith Head
For some fashion is frivolous, and for others it's what makes the world go 'round. Whichever end of the spectrum you're on, though, our clothes speak volumes about who we are, where we're from, and the time in which we live. August 21 is World Fashion Day, so to celebrate we have selected our favourite fashionable moments from Open Collections! Click on any of the images below for more information.
1 Comment
---
Posted on January 10, 2018 @11:28 am by Alyssa Hamer

"Young people are not only our future — they are our present. Our planet has never been so young, with 1.8 billion young women and men. They are the most connected, the most outspoken and the most open-minded generation the world has ever seen."
Irina Bokova
UNESCO Director-General
International Youth Day is being celebrated around the globe on August 12. In recognition of this important day, we've chosen some of our favourite pictures of young people from across Open Collections. Enjoy this selection of historical photos, and click on any of them for more information.
No Comments
---
Posted on January 10, 2018 @11:36 am by Alyssa Hamer

We often write about collections that have already been digitized, but today we want to give you a sneak peek of a forthcoming collection that we're working on right now.
The BC Historical Documents are a variety of papers, correspondence and text that have been identified as being representative of the documentary history of early British Columbia. These documents highlight the growth and development of BC over time, and feature some key figures in our social and political history. This collection is made up primarily of personal papers, letters, photos and ledger books, as well as a number of educational records such as curriculums and class lists.
Two graduate students from UBC's School of Library & Archival Studies are working on digitizing these records and adding metadata to them. Through this work, both have had the opportunity to interact with rare and interesting materials, including police reports, yearbooks and personal letters. In one instance, a set of yearbooks from the Provincial Normal School shows the direct impact of World War I, with the 1914/1915 graduating class being half the size of the previous year, and the 1915/1916 yearbook documenting former students who had gone to war, as well as those that had passed away.
A number of correspondence from noted politician and 12th premier of BC, Charles Semlin, demonstrate the complex balance between private and public life that political figures often must negotiate. In Semlin's case, he was known as a conservative politician interested in curbing immigration from Asia and implementing wide-ranging reforms. Despite his divisive political leanings, however, Semlin was a source of financial support for numerous friends and acquaintances throughout his life, a fact well documented in his correspondences.
Across these historical documents, it is possible to gain greater perspective and appreciation for the many components which have contributed to the building of our province, and the variety of stories that make this place unique.
Stay tuned for more information about the Early BC Historical Documents collection!
No Comments
---
Posted on January 10, 2018 @12:06 pm by Alyssa Hamer

The R. Mathison Printing Collection offers a fascinating glimpse into business and marketing practices in Vancouver at the close of the 19th century. In 1886, Robert Mathison opened his print shop just after a massive fire had ravaged much of the city and all three of its printers, allowing him to monopolise on business.
This collection is made up of promotional materials, business cards and other specialty printed items produced by Mathison between 1886 and 1890. Many of Mathison's designs feature a variety of fonts and ornate script, and the quirky colloquialisms of the day are particularly easy to spot throughout this collection!
The R. Mathison Printing Collection also features an official program of events for Vancouver's Jubilee Celebration of 1887, alongside menus, raffle tickets and invitations.
To view more from this unique collection, click here!
No Comments
---
Posted on September 14, 2016 @11:55 am by Alyssa Hamer

British Columbia's history is closely tied to the development of industry and resource extraction in western Canada – from fishing to mining, there is no doubt that natural resources have been a driving force in shaping the province we've come to know today. Forestry is perhaps one of the most iconic industries in B.C., and today we're focusing on the extensive photographic collection of MacMillan Bloedel Ltd., once considered one of the largest forest products companies in the world. Over 2500 photos document the history of the company, and of logging in the province over the course of the 20th century.
MacMillan Bloedel Ltd. began in 1909, at which time it was known as the Powell River Paper Company Ltd. Operating throughout Canada, the U.S. and overseas, MacMillan Bloedel Ltd. produced products ranging from newsprint, paper, and lumber to panelboard and containers.
This collection provides a fascinating look at the lumber industry from its earliest beginnings, offering a glimpse of the changing technologies and the many peoples who built their lives and livelihoods around forestry work.
Be sure to check out more images from the MacMillan Bloedel Ltd. collection – click here to explore more photos via Open Collections!
No Comments
---
Posted on July 13, 2016 @1:05 pm by Alyssa Hamer

Canada is celebrating it's 149th birthday this week, so we've pulled together some fun Canadiana from Open Collections for you to enjoy!
The phenomenal Chung Collection features an incredible array of materials related to the early history of British Columbia, and the immigration and settlement that took place in the province from the mid-19th century. The collection also features a large array of documents and ephemera related to the Canadian Pacific Railway Company's operations, including some colourful advertisements.
We have thousands of maps here at Open Collections, a number of which highlight the evolution of knowledge about Canada and its geography over time. Take a look at the Andrew McCormick Maps and Prints collection if you want to explore more!
It would be impossible to celebrate Canada Day without acknowledging the vital role that multiculturalism plays in Canadian society. The many, many contributions by those originating from other parts of the world, as well as the Aboriginal peoples who have always called this place home, is a large part of what makes Canada great!
Have a great Canada Day, and be sure to check out Open Collections for more Canadian content!
No Comments
---
Posted on August 10, 2016 @12:17 pm by Alyssa Hamer

It's Aboriginal History Month in Canada… or should we say Aboriginal (Un)History Month, recognising that Aboriginal peoples in Canada, and around the world, continue to live and write their stories every day! The UBC Point Grey campus is located on the traditional, ancestral, and unceded territory of the hən̓q̓əmin̓əm̓ speaking Musqueam people. In recognition of this, and to celebrate the rich contributions to campus life that Aboriginal cultures provide, we're highlighting some of the great photos from Open Collections relating to Aboriginal culture on and around UBC Vancouver campus.
In 1974, the NITEP teacher education program began at UBC, geared towards providing an effective, culturally relevant teacher education program to support the unique needs of Aboriginal peoples in public and First Nations schools. The NITEP program aims to support and strengthen the identities and cultural heritage of its teacher candidates, while developing the skills and knowledge of beginning educators. To learn more about the NITEP program, click here!
The Museum of Anthropology hosts a number of important cultural events throughout the year to highlight Northwest Coast Aboriginal art and performance, which has resulted in dozens of memorable events over the decades. Check out some of the great images from Museum events below, via Open Collections!
To learn more about the many ongoing Aboriginal programs and initiatives taking place at UBC, check out the UBC Vancouver Aboriginal Portal. And to learn more about events taking place on and around UBC campus for Aboriginal History Month, visit the Musqueam nation's web page about the celebrations!
No Comments
---
Posted on January 10, 2018 @11:28 am by Alyssa Hamer

When the spirits are low, when the day appears dark, when work becomes monotonous, when hope hardly seems worth having, just mount a bicycle and go out for a spin down the road, without thought on anything but the ride you are taking – Sir Arthur Conan Doyle
Whether you're 5 or 105, chances are you've felt the carefree joy of riding a bicycle at some point in your life. This week we've hand-picked a number of images featuring bicycles from Open Collections in order to celebrate Bike Month 2016!
The history of the bicycle can be traced back to 19th century Europe, with the term bicycle coined by the French in the mid-1800's. Over many decades, refinements to the design and materials meant that the bicycle went from being a novelty to a practical form of transportation for men, women and children of all ages.
Today, bicycle transportation has become second nature to many urbanites throughout the world as a low-cost and healthy way to get around. Here at UBC's Vancouver campus there are a number of great initiatives to support students and staff in their cycling endeavours. I Bike Here is a website offering tips, resources, news and maps about biking in and around campus. The AMS Bike Co-op promotes bike education, outreach and advocacy amongst the UBC community. Another great resource is The Bike Kitchen, a not-for-profit, full-service bike shop right here at UBC. You can learn how to fix your own bike, purchase or rent a bike, and even donate your old bike!
There are many good reasons to get outside and go for a bike ride, but even if you prefer strictly the imaginary kind, UBC Library has a number of interesting bike-centric books to get your gears going. Check out some neat reads here, here and here. And, of course, enjoy looking at some of these great cycling images taken from Open Collections!
Happy riding everyone!
No Comments
---
Posted on July 27, 2016 @12:14 pm by Alyssa Hamer

In recognition of World Oceans Day (June 8), we're highlighting the unique ocean-related materials featured in Open Collections, as well as some of the important ocean research and advocacy work that takes place right here at UBC!
One of the most prominent collections featuring sea life is our Traité Général des Pesches, a series of plates highlighting French fishing life and fisheries, produced by Henri-Louis Duhamel de Monceau between 1769 and 1782. These plates are considered some of the finest works depicting the culture and techniques of fishing in France from that era. The images include detailed depictions of common fish, landscapes, tools of the trade, and even outfits worn by fishermen (and women) of the time. Explore the collection further here!
Another "seaworthy" digital collection is from the Fisherman Publishing Society, a newspaper which continues to publish in B.C.'s Lower Mainland on topics related to the Westcoast fishing industry and labour union events. Many unique photographs are included in this collection, which records the history of British Columbia's fishing industry throughout the 20th century. Take a look at the entire digital collection here.
Today at UBC there are several teams working on important ocean-related research. The Institute for the Oceans and Fisheries is a leading research department which works alongside a number of partners and specialty units to assess the impacts of human activity on marine ecosystems. The Changing Ocean Research Unit studies the impact of climate change on the ocean, its ecosystems, biodiversity and fisheries, with the goal of identifying recommendations for mitigating adverse effects.
Finally, UBC is also home to Project Seahorse, a marine conservation group focused on the protection of seahorses and the marine environment more broadly. This project has successfully led the charge against international trade in seahorse exports, and pushed for ecosystem conservation efforts in seahorse habitats across the globe.
Celebrate World Oceans Day by checking out some of our great collections, and supporting the groundbreaking ocean research taking place right here at UBC!
No Comments
---