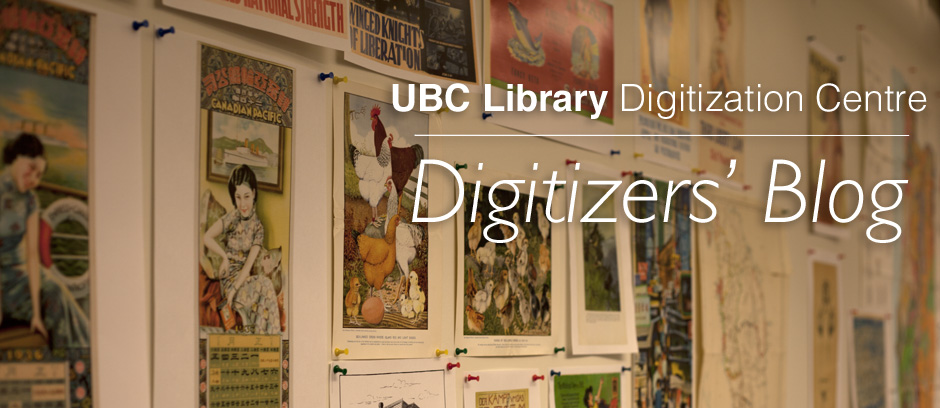 Here at the Digitization Centre we are fascinated and excited by the vast amount of primary-source material that our digitization work exposes us to.  Whether a document of historic significance, a beautiful illustration, or even a particularly fine typeface, we are frequently amazed by the materials we're working to share with the world.  So much so, that not only will we crowd around to ogle a particularly interesting specimen, but we've started decorating our workplace with copies of some of our favorites.  But why stop there?  Surely, we can't be the only ones geeky enough to appreciate such "gems" in our collections, and so we've decided to share them here with you.  Below you will find some of our favorites, hand-picked by staff from both existing and upcoming collections.  We hope you enjoy them as much as we do!   TIP: To view full resolution versions of the images on any size screen, click to enlarge and then right-click and select "open image in new tab."
---
Posted on September 14, 2016 @11:55 am by Alyssa Hamer

British Columbia's history is closely tied to the development of industry and resource extraction in western Canada – from fishing to mining, there is no doubt that natural resources have been a driving force in shaping the province we've come to know today. Forestry is perhaps one of the most iconic industries in B.C., and today we're focusing on the extensive photographic collection of MacMillan Bloedel Ltd., once considered one of the largest forest products companies in the world. Over 2500 photos document the history of the company, and of logging in the province over the course of the 20th century.
MacMillan Bloedel Ltd. began in 1909, at which time it was known as the Powell River Paper Company Ltd. Operating throughout Canada, the U.S. and overseas, MacMillan Bloedel Ltd. produced products ranging from newsprint, paper, and lumber to panelboard and containers.
This collection provides a fascinating look at the lumber industry from its earliest beginnings, offering a glimpse of the changing technologies and the many peoples who built their lives and livelihoods around forestry work.
Be sure to check out more images from the MacMillan Bloedel Ltd. collection – click here to explore more photos via Open Collections!
No Comments
---
Posted on July 13, 2016 @1:05 pm by Alyssa Hamer

Canada is celebrating it's 149th birthday this week, so we've pulled together some fun Canadiana from Open Collections for you to enjoy!
The phenomenal Chung Collection features an incredible array of materials related to the early history of British Columbia, and the immigration and settlement that took place in the province from the mid-19th century. The collection also features a large array of documents and ephemera related to the Canadian Pacific Railway Company's operations, including some colourful advertisements.
We have thousands of maps here at Open Collections, a number of which highlight the evolution of knowledge about Canada and its geography over time. Take a look at the Andrew McCormick Maps and Prints collection if you want to explore more!
It would be impossible to celebrate Canada Day without acknowledging the vital role that multiculturalism plays in Canadian society. The many, many contributions by those originating from other parts of the world, as well as the Aboriginal peoples who have always called this place home, is a large part of what makes Canada great!
Have a great Canada Day, and be sure to check out Open Collections for more Canadian content!
No Comments
---
Posted on August 10, 2016 @12:17 pm by Alyssa Hamer

It's Aboriginal History Month in Canada… or should we say Aboriginal (Un)History Month, recognising that Aboriginal peoples in Canada, and around the world, continue to live and write their stories every day! The UBC Point Grey campus is located on the traditional, ancestral, and unceded territory of the hən̓q̓əmin̓əm̓ speaking Musqueam people. In recognition of this, and to celebrate the rich contributions to campus life that Aboriginal cultures provide, we're highlighting some of the great photos from Open Collections relating to Aboriginal culture on and around UBC Vancouver campus.
In 1974, the NITEP teacher education program began at UBC, geared towards providing an effective, culturally relevant teacher education program to support the unique needs of Aboriginal peoples in public and First Nations schools. The NITEP program aims to support and strengthen the identities and cultural heritage of its teacher candidates, while developing the skills and knowledge of beginning educators. To learn more about the NITEP program, click here!
The Museum of Anthropology hosts a number of important cultural events throughout the year to highlight Northwest Coast Aboriginal art and performance, which has resulted in dozens of memorable events over the decades. Check out some of the great images from Museum events below, via Open Collections!
To learn more about the many ongoing Aboriginal programs and initiatives taking place at UBC, check out the UBC Vancouver Aboriginal Portal. And to learn more about events taking place on and around UBC campus for Aboriginal History Month, visit the Musqueam nation's web page about the celebrations!
No Comments
---
Posted on August 3, 2016 @10:36 am by Alyssa Hamer

When the spirits are low, when the day appears dark, when work becomes monotonous, when hope hardly seems worth having, just mount a bicycle and go out for a spin down the road, without thought on anything but the ride you are taking – Sir Arthur Conan Doyle
Whether you're 5 or 105, chances are you've felt the carefree joy of riding a bicycle at some point in your life. This week we've hand-picked a number of images featuring bicycles from Open Collections in order to celebrate Bike Month 2016!
The history of the bicycle can be traced back to 19th century Europe, with the term bicycle coined by the French in the mid-1800's. Over many decades, refinements to the design and materials meant that the bicycle went from being a novelty to a practical form of transportation for men, women and children of all ages.
Today, bicycle transportation has become second nature to many urbanites throughout the world as a low-cost and healthy way to get around. Here at UBC's Vancouver campus there are a number of great initiatives to support students and staff in their cycling endeavours. I Bike Here is a website offering tips, resources, news and maps about biking in and around campus. The AMS Bike Co-op promotes bike education, outreach and advocacy amongst the UBC community. Another great resource is The Bike Kitchen, a not-for-profit, full-service bike shop right here at UBC. You can learn how to fix your own bike, purchase or rent a bike, and even donate your old bike!
There are many good reasons to get outside and go for a bike ride, but even if you prefer strictly the imaginary kind, UBC Library has a number of interesting bike-centric books to get your gears going. Check out some neat reads here, here and here. And, of course, enjoy looking at some of these great cycling images taken from Open Collections!
Happy riding everyone!
No Comments
---
Posted on July 27, 2016 @12:14 pm by Alyssa Hamer

In recognition of World Oceans Day (June 8), we're highlighting the unique ocean-related materials featured in Open Collections, as well as some of the important ocean research and advocacy work that takes place right here at UBC!
One of the most prominent collections featuring sea life is our Traité Général des Pesches, a series of plates highlighting French fishing life and fisheries, produced by Henri-Louis Duhamel de Monceau between 1769 and 1782. These plates are considered some of the finest works depicting the culture and techniques of fishing in France from that era. The images include detailed depictions of common fish, landscapes, tools of the trade, and even outfits worn by fishermen (and women) of the time. Explore the collection further here!
Another "seaworthy" digital collection is from the Fisherman Publishing Society, a newspaper which continues to publish in B.C.'s Lower Mainland on topics related to the Westcoast fishing industry and labour union events. Many unique photographs are included in this collection, which records the history of British Columbia's fishing industry throughout the 20th century. Take a look at the entire digital collection here.
Today at UBC there are several teams working on important ocean-related research. The Institute for the Oceans and Fisheries is a leading research department which works alongside a number of partners and specialty units to assess the impacts of human activity on marine ecosystems. The Changing Ocean Research Unit studies the impact of climate change on the ocean, its ecosystems, biodiversity and fisheries, with the goal of identifying recommendations for mitigating adverse effects.
Finally, UBC is also home to Project Seahorse, a marine conservation group focused on the protection of seahorses and the marine environment more broadly. This project has successfully led the charge against international trade in seahorse exports, and pushed for ecosystem conservation efforts in seahorse habitats across the globe.
Celebrate World Oceans Day by checking out some of our great collections, and supporting the groundbreaking ocean research taking place right here at UBC!
No Comments
---
Posted on July 21, 2016 @10:26 am by Alyssa Hamer

Phase 3 of the British Columbia Sessional papers have been digitized, and extend the collection over a further twenty-year period, from 1912 to 1932. With the addition of these 664 new papers, the collection now totals 2409 items!
The Sessional Papers are an annual collection of selected papers tabled in BC's Legislative Council (1865-1871) and Legislative Assembly (1872-1982). These papers highlight the cultural, economic, social and political atmosphere of their historical era.
The project is a collaboration between several provincial institutions, known as the BC Government Publications Digitization Group, which aims to increase access to high-demand government materials.
This multi-year project now enters into Phase 4. Learn more about the BC Sessional Papers, or check out previous posts about the project here and here.
No Comments
---
Posted on July 7, 2016 @10:51 am by Alyssa Hamer

May is Asian Heritage Month in Canada, and in order to celebrate, today's post will feature highlights from UBC Library's collection of Japanese-Canadian newspaper, Tairiku Nippō (Continental Daily News). Published in Vancouver between 1907 and 1941 and written primarily in Japanese, the Tairiku Nippō acted as an important informational resource and community touchstone for Japanese immigrants to British Columbia prior to the internment of Japanese Canadians during World War II.
This newspaper provides insight into the lives of pre-war Japanese Canadians in the Lower Mainland, covering religious announcements, community events, and other information relating to the community at the time. There are also some pretty nifty advertisements throughout the newspaper too, including shoe mongers and even a steam car wash.
This collection has been digitized by UBC as a part of its Japanese Canadian Student Tribute, which honours the 76 Japanese-Canadian students who were unable to complete their UBC degrees or could not attend their graduation ceremonies as a result of the 1942 internment.
Digital Initiatives has partnered with Dr. Norifumi Kawahara, of Ritsumeikan University in Japan, in order to identify key pieces of information contained within each issue, such as major headlines and cover stories. Dr. Kawahara's graduate students interpret the text and then provide transcriptions of this information in both Kanji and Romaji. This is important work, especially since computer software to read and interpret Asian languages (OCR), especially in relation to older documents, is much more challenging than with Latin script!
Join UBC Library in commemorating Asian Heritage Month – check out a number of exhibitions taking place this month on campus, review the Asian Library's Great Reads, or browse some of our other online collections relating to Asian Heritage below!
No Comments
---
Posted on June 15, 2016 @10:11 am by Alexandra Kuskowski

Loyal blog readers (and you unloyal ones – you know who you are) it is time for a change in regime. Every week for the past year I have been bringing you the news from Digital Initiatives. Next week you will be getting a new coop student, Alyssa, bringing the best behind the scenes look at what we do here.
For my last blog post I will share a bit of digitization humour using images from Open Collections of course. The jokes focus on what coop students do with the 96% of time they aren't on social media– i.e. cleaning the data attached to all the content you access everyday on OpenCollections shared via our content online (read more about it here).
If you want to see the original images in all their glory, just click on the pictures!
Learn more about digital preservation here!
Blogging for the Digitization Centre has been a blast for the past year, and I hope you enjoyed reading the posts! If not, don't tell me. Tell the new coop student. She will be sure to avoid my mistakes.
Hope everyone has a great summer!
No Comments
---
Posted on June 22, 2016 @10:08 am by Alexandra Kuskowski
This week we have a quick peak at the behind the scenes stuff we do here at Digital Initiatives.
Some of these images are new and some are a bit older, but all give a fun look at the secret stuff that happens to get the content you see online! Scroll to the bottom to see links to our longer articles about the process behind many of these pictures.
If you would like to learn more about the Uno Langmann Collection click here.
If you are interested in how we scan posters and large maps click here.
If the disbinding intrigued you click here.
No Comments
---
Posted on August 3, 2016 @10:37 am by Alexandra Kuskowski

Way back in January UBC Library scored a rare book coup, acquiring two exceptional examples of early gay literature that share a connection with famed Victorian writer Oscar Wilde.
Teleny and its prequel, Des Grieux, were first published in the 1890s. It's long been suspected, but never confirmed, that Wilde may have authored or contributed to the texts.
Now both of these texts are available for online study and access through Open Collections. (But be aware before you click- this literature is a bit racy – don't let anyone ever tell you the library isn't exciting!)
"Even if Wilde didn't write them, the speculation is still a fascinating part of his enduring mythology," said Gregory Mackie, Assistant Professor in UBC's Dept. of English.
Only five known sets of the two-volume publication Teleny remain, and there are only three known copies of Des Grieux. UBC is the only collection in the world with both texts- and now you can see them too!
No Comments
---