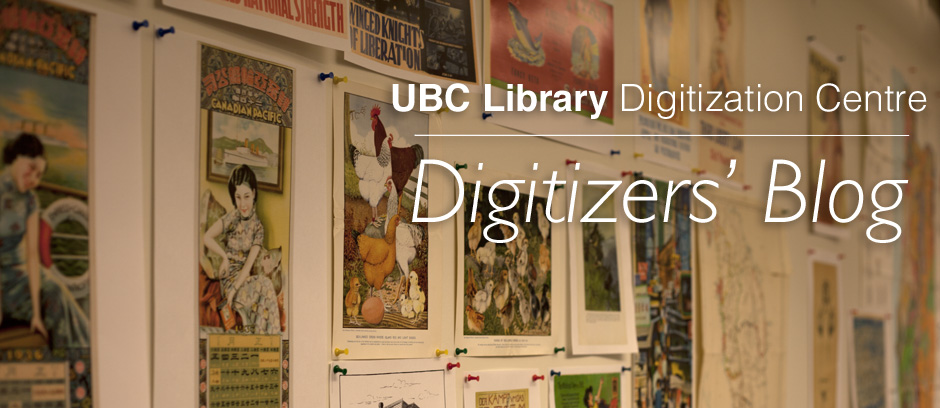 Here at the Digitization Centre we are fascinated and excited by the vast amount of primary-source material that our digitization work exposes us to.  Whether a document of historic significance, a beautiful illustration, or even a particularly fine typeface, we are frequently amazed by the materials we're working to share with the world.  So much so, that not only will we crowd around to ogle a particularly interesting specimen, but we've started decorating our workplace with copies of some of our favorites.  But why stop there?  Surely, we can't be the only ones geeky enough to appreciate such "gems" in our collections, and so we've decided to share them here with you.  Below you will find some of our favorites, hand-picked by staff from both existing and upcoming collections.  We hope you enjoy them as much as we do!   TIP: To view full resolution versions of the images on any size screen, click to enlarge and then right-click and select "open image in new tab."
---
Posted on December 8, 2015 @10:34 am by Alexandra Kuskowski
In a collaborative effort between the UBC Library Digitization Centre and CiTR 101.9 FM, the Student Radio Society of the University of British Columbia, over 300 digitized audio files of CiTR vault content are now available from Open Collections to listen or download in the CiTR Audiotapes Collection.
The CiTR Audiotapes collection offers a wealth of broadcast content documenting the music and arts scene of Vancouver and beyond. Spanning 1949 to the year 2000, it increases access and documentation to a significant 30+ year segment of Vancouver's unique cultural and musical history.
Try checking out an interview from 1985 of Evelyn Roth, whose artwork is now on display at the Vancouver Art Gallery in their current exhibition "Between Object and Action: Transforming Media in the 1960s and 70s."
For those of you who have been waiting since our How We Digitize: Audio Edition! post finally up your street cred listening to a cool interview hour with the alt-rock band Sleater-Kinney.
Or peruse the digitized CiTR magazine Discorder, a magazine devoted to in-depth coverage of Vancouver's independent music scene for inspiration too.
This amazing content was uploaded as the first half CiTR's project An Audio Evolution of UBC. In the second half of the project CiTR Alumni and members will produce and air 10 hour-long documentaries centered on the content in the CiTR Audiotapes Collection to be released over the next year.
A few digitized reels still remain to be uploaded, (one of which includes an interview with Noam Chomsky – so stay tuned!) but the bulk of the collection has been uploaded for you to access.
Listen in and go check out the full collection online! 
No Comments
---
Posted on November 20, 2015 @12:14 pm by Alexandra Kuskowski

With over 138,535 unique digital objects on Open Collections (and mores showing up every day!) you might be overwhelmed, especially with all whiz-bang visualizations and featured collections. In our "Exploring Open Collections" series we'll pick an aspect of the portal to explore and share with you guys!
With so many objects how do I find anything cool? Like a new desktop picture?
Start by picking a term that interests you. It could be anything from 'dog' to 'typewriter' to 'camels.'  Today we're going with the appropriately vague, but always relevant, 'West Coast.'
Searching with this term comes up with a lot of objects, which means we will have to limit them to specific things we're interest in, known here as 'filtering'.
Filtering with Open Collections comes with two options:
Drill-Down: updates filter terms each time you change them and changes the results to match. This is the type of search used here.
Facet: includes all the filter terms in results for your beginning search regardless of filters added.
Most of our results are text, so we will limit our search by Still Image to get a picture for our desktop.
In addition to Type the options bar you can limit by a whole host of item listed on the options bar. Well this was true of our old collection too, it didn't come with a) organized drop down menus and b) time line visualizations.
To further limit this search pick a Genre – 'Prints' seems like a good one to get single images rather than exploring through albums. Limit by Subject too– Here we limited by 'Landscape Representation' rather than a 'Photograph'.
Here's where the real fun begins. Go to the image listing. In the upper left hand corner there's a keyboard that details tips for making the image full screen, rotating it, even cropping – so you can share it or download it.
Scrolling down allows you to download the image, check out the metadata attached, cite in any style, comment, find related items, or even see who else worldwide has viewed it!
All that's left to do is download it, and set it as your desktop!
Share what you guys have found in the new Open Collections here and by tweeting with #UBCOpenCollections! Or tell us what else you'd like to learn about Open Collections – it just might be the subject of our next blog!
No Comments
---
Posted on November 27, 2015 @2:51 pm by Alexandra Kuskowski

Ancient Egyptian scrolls, sixteenth century explorer's maps, misty photographs of the British Columbia pioneer towns, and audio recordings of your favorite local bands—these are just some of the resources we offer digitally. Now, with a new digital portal called Open Collections, you will be able to access our materials in a whole new way.
Open Collections is designed to deliver many of our digital resources in one place. Access locally created and managed open access digital materials from the Library's repositories: cIRcle, CONTENTdm, and AtoM.
What does this mean for your search?
Open Collections has improved searching—this means more comprehensive results in one easy click. You can take a deeper dive into content tailored to your search, content that may have been missed before the integration of these collections. Even better, it comes with a beautiful visual interface and new interactive searching.
What are the new features?
We've added new features to explore the collections, like the Open Collections Research API, to take your research to the next level. Our integrated cIRcle search combines research and teaching materials from UBC into your digital collections search. You can look at collections by topics like "Arts and Culture" "First Nations" and "Medicine and Public Health."
We will explore these facets and more in further posts about our new portal.
Why should you check it out?
So much new content is available for exploration. Open Collections makes it easy to browse and learn.
Maybe you've already taken a peek at Open Collections, but if you haven't –take a minute to explore the new portal now.
No Comments
---
Posted on December 4, 2015 @9:59 am by Alexandra Kuskowski

We're written about a few of our digitization techniques from the context scanner to flatbed scanning, but now it's time to get into the hard stuff- that's right I'm talking about the fancy book scanners.
These book scanners, known as ATIZ (pronounced A-tease) workstations, are used from imaging rare books –ones we can't chop into pieces.
The workstations are made of a frame with two Canon 5D Mark II cameras. There is also a book cradle to support the books.
After turning on the ATIZ machine, the lights, and the computer software program we use to take the pictures called VMWare Fusion, we turn on the cameras. To focus the cameras we use an attachment that projects a laser onto the page of the cradle for a short time. The cameras are able to lock in on the laser, using it to focus correctly on the page.
The book to be scanned is placed in the book cradle. A glass plate is lowered on top of the pages to smooth and flatten them. The plate is attached to a spring to adjust to the book height.
Then the cameras, remember there is one for each page(!) must be selected and adjusted to take the images in the proper order. It's easy to check the image is perfect on the Live View on the attached computer.
A red laser makes it easy to center the book on a center gridline.There is a keypad the scanner can use to get the cameras to shoot in sequential order, shoot the right hand or the left hand page. For each page the glass plate is lifted, the page is turned, and the process is repeated!
At DI we've scanned around 10,000 books over the past 5 years this way!
Digitization is no joke, it's 
 ! Badum tish!
2 Comments
---
Posted on January 6, 2016 @2:11 pm by Alexandra Kuskowski
Thanksgiving is a time for fun, food and friends! To celebrate this festive weekend we've gathered together some of our favorite f(ph)otos of families from our digital collection.
Want to see more? Type in "family" in on our digital collections page! Refine your search to find only images or search within specific collections. To enlarge the image just click on it!
Or if you want an up close look at any of these photos just click on them.
No Comments
---
Posted on November 6, 2015 @10:35 am by Alexandra Kuskowski

We've got an exciting announcement! You can now check out our 2014-2015 Impact Report. To download it click here.
It's a short 2 pager, packed with tons of cool information, and pictures! Learn about the new projects we've added over the year, get some juicy quotes from our collaborators, and find out whats coming up.
Some Fun Facts from our Impact Report:
We increased out online visitors over 10% from last year.
Each month we average 18,000 impressions (tweet views) on twitter.
We've been developing a new portal, calledOpen Collections. We are launching it this fall.
If you want even more check out both our Impact Reports under "Reports" in our Documentation section.
No Comments
---
Posted on November 5, 2015 @1:55 pm by Alexandra Kuskowski
UBC had a centennial birthday yesterday! On September 30th 1915 the University of British Columbia held the first lectures for the newly formed University. To celebrate this momentus occasion we're  taking a look back here on the blog at DI. Memories abound all over the campus and beyond.
Check out some of the amusing, amazing, even astonishing photos of what else was going on in the year 1915. Click on the pictures to see even more.
The year 1915 was also a major year in WW1. Many people were volunteering for the army, being shipped overseas, or participating in the war effort however they could.
At home people kept on living- getting married, working, and gardening- and of course, going to school!
No Comments
---
Posted on October 21, 2015 @4:25 pm by Alexandra Kuskowski

UBC Okanagan + DI = Gold Mine of Information
Digital Initiatives is at it again with UBC Okanagan Library, to provide you with new historical resources from the resource industry!
Employees at DI helped to consult and work collaboratively with Arielle Lomness, Collections Librarian at UBC Okanagan and Dual MAS/MLIS candidate Paige Hohmann, in digitizing two collections belonging to the UBC Okanagan Library: the Simpson Family fonds and Doug and Joyce Cox Research Collection.
Along the way UBC Okanagan also set benchmarks for their upcoming digital collections. Overall digitization of both donations will continue over the coming year, but are available currently for in-person research at the UBC Okanagan Library
.For now, learn more about the cool fonds and collection that are coming to a computer near you soon!
Simpson Family Fonds
In July 2014, Sharron J. Simpson donated her family papers to UBC Okanagan Library's developing Okanagan Special Collections (OSC). The Simpson Family fonds, documents Ms. Simpson's grandfather, Stanley M. Simpson of Kelowna, his wood processing plants known collectively as S. M. Simpson Ltd. and its corporate successors. For almost fifty years, S. M. Simpson oversaw one of the largest and most important forestry and wood processing operations in the Okanagan Valley. At the time the company was also one of the most relied upon employers in the area.
The collection features a photographic record of the changes of the forestry industry in B.C.'s interior during the first half of the twentieth century, and includes collection of labour and union related documents, including collective agreements and administrative documents.
Doug and Joyce Cox Research Collection:
In January 2015, Doug and Joyce Cox donated the aggregate of Mr. Cox's records supporting Mr. Cox's career as a writer and self-publisher (Skookum Publications), 12.2 meters of material, to the Okanagan Special Collections' (OSC). The material collected ranges in dates from 1870 to 1960.
The Cox Collection features a wealth of collected materials, including those of prominent pioneers: F.X. Richter (Kelowna, B.C), Valentine Haynes (Osoyoos B.C.), and J.M. Robinson (Naramata, B.C.). In addition to family photo collections, there are other aggregations collected on a basis of subject (i.e. ranching, mining) and geography in the region.
Full descriptions of the collections are available now online – http://rbscarchives.library.ubc.ca/. In addition to the digital collections, a website featuring the newly updated Special Collections and archival collections will be available this fall through the UBC Okanagan Library website. More information will be made available shortly through http://library.ok.ubc.ca/.
No Comments
---
Posted on October 21, 2015 @9:43 am by Alexandra Kuskowski

How do you image the REALLY big items? Or the items that won't fit in a normal scanner?
The largest (and most exciting!) image-processing machine we have here at DI is definitely the TTI.
The TTI is used to scan large, fragile, or otherwise oddly shaped items. You may have caught glimpses of it here.
To show you how it works we are scanning a few delicate maps from the Chung Collection. The maps are foldouts from a book by Sir George Simpson that are still attached, so we couldn't use THIS machine.
To start, we boot up Capture Flow. Capture Flow is an image-processing program with settings for the exposure time and color adjustment. We also turn on the camera back (Sinarback Evolution 86 H with a Sinaron Digital HR 5.6/90 CMV lens) pointed at the TTI flatbed, and two banks of LED lights that evenly illuminate any item being imaged.
Laying the map on the large TTI bed (40" by 60") the color corrector, a QPcard 101, and a Better Light focus card are used. They help color correct the image in the editing phase and focus the image properly, respectively,  so the picture comes out as true to life as possible.
Test images are taken. They are viewed on the attached screen to check everything is working properly. The color sometimes looks off in the image, but we will correct that later.
Then the real fun begins! To flatten the map we turn on a vacuum built in to the flatbed of the TTI. It will draw the scanned item gently flat. A clean glass plate is set over the map to smooth it out even more.
The camera's CCD sensor's pixel matrix is shifted three times laterally or vertically by exactly one pixel width from one exposure to the next, so that every image point is covered by every primary color (red, blue, 2x green).. Captureflow receives the images as a single unit for a more color-realistic and detailed image.
This particular map is too big to image all at once. The map gets flipped and moved to image additional sections.
Later the images are stitched together in the post processing step, using Adobe Photoshop. The final product you end up with is a beauty that looks like this:
No Comments
---
Posted on October 2, 2015 @10:56 am by Alexandra Kuskowski

The One Hundred Poets project originated from the personal collection of Professor Joshua Mostow of the UBC Department of Asian Studies. It was made possible through generous funding from the Toshiba International Foundation (TIFO) and collaboration between the UBC Department of Asian Studies, Asian Library, Digitization Centre, Rare Books and Special Collections and Technical Services.
You've heard of (and hopefully explored!) Phase 1 of this project. It was completed earlier this summer. If you haven't had a chance yet, check it out here.
This week we've got a sneak peek of Phase 2! Check out the amazingly beautiful woodblock prints already digitized.
Phase 2 of the One Hundred Poets Project will digitize around 70 more items including about 50 books and 19 woodblock prints. Phase 2 will also focus on metadata enrichment for the existing collection – making it easier to search access by adding more information!
In addition we will be working with the UBC conservator Anne Lama to preserve these priceless items!
Stay tuned for more information!
No Comments
---