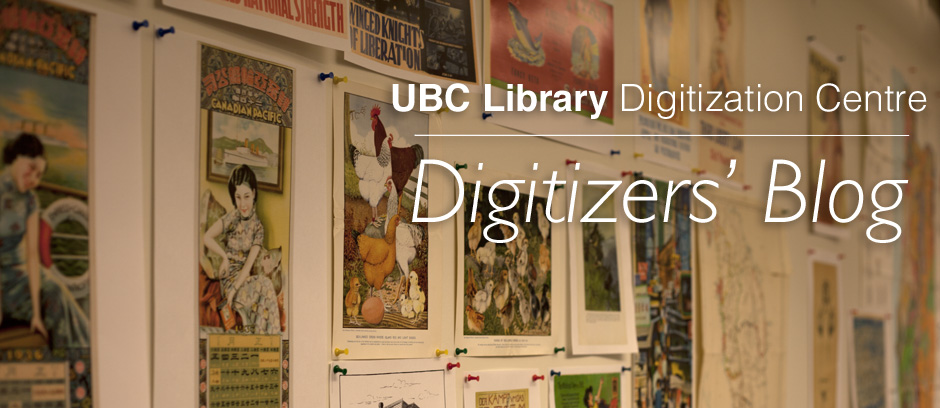 Here at the Digitization Centre we are fascinated and excited by the vast amount of primary-source material that our digitization work exposes us to.  Whether a document of historic significance, a beautiful illustration, or even a particularly fine typeface, we are frequently amazed by the materials we're working to share with the world.  So much so, that not only will we crowd around to ogle a particularly interesting specimen, but we've started decorating our workplace with copies of some of our favorites.  But why stop there?  Surely, we can't be the only ones geeky enough to appreciate such "gems" in our collections, and so we've decided to share them here with you.  Below you will find some of our favorites, hand-picked by staff from both existing and upcoming collections.  We hope you enjoy them as much as we do!   TIP: To view full resolution versions of the images on any size screen, click to enlarge and then right-click and select "open image in new tab."
---
Posted on February 5, 2016 @10:42 am by Alexandra Kuskowski

This week we are going give you a sneak preview of one of the coolest new machines coming soon to the Digital Initiatives, and even better a new collection we are partnering with Woodward Library!
The machine sounds about as futuristic as it gets—a 3D imager. But not to worry, it is far from HAL territory.
Currently the 3D imager is being used to digitize the Memorial Artifact Collection at Woodward. The collections of 450 medical artifacts are from mainly the 19th and 20th centuries (though there are a few from as early as the the 18th century and as last as the 21st century). People from the British Columbia area, including retiring doctors and antiques collectors, donated the bulk of the collection. The items range from brass microscopes, to cough syrup bottles – with cough syrup still in them, to electroshock therapy machines
Check out one of the first items to be digitized: a Whitehead mouth gag. It was once used to hold patient's mouths open during mouth examinations. The camera snaps each item as it rotates on the table 16 times.
It allows for cool gif's like this! [here's hoping this works on wordpress]
No Comments
---
Posted on January 4, 2016 @9:34 am by Alexandra Kuskowski

We've uploaded a few new collection albums to our Flickr account! All of our Flickr account albums are curated to between 25 and 50 images that represent the collections. Check out all of our albums.
The newest collection is 50 curated bookplates from our RBSC bookplates collection. Here are a few of the images up on Flickr now.
The other new collections include:
Epigraphic Squeezes (added to Flickr in November). Learn more about how we digitized the collection in our blog Digitizing the Ancient Past.
Cuneiform Tablets and Papyri (added to Flickr in October)- It's the oldest collection we have on Flickr – dating up to  Learn more about the provenance of our ancient collections by checking out our other blog posts: Relics from a Lost Age: Cuneiform Tablets & Provenance, Part 2: Mysterious Histories, Discover Lost Ancient Egyptian Papyri!
And last but not least One Hundred Poets Collection (added to Flickr in August).
No Comments
---
Posted on January 10, 2018 @11:32 am by Alexandra Kuskowski
It's time again for another "Exploring Open Collections" installment! This week we're taking a look at one of our biggest collections (and one that's featured) B.C. Historical Books. Previous to the Open Collections launch B.C. Historical Books was known as B.C. Bibliography and was a standalone site associated with Digital Initiatives – now it's been incorporated into Open Collections for even more amazing search capabilities!
Combining the tools of a bibliography (published work description) with the tools of a digital library, the we are offering a searchable database of the Bibliography of BC by digitizing as many works from this traditional print bibliography (and some additional materials) on the area.
If that's a bit of a mouthful for you, think of it as an astonishing assembly of resources on British Columbia.
The collection is made up of everything, from the obvious (almanacs, guide books, government reports) to the surprising (albums, printings, diaries) to the downright bizarre (poems, scores!). But that's not the most amazing part… keep reading to find out the best-kept secret of B.C. Historical Books!
To get into the collection there's a lot of fun ways to explore including looking at the cornerstone works. All of which are clickable on the collections' main page.
Or you can click through a visual representation of the collection!
Plenty to see remains even if you stick straight to the books. Take the Klondyke souvenir a photograph book published in 1901. It has amazing high quality scans for you zoom in, check out, and even download if the fancy should strike you.
But that's not the best-kept secret about B.C. Books, not by a long shot.
The best secret is that you can search the text entire collection- all 1,158+ items- in the main search bar. Any text you see has been input into the system and can be accessed at a moments' notice. If that doesn't define the information age, I don't know what does.
What is your favorite thing in B.C. books? Let us know in the comments!
No Comments
---
Posted on January 20, 2016 @9:16 am by Alexandra Kuskowski

B.C. Historical Newspapers collection is a priceless resource for anyone interested in the history of British Columbia. In fact it is one of our most well used, well-loved collections!The [current] selection of 94 papers [and growing!] and 30,000 items reflects the social and culture life of the communities they were published in, making them invaluable to researchers, historians and curious folk alike. A resource, with the introduction of Open Collections, that just got even better!
The papers come from all around the province with titles ranging from the Abbotsford Post to Westward Ho! The dates span over a hundred years, from 1865 to 1989.
With Open Collections you can now browse through the papers by text, date, creator, through a listed scrolling bar, or even, most visually stunning, by map.
Clicking on a collection will take you to its personalized page where you can browse by date with a scrolling year bar.
Clicking on a date will take you to that paper- where you are free to scroll, zoom and  download!
This collection is one that we are continually making better. Many of the papers are being updated so that you can have the best information possible, so keep checking back to see what new things you can find!
No Comments
---
Posted on January 10, 2018 @11:37 am by Alexandra Kuskowski
Check the date of this post Friday November 13. A special day for Triskaidekaphobes, people who fear the number 13. Traditionally, in the Western world any Friday the 13th is considered unlucky. Are you freaked out? If you are, you're not alone. Recorded fears start as early as the 19th century, but some say the practice  may date all the way to the middle ages.
Today many people avoid trips, traveling and any number of activities- with an estimated 80 million dollars lost in revenue in a single day. Considering there is at least one and as many as three Friday the 13ths in a given year, that's pretty significant.
This post isn't about freaking out people dislike the most feared date of the year though, it's about exploring the past! In the past 115 years there have been sixteen Friday November 13ths – a lot of which we can explore in the BC Historical Newspapers –and use them to discover cool features on Open Collections!
To see any of the papers in more detail – click on the image to go to the listing.
First up: The daily newspaper the Boundary Creek Times on Friday November 13, 1908.
That type is a little small. You can toggle to the full text by clicking the paper image on the upper left hand side.
Even better, compare the type and the paper picture by clicking the open page diagram!
Friday November 13, 1914  shows the first world war is had begun. The cartoon in the center of The Western Call has an interesting take on modernity too.
If you want to save the page click on the download button with the arrow on the upper left hand corner. It will only download the page you are on, not the whole paper.
By Friday November 13, 1925 things have cooled down. The Creston Review reports that people were able to attend whilst parties – as detailed in the upper righthand corner.
Last bust not least take a quick peek the Ubyssey from Friday November 13, 1953. The anti-red commission makes the headlines – suggesting the Cold War and fear of communists was in full effect.
Some other cultures point to Tuesday the 13th (Hispanic and Greek) or Friday the 17th (Italian) as bad luck- but that's a post for another time.
Happy Friday the 13th!
No Comments
---
Posted on January 10, 2018 @11:48 am by Alexandra Kuskowski
In a collaborative effort between the UBC Library Digitization Centre and CiTR 101.9 FM, the Student Radio Society of the University of British Columbia, over 300 digitized audio files of CiTR vault content are now available from Open Collections to listen or download in the CiTR Audiotapes Collection.
The CiTR Audiotapes collection offers a wealth of broadcast content documenting the music and arts scene of Vancouver and beyond. Spanning 1949 to the year 2000, it increases access and documentation to a significant 30+ year segment of Vancouver's unique cultural and musical history.
Try checking out an interview from 1985 of Evelyn Roth, whose artwork is now on display at the Vancouver Art Gallery in their current exhibition "Between Object and Action: Transforming Media in the 1960s and 70s."
For those of you who have been waiting since our How We Digitize: Audio Edition! post finally up your street cred listening to a cool interview hour with the alt-rock band Sleater-Kinney.
Or peruse the digitized CiTR magazine Discorder, a magazine devoted to in-depth coverage of Vancouver's independent music scene for inspiration too.
This amazing content was uploaded as the first half CiTR's project An Audio Evolution of UBC. In the second half of the project CiTR Alumni and members will produce and air 10 hour-long documentaries centered on the content in the CiTR Audiotapes Collection to be released over the next year.
A few digitized reels still remain to be uploaded, (one of which includes an interview with Noam Chomsky – so stay tuned!) but the bulk of the collection has been uploaded for you to access.
Listen in and go check out the full collection online! 
No Comments
---
Posted on November 20, 2015 @12:14 pm by Alexandra Kuskowski

With over 138,535 unique digital objects on Open Collections (and mores showing up every day!) you might be overwhelmed, especially with all whiz-bang visualizations and featured collections. In our "Exploring Open Collections" series we'll pick an aspect of the portal to explore and share with you guys!
With so many objects how do I find anything cool? Like a new desktop picture?
Start by picking a term that interests you. It could be anything from 'dog' to 'typewriter' to 'camels.'  Today we're going with the appropriately vague, but always relevant, 'West Coast.'
Searching with this term comes up with a lot of objects, which means we will have to limit them to specific things we're interest in, known here as 'filtering'.
Filtering with Open Collections comes with two options:
Drill-Down: updates filter terms each time you change them and changes the results to match. This is the type of search used here.
Facet: includes all the filter terms in results for your beginning search regardless of filters added.
Most of our results are text, so we will limit our search by Still Image to get a picture for our desktop.
In addition to Type the options bar you can limit by a whole host of item listed on the options bar. Well this was true of our old collection too, it didn't come with a) organized drop down menus and b) time line visualizations.
To further limit this search pick a Genre – 'Prints' seems like a good one to get single images rather than exploring through albums. Limit by Subject too– Here we limited by 'Landscape Representation' rather than a 'Photograph'.
Here's where the real fun begins. Go to the image listing. In the upper left hand corner there's a keyboard that details tips for making the image full screen, rotating it, even cropping – so you can share it or download it.
Scrolling down allows you to download the image, check out the metadata attached, cite in any style, comment, find related items, or even see who else worldwide has viewed it!
All that's left to do is download it, and set it as your desktop!
Share what you guys have found in the new Open Collections here and by tweeting with #UBCOpenCollections! Or tell us what else you'd like to learn about Open Collections – it just might be the subject of our next blog!
No Comments
---
Posted on November 27, 2015 @2:51 pm by Alexandra Kuskowski

Ancient Egyptian scrolls, sixteenth century explorer's maps, misty photographs of the British Columbia pioneer towns, and audio recordings of your favorite local bands—these are just some of the resources we offer digitally. Now, with a new digital portal called Open Collections, you will be able to access our materials in a whole new way.
Open Collections is designed to deliver many of our digital resources in one place. Access locally created and managed open access digital materials from the Library's repositories: cIRcle, CONTENTdm, and AtoM.
What does this mean for your search?
Open Collections has improved searching—this means more comprehensive results in one easy click. You can take a deeper dive into content tailored to your search, content that may have been missed before the integration of these collections. Even better, it comes with a beautiful visual interface and new interactive searching.
What are the new features?
We've added new features to explore the collections, like the Open Collections Research API, to take your research to the next level. Our integrated cIRcle search combines research and teaching materials from UBC into your digital collections search. You can look at collections by topics like "Arts and Culture" "First Nations" and "Medicine and Public Health."
We will explore these facets and more in further posts about our new portal.
Why should you check it out?
So much new content is available for exploration. Open Collections makes it easy to browse and learn.
Maybe you've already taken a peek at Open Collections, but if you haven't –take a minute to explore the new portal now.
No Comments
---
Posted on December 4, 2015 @9:59 am by Alexandra Kuskowski

We're written about a few of our digitization techniques from the context scanner to flatbed scanning, but now it's time to get into the hard stuff- that's right I'm talking about the fancy book scanners.
These book scanners, known as ATIZ (pronounced A-tease) workstations, are used from imaging rare books –ones we can't chop into pieces.
The workstations are made of a frame with two Canon 5D Mark II cameras. There is also a book cradle to support the books.
After turning on the ATIZ machine, the lights, and the computer software program we use to take the pictures called VMWare Fusion, we turn on the cameras. To focus the cameras we use an attachment that projects a laser onto the page of the cradle for a short time. The cameras are able to lock in on the laser, using it to focus correctly on the page.
The book to be scanned is placed in the book cradle. A glass plate is lowered on top of the pages to smooth and flatten them. The plate is attached to a spring to adjust to the book height.
Then the cameras, remember there is one for each page(!) must be selected and adjusted to take the images in the proper order. It's easy to check the image is perfect on the Live View on the attached computer.
A red laser makes it easy to center the book on a center gridline.There is a keypad the scanner can use to get the cameras to shoot in sequential order, shoot the right hand or the left hand page. For each page the glass plate is lifted, the page is turned, and the process is repeated!
At DI we've scanned around 10,000 books over the past 5 years this way!
Digitization is no joke, it's 
 ! Badum tish!
2 Comments
---
Posted on January 6, 2016 @2:11 pm by Alexandra Kuskowski
Thanksgiving is a time for fun, food and friends! To celebrate this festive weekend we've gathered together some of our favorite f(ph)otos of families from our digital collection.
Want to see more? Type in "family" in on our digital collections page! Refine your search to find only images or search within specific collections. To enlarge the image just click on it!
Or if you want an up close look at any of these photos just click on them.
No Comments
---