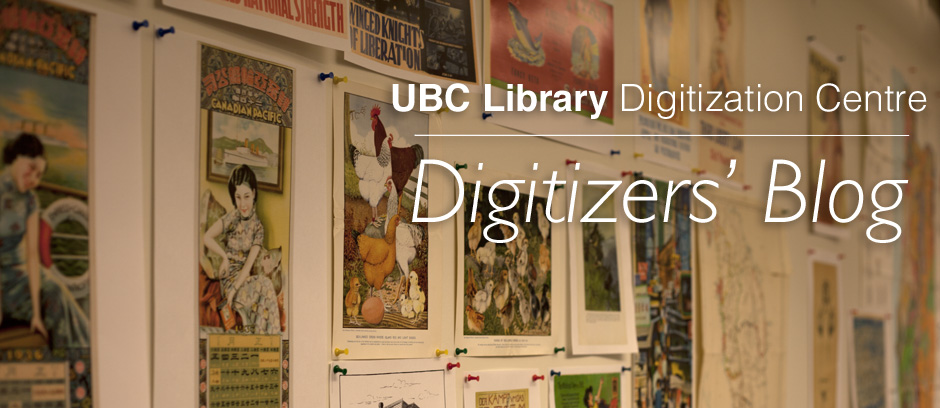 Here at the Digitization Centre we are fascinated and excited by the vast amount of primary-source material that our digitization work exposes us to.  Whether a document of historic significance, a beautiful illustration, or even a particularly fine typeface, we are frequently amazed by the materials we're working to share with the world.  So much so, that not only will we crowd around to ogle a particularly interesting specimen, but we've started decorating our workplace with copies of some of our favorites.  But why stop there?  Surely, we can't be the only ones geeky enough to appreciate such "gems" in our collections, and so we've decided to share them here with you.  Below you will find some of our favorites, hand-picked by staff from both existing and upcoming collections.  We hope you enjoy them as much as we do!   TIP: To view full resolution versions of the images on any size screen, click to enlarge and then right-click and select "open image in new tab."
---
Posted on November 2, 2016 @11:03 am by Alyssa Hamer

The Fisherman Publishing Society formed in 1937 in order to publish The Fisherman, a newspaper that was jointly sponsored by the Salmon Purse Seiners Union and the Pacific Coast Fishermen's Union. The newspaper highlighted industry and union events and promoted unity among fishermen along the West Coast.
As one of the founding industries which led to the development and growth of British Columbia's towns and cities, fishing and fisheries have historically played a large part in the lives of many people living on the West Coast, and continue to this day. Although the industry has seen its share of highs and lows, the photographs in this collection feature some of the incredible hauls that were captured, the vessels that were once so common to our shores, and the many people from diverse backgrounds involved, including First Nations, Chinese and Japanese peoples, Indo-Canadians and Europeans.
Enjoy the unique photos from this bygone era, and be sure to enjoy the full Fisherman Publishing Society collection at Open Collections!
No Comments
---
Posted on November 16, 2016 @10:38 am by Alyssa Hamer

UBC's Rare Books and Special Collections houses a number of rare materials relating to the logging and forestry industry in Vancouver and its surrounding regions. One such collection is that of the Capilano Timber Company, which operated on the North Shore for a fifteen-year period between 1915 and 1930.
In 1917, the American owned company began to aggressively log the watershed – the demand for high-quality lumber to construct aeroplanes during World War I meant the company received a high return on their investment. Given the steep terrain and narrow valleys on the North Shore, Capilano Timber Co. was forced to build a logging railway in order to get the timber to tidewater. By February 1919, 12.8km of track led in to the Capilano valley. Timber bridges were also necessary to move people and materials along the valley – the most impressive being the Houlgate trestle, which reached a height of 27 metres and spanned a length of 120 metres.
At its peak, the Capilano Timber Co. employed 250 men cutting over 150,000 feet per day. Their living quarters were considered "civilization in the bush": they had indoor taps running hot water, showers, and dining cars that served bacon, eggs and hotcakes for breakfast, and steaks, stews and pies for dinner. The company even invested in constructing houses for married couples, in order to attract a stable permanent workforce – although it's not clear how successful this experiment was.
In 1925, the Capilano Timber Co. sold unmanufactured logs to local mills; however, by 1926 they had completed their own mill, and began to process thousands of feet of cedar, hemlock and fir. Just when operations were expanding rapidly and profits were at their peak, the 1929  economic depression hit and the Capilano mill was forced to close down.
In its fifteen years of operation, the company harvested approximately 400,000,000 feet of timber, laid 80 kilometers of railway tracks, and spent $9,000,000 on wages and equipment. The company also left in its wake clear-cut and barren forests which were prone to washouts and forest fires for decades after the company's operations ceased. In the intervening years many conservationists and local governments have attempted to rehabilitate the Capilano watershed region, and today it's a source of much of Vancouver's potable household water.  If you would like to learn more about the Capilano Timber Company, take a look at Anna Gabrielle Kahrer's 1988 MA thesis paper titled Logging and landscape change on the north shore of Burrard Inlet, British Columbia, 1860's to 1930's in UBC's scholarly repository, cIRcle. And be sure to check out the full collection of photographs in Open Collections!
No Comments
---
Posted on October 12, 2016 @10:13 am by Alyssa Hamer

UBC's Rare Books and Special Collections houses a selection of over 3,000 wartime images by the British Press. These photographs were approved by the British government during World War I and were distributed to overseas diplomats to be used in official projects. They depict the everyday drudgery, but also the humour and energy, of the soldiers and military personnel on the ground, as well as of those on the home front. It is an eclectic mix of images, and provides a multifaceted view of life during the Great War.
The University acquired these photographs in the 1930's through the British Consulate in Seattle. Originals of these print copies, as well as thousands of other images, are available through Britain's Imperial War Museum.
For a Canadian perspective on World War I, the Canadian War Museum has an online exhibition on Canada's involvement and contribution to the First World War.
Click on any of the images below for more information.
No Comments
---
Posted on September 14, 2016 @11:54 am by Alyssa Hamer

It's that time of year again – fall is just around the corner, and a new school year has begun. Whether you're new to the UBC campus community, returning for another semester, or graduated long ago, it can be an exciting and even nostalgic time. Returning to school for a new year can be a rite of passage as we grow up, and many of our fondest memories and closest friendships can form in places of learning.
We've searched Open Collections to find the best back-to-school images – enjoy the photographs below, and click on any of them for more information.