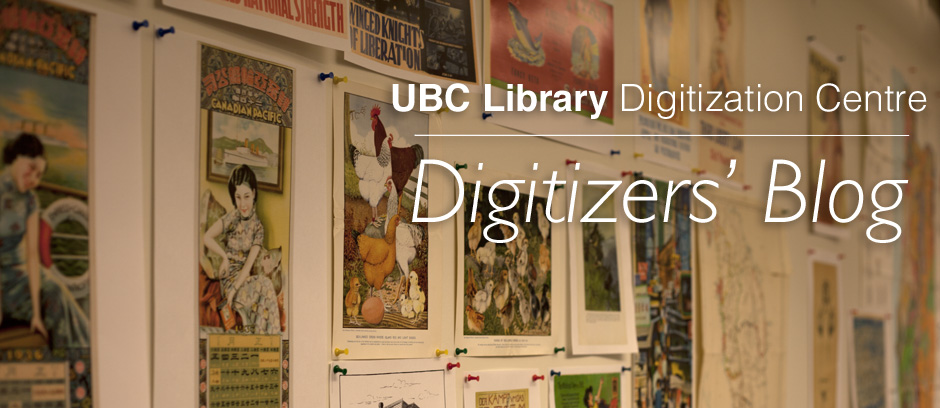 Here at the Digitization Centre we are fascinated and excited by the vast amount of primary-source material that our digitization work exposes us to.  Whether a document of historic significance, a beautiful illustration, or even a particularly fine typeface, we are frequently amazed by the materials we're working to share with the world.  So much so, that not only will we crowd around to ogle a particularly interesting specimen, but we've started decorating our workplace with copies of some of our favorites.  But why stop there?  Surely, we can't be the only ones geeky enough to appreciate such "gems" in our collections, and so we've decided to share them here with you.  Below you will find some of our favorites, hand-picked by staff from both existing and upcoming collections.  We hope you enjoy them as much as we do!   TIP: To view full resolution versions of the images on any size screen, click to enlarge and then right-click and select "open image in new tab."
---
Posted on March 2, 2017 @12:37 pm by kristina mcguirk

A recent article from the American Library Association reported on the decline of library cats. A documentary 20 years ago cited 201 cats living the dream in American libraries, including such famous felines as Dewey and Browser. However, a recount in 2016 found only 39 library cats.
While the Digitization Centre certainly can't have a pet on the premises (that hair would do no good for all our photography and scanning!), we do have a number in our digital collections. There's even record of a couple cool cats with library ties: UBC librarian and artist Evelyn Roth—a cool cat in her own right—was known for her two pets and their many kittens.
1 Comment
---
Posted on February 14, 2017 @9:29 am by Alyssa Hamer

Other than the colder weather, the long, dark days of December, and an exponential increase in the consumption of peppermint mochas, a sure sign of the impending Christmas holidays are the end of exams. With the stress of studying and final papers now passed, we thought it would be a great time to dig in to Open Collections to highlight some of our favorite festive images.
Enjoy our selection of historical photos and artworks celebrating the Christmas season, and from all of us at the Digitization Centre, have a safe and happy holiday!
No Comments
---
Posted on March 2, 2017 @12:37 pm by Alyssa Hamer
Tea is a universally beloved beverage, uniting us all across language, age and even social barriers. Whether you're inclined to enjoy a strong cup of earl grey, or are more partial to a delicate green, tea binds our human experience. International Tea Day is celebrated annually on December 15.
The history of tea reaches back to ancient China, with the Tang dynasty popularizing tea as the national beverage between the 7th and 10th centuries. Tea soon began to take hold in Japan, as a result of its introduction by Buddhist monks who had travelled to China to study, and out of this grew the ritual of the Japanese Tea Ceremony. Eventually, Dutch merchants from Europe established a trading route shipping tea from China to Holland in the 17th century, although for some time tea remained a drink almost exclusively for the wealthy.
Today tea is one of the most popular beverages on earth, with most of the leaves produced in countries such as Bangladesh, Sri Lanka, Nepal, China, Kenya, Uganda and India. Now a multibillion dollar industry, tea production supports the lives and livelihoods of millions of people around the world. Because of this, International Tea Day acts as an important time to recognize those workers who grow and harvest the tea products we have come to love. Challenges for these workers can include low-wages, long hours and poor living conditions. Advocates for tea workers continue to call for greater price supports and fair trade standards.
So, as you enjoy your "cuppa" on this day, take some time to appreciate not only the history of the beverage, but also those people working today to ensure your cupboard is always stocked with your favorite brew.
Sources:
UK Tea & Infusions Association. "Tea – A Brief History of the Nation's Favorite Beverage" https://www.tea.co.uk/tea-a- brief-history
Fairtrade Canada. "Tea" http://www.fairtrade.ca/en-ca/farmers- and-workers/tea
No Comments
---
Posted on March 2, 2017 @12:37 pm by Alyssa Hamer

The General Treaty of Fish, known in French as Traité général des pesches, was written by Henri-Louis Duhamel du Monceau and Jean-Louis De La Marre between 1769 and 1782. It focuses largely on the boats, equipment and techniques of fishermen in France during the era, including fine details about various species of fish. The text focuses primarily on the fishing industry in France.
Henri-Louis Duhamel du Monceau was a well-respected physician, engineer and botanist during France's Enlightenment era, who was elected to the French Academy of Sciences in 1728. He also founded a school for maritime engineers, and is recognized today as one of the forerunners of modern agronomy. The Traité général des pesches is an important historical work which provides unique insight into the practices around fishing in France during the mid-to-late 18th century.
Enjoy these wonderful images, and click here to explore the entire collection!
No Comments
---
Posted on February 14, 2017 @9:29 am by Alyssa Hamer

Within our BC Historical Books collection, there is a true gold mine of materials – literally! Several of the rare and unusual texts in this collection relate to the Klondike Gold Rush era, which ran from 1897 to 1899. Documenting the lives and livelihoods of the traders and prospectors who passed through Western Canada to reach the Yukon, these items provide a glimpse into what life was like at a fascinating time in this country's history. Click on any of the images for more information.
It is estimated that almost $29 million worth of gold was mined in the brief span of the Klondike Gold Rush, and while many men failed to even recover their costs in reaching the Klondike, others truly struck it rich. Western Canada saw immense growth and development as a result of the economic boom: so many people passed through the region that the Yukon Territory was officially established in 1898, the population of Vancouver doubled, and the city of Edmonton tripled!
This time period continues to signify an age of adventure and discovery; an era when the odds were in anyone's favour. To learn more about the Klondike Gold Rush, take a look at this entry from the Canadian Encyclopedia. The University of Washington also has a great collection of items about this time period – take a look here. And to explore more materials from Open Collections which relate to British Columbia's own Gold Rush, click here and here to view previous blog posts!
Sources:
The Canadian Encyclopedia, "Klondike Gold Rush," http://www.thecanadianencyclopedia.ca/en/article/klondike-gold-rush/
University of Washington Libraries, "The Klondike Gold Rush," http://content.lib.washington.edu/extras/goldrush.html
No Comments
---
Posted on December 6, 2016 @10:28 am by Alyssa Hamer

Movember is more than just a chance to grow out some gnarly facial hair (despite what some men may tell you)– this annual event is intended to raise awareness of men's health issues including prostate and testicular cancer as well as men's depression and suicide. By calling attention to some of these matters, the hope is that preventable deaths amongst this demographic will reduce through early cancer detection and treatment, and greater awareness of mental health issues. Canadians have been some of the largest contributors to Movember fundraising efforts in recent years, and Canada is currently poised to be in the top 3 of national fundraisers for 2016. To learn more about Movember, click here, and for information on some of the important work regarding men's health happening right here at UBC, visit the Men's Health Research website.
In support of Movember we've sought out the best and bushiest of moustaches from Open Collections. Enjoy, and be sure to let us know if you have a favourite!
No Comments
---
Posted on November 16, 2016 @10:37 am by Alyssa Hamer

International Students' Day is celebrated annually on November 17. It is a day of both commemoration and celebration: a chance to recognize the 1939 Nazi German storming of Czech universities and the resulting arrests and deaths of hundreds of students; and a chance to celebrate and support the continued activism of student communities around the world today.
Here at the Digitization Centre, we've decided to feature some of our collection items which highlight student activism at UBC over the course of the last several decades. Student protests, sit-ins and other forms of activism give voice to the needs and rights of UBC's student body, and have, at times,  led to widespread and progressive institutional change.
Perhaps the earliest student protest at UBC was known as the Great Trek, when nearly 1,200 students marched from downtown Vancouver to the unfinished Point Grey campus to protest government inaction on construction of the new university. To learn more about the Great Trek, check out this article from The Ubyssey.
In 1968, due to overcrowding on-campus and a perceived lack of long-term vision for higher education in the province, over 1,000 students staged a massive sit-in to "liberate" UBC's Faculty Club. The atmosphere of resistance and unrest coincided with a visit by American activist Jerry Rubin, and was no doubt informed by the radical activism taking place on university campuses across the border in the United States. As a result of the sit-in, a campus-wide day of reflection took place in order to address student concerns, and student involvement in the University's governing bodies increased. For more information on this interesting period in the University's history, click here and here.
Other forms of action and activism have taken place at UBC campus in the intervening years, and we will undoubtedly see more such events in the future.
No Comments
---
Posted on November 30, 2016 @11:10 am by Alyssa Hamer
November 5-11 is National Veterans' Week, and to commemorate the participation of Canadian men and women in wars and conflicts, both past and present, we're digging in to Open Collections to highlight some of our collection items from the First and Second World Wars.
Our WWI & WWII Poster Collection features posters, ephemera and broadsides published in Canada and throughout Europe to promote recruitment, encourage the purchase of savings stamps and victory bonds, and highlight methods for supporting the war effort for those left at home. To view all of the items in this collection, click here.
Within the British Columbia Historical Newspaper Collection there are many references to the war and the war effort at home, which provide fascinating insight into the very real impacts the First and Second World Wars had on people right here in B.C. Below is a public notice in the Cumberland Islander newspaper in 1918 placed by Canada's Minister of Finance urging Canadians to live frugally in order for more funds to go to the war effort.
Lastly, our World War I British Press Photograph Collection depicts the day-to-day lives of soldiers and service men and women involved in every aspect of World War I, from cadet training to military hospital stays. These images serve as an important reminder of the daily struggles and sacrifices that service men and women made in the past, and continue to make today.  You can browse the entire collection here.
No Comments
---
Posted on November 2, 2016 @11:02 am by Alyssa Hamer

A number of our smaller collections here at UBC Library contain truly interesting and unique content that provides insightful historical perspective on early British Columbian history. Today we're highlighting one such example: the Archibald Murchie Collection is made up of more than 50 photographs taken in the late 1800's and early 1900's by "B.C.'s Evangelist photographer".
These photographs feature imagery from the Cariboo and Similkameen regions of the province, highlighting the infrastructure projects and development in these areas by early settlers. Bridge, dam and railroad construction projects figure prominently, as do landscape shots of the growing cities, scenes of crews at work, and local First Nations peoples.
Archibald Murchie (1852-1930) was a Scottish immigrant and evangelist minister for the Spiritualist Church, an off-shoot of the Church of England. In the late 1800's he decided to preach as a missionary in B.C.'s interior, and around the same time was hired to photograph the construction of a bridge over the Fraser River at Sheep Creek. As construction proved to be fairly slow, Murchie took the opportunity to travel to surrounding regions and photograph the growing towns and cities that were sprouting up. After a failed attempt at leading his own parish in Princeton, B.C., Murchie set up a photography studio in Ashcroft, B.C., eventually marrying and relocating to the Okanagan Valley.
At his death in 1930, Murchie's widow remarried and destroyed all of his photographic equipment. It was only by chance that, in 1948, several glass plate negatives were recovered from a chicken house under repair. Another interesting fact: Archibald's brother was the founder of the now well-known local company, Murchie's Tea & Coffee.
This collection is housed at UBC Okanagan Library's Special Collections and Archives, and is a part of the Doug and Joyce Cox Research Collection. To view more images from the Archibald Murchie collection, click here!
No Comments
---
Posted on December 13, 2016 @2:36 pm by Alyssa Hamer

It's Open Access Week 2016, a chance to celebrate practices that promote Open Access, Open Data and Open Education. This year's theme is "Open in Action", an opportunity to highlight key activities that the academic and scholarly community is taking to support and expand open access initiatives.
Here at the Digitization Centre we are proud to value the principles of openness, and are always looking into ways we can improve our participation and expand our contribution. To celebrate Open Access Week 2016, we've released the Digitization Centre's 2015/2016 Impact Report! In this latest assessment, you can learn about all of the interesting projects we've been working on over the past 12 months, and some of the great content that has been digitized.
The report highlights the exciting launch of our online digital portal Open Collections in October 2015, and includes statistics on the number of unique site visits to the portal, as well as our most popular collections.
Here are some interesting facts detailed in the report:
Open Collections has had over 1 million visitors in its first 12 months!
The Digitization Centre has had partnerships with both the Department of Near Eastern and Classical Studies, as well as the CiTR Student Radio Society, to complete digitization projects.
Staff at the digitization Centre have been working on a project to capture ephemeral online content related to B.C. and UBC through the web archiving tool, Archive-It.
To learn more about what we've been up to this past year, check out our Impact Report under "Reports" in our website's Documentation section. And to learn more about how you can participate in Open Access Week 2016, click here.
No Comments
---