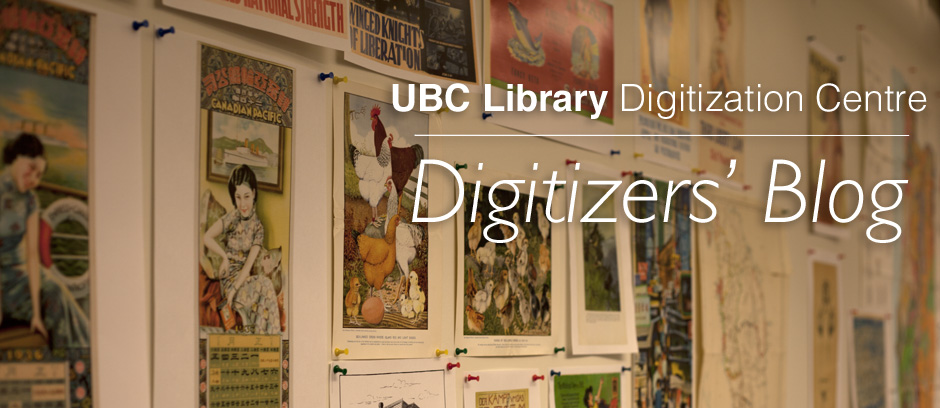 Here at the Digitization Centre we are fascinated and excited by the vast amount of primary-source material that our digitization work exposes us to.  Whether a document of historic significance, a beautiful illustration, or even a particularly fine typeface, we are frequently amazed by the materials we're working to share with the world.  So much so, that not only will we crowd around to ogle a particularly interesting specimen, but we've started decorating our workplace with copies of some of our favorites.  But why stop there?  Surely, we can't be the only ones geeky enough to appreciate such "gems" in our collections, and so we've decided to share them here with you.  Below you will find some of our favorites, hand-picked by staff from both existing and upcoming collections.  We hope you enjoy them as much as we do!   TIP: To view full resolution versions of the images on any size screen, click to enlarge and then right-click and select "open image in new tab."
---
Posted on April 11, 2017 @9:35 am by kristina mcguirk

We can't deny it (nor do we want to!): we have an inspiring collection of travel-related items. The Chung Collection's Canadian Pacific Railway Company materials kindle the romance of adventuring the continent by train or the globe by cruise ship, and many travelogues, maps, photographs, and other ephemera are are nestled in our other collections.
There's one particular item that's causing some serious wanderlust right now: the [World Travel Photo Album]. This album captures a Canadian family's extensive journeying at home and abroad between 1900 and 1950. The 778 photographs include snapshots of iconic travel destinations frozen in time.
The clothes! The cars! The lack of selfies!
Feeling trapped by the endless winter but don't have the time or money to make your own grand voyage? Thanks to our digital collections you can be a time-traveling globetrotter from the comforts of your own home. Enjoy.
No Comments
---
Posted on April 4, 2017 @1:05 pm by kristina mcguirk

It's hotly debated whether students use this week to catch up on the homework they've neglected, or indulge in the reading-for-fun they put off during the term, or to do absolutely no reading and enjoy all the other activities that Vancouver has to offer. Ironic or not, we're running with reading as this week's theme for exploring our collections.
Before we share a few of our favourite depictions, here's a list—care of The Cumberland News in 1901—of "amusing books… for relaxation only" for you to consider checking out this Reading Week.
Now, on to the homage of readers and reading. 
No Comments
---
Posted on March 28, 2017 @11:33 am by kristina mcguirk

After scrolling through just a few pages of the many images in the Tremaine Arkley Croquet Collection, it quickly became apparent that croquet just had to be the topic for our Valentine's week post. Because croquet is definitely flirty.
As evidenced even in our own collection by the many items surrounding the period, the sport was wildly popular in the Victorian era: a time when morality was championed, women wore modest clothing, and relationships required an outward appearance of the utmost propriety. Croquet was one of the few sports approved for women because of its casual pace, the lack of physical contact, and the fact that they could still play while wearing layers of restrictive dresses.
But judging by depictions from the era, croquet was also an opportunity for men and women to intermingle in public—one might even say intimately—without breaking societal rules.
Croquet might just be the means to flirt your way into your Valentine's heart this week! But since not everyone has a special someone to meet on the lawn, it's important to keep a couple lessons in mind as well.
No Comments
---
Posted on March 23, 2017 @10:16 am by kristina mcguirk

Following #ColorOurCollections last year was so much fun, we decided to bring some pages to our blog. We've selected from a few sources to show off just a bit of the variety in our digital collections, and we think we've found a little something for everyone, from landlocked to nautical and town to country—including persons, places, things, and animals!
Color Our Collections is February 6 -10. Follow along on Twitter #ColorOurCollections (and #colourourcollections), and check out some of our compatriots who are also adding pages to your digital collection coloring books: @umarchives, @westernulibsARC, @McGillLib. 
For best colour-a-bility (that's totally a word, right?) click the image and download the hi-res version of the file from our Open Collections. [To download, click the down-arrow icon at the top left of the image area. It's in the row with the crop and keyboard icons.]  These are large files, so don't worry, you can totally obsess over details like fish scales and architectural features.
Follow the links, download the images, and get coloring! Then, share your finished results with us on Twitter using the hashtag #ColorOurCollections and by tagging @DigitizeUBC.
No Comments
---
Posted on March 16, 2017 @9:40 am by kristina mcguirk

There are over 1,300 items in B.C. Historical Books, a collection showcasing the history of British Columbia from 1783 to 1952 (and, eventually, beyond). Early works include travelogues that tell tales of grand landscapes, meeting strangers, and surviving in the wilderness. One book that caught our attention is B.C. 1887 : A Ramble in British Columbia.
Have you read the Lazy Tour of Two Idle Apprentices by Charles Dickens and Wilkie Collins? If so, this book is definitely for you. If not, it's probably still for you. Ramble covers the travels of three men who set out from England to explore Canada's suitability to the ex-pat lifestyle. (You'll get their verdict in the final chapter.)
The authors, J.A. Lees and Walter J. Clutterbuck, had published a travelogue, Three In Norway, five years earlier. That book tells the story of three friends—who call themselves the Skipper, Esau, and John—hiking, camping, fishing, and hunting their way through a Norwegian summer. Ramble continues the dry, irreverent tone of the first novel, but with a new crew at its core: since Norway, John has married and left the group, so the Skipper and Esau (who is now going by Jim) are joined by Cardie.
Like all good travelogues, Ramble is filled with sensory descriptions, first impressions, foods, and illustrations and photographs from the authors themselves. The difference, to some more straightforward travel writing, is its playfully uncensored and unforgiving voice. No one place, person, animal, or activity is safe from their disparagement.
We have said a lot about the commentary and writing style of Ramble, but don't be fooled into thinking this isn't a travelers' tale. There's plenty of in-the-woods action to help you visualize life in early British Columbia.
Whether you're in it for the humor, the history, or the writers' hubris, you can check out B.C. 1887 : A Ramble in British Columbia thanks to Open Collections.
No Comments
---
Posted on March 9, 2017 @9:37 am by kristina mcguirk

Perhaps you're the type to want a sugary afternoon pick-me-up. Maybe you look forward to a sweet end after a long, tiring day. Perchance the ides of winter has you craving comfort foods. Or, you just might subscribe to the let-them-eat-cake lifestyle.
Whatever the case, it's not quite the end of January, and if you're one of the 65% of Canadians looking to use the new year as a fresh start to a healthier lifestyle, you probably aren't ready to give in to your sweet tooth. We're with you—which is how we found ourselves trolling the digital collections for cookies one afternoon (a virtual cheat day). There is a lot to take in, but with the benefit of avoiding both cavities and broken resolutions.
UBC Publications and UBC Archives Photograph Collection desserts are feats of science and architecture!
The Chung Collection lets your tastes travel the world while offering some light reading while on the culinary trek.
UBC Archives Photograph Collection also plays host to some fine forms for confectionary treats.
Finally, incase we've enticed you into baking, the BC Historical Newspapers are a gold mine for recipes and sweet treats.
No Comments
---
Posted on January 20, 2017 @9:33 am by kristina mcguirk

English author A.A. Milne was born this week (January 18th) in 1882. Beloved for his creation of Hundred Acre Wood, the home of Winnie-The-Pooh, Milne's work captured the imaginations of children and adults alike, and our collections include many shoutouts to the author and his famous fictional friends. From inspiring a faculty party in 1942 to maintaining top-villain status in 2014, Milne has a place in UBC history, too.
No Comments
---
Posted on March 2, 2017 @12:37 pm by kristina mcguirk

A recent article from the American Library Association reported on the decline of library cats. A documentary 20 years ago cited 201 cats living the dream in American libraries, including such famous felines as Dewey and Browser. However, a recount in 2016 found only 39 library cats.
While the Digitization Centre certainly can't have a pet on the premises (that hair would do no good for all our photography and scanning!), we do have a number in our digital collections. There's even record of a couple cool cats with library ties: UBC librarian and artist Evelyn Roth—a cool cat in her own right—was known for her two pets and their many kittens.
1 Comment
---
Posted on February 14, 2017 @9:29 am by Alyssa Hamer

Other than the colder weather, the long, dark days of December, and an exponential increase in the consumption of peppermint mochas, a sure sign of the impending Christmas holidays are the end of exams. With the stress of studying and final papers now passed, we thought it would be a great time to dig in to Open Collections to highlight some of our favorite festive images.
Enjoy our selection of historical photos and artworks celebrating the Christmas season, and from all of us at the Digitization Centre, have a safe and happy holiday!
No Comments
---
Posted on March 2, 2017 @12:37 pm by Alyssa Hamer
Tea is a universally beloved beverage, uniting us all across language, age and even social barriers. Whether you're inclined to enjoy a strong cup of earl grey, or are more partial to a delicate green, tea binds our human experience. International Tea Day is celebrated annually on December 15.
The history of tea reaches back to ancient China, with the Tang dynasty popularizing tea as the national beverage between the 7th and 10th centuries. Tea soon began to take hold in Japan, as a result of its introduction by Buddhist monks who had travelled to China to study, and out of this grew the ritual of the Japanese Tea Ceremony. Eventually, Dutch merchants from Europe established a trading route shipping tea from China to Holland in the 17th century, although for some time tea remained a drink almost exclusively for the wealthy.
Today tea is one of the most popular beverages on earth, with most of the leaves produced in countries such as Bangladesh, Sri Lanka, Nepal, China, Kenya, Uganda and India. Now a multibillion dollar industry, tea production supports the lives and livelihoods of millions of people around the world. Because of this, International Tea Day acts as an important time to recognize those workers who grow and harvest the tea products we have come to love. Challenges for these workers can include low-wages, long hours and poor living conditions. Advocates for tea workers continue to call for greater price supports and fair trade standards.
So, as you enjoy your "cuppa" on this day, take some time to appreciate not only the history of the beverage, but also those people working today to ensure your cupboard is always stocked with your favorite brew.
Sources:
UK Tea & Infusions Association. "Tea – A Brief History of the Nation's Favorite Beverage" https://www.tea.co.uk/tea-a- brief-history
Fairtrade Canada. "Tea" http://www.fairtrade.ca/en-ca/farmers- and-workers/tea
No Comments
---