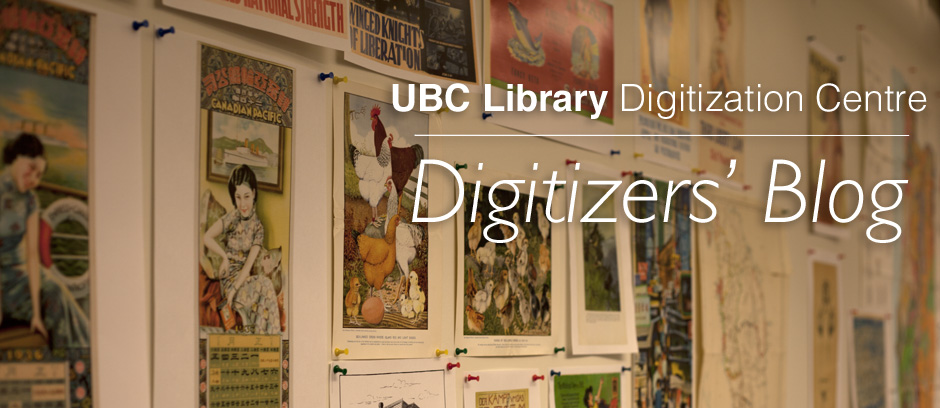 Here at the Digitization Centre we are fascinated and excited by the vast amount of primary-source material that our digitization work exposes us to.  Whether a document of historic significance, a beautiful illustration, or even a particularly fine typeface, we are frequently amazed by the materials we're working to share with the world.  So much so, that not only will we crowd around to ogle a particularly interesting specimen, but we've started decorating our workplace with copies of some of our favorites.  But why stop there?  Surely, we can't be the only ones geeky enough to appreciate such "gems" in our collections, and so we've decided to share them here with you.  Below you will find some of our favorites, hand-picked by staff from both existing and upcoming collections.  We hope you enjoy them as much as we do!   TIP: To view full resolution versions of the images on any size screen, click to enlarge and then right-click and select "open image in new tab."
---
Posted on January 12, 2018 @3:59 pm by kristina mcguirk

When we came across a "tribute list" in our collections, we couldn't stop thinking about the Hunger Games trilogy—(Hey! Suzanne Collins! We'd be pretty into another series of districts set on a different continent, or in another time period)—and we realized there were a lot of other times we thought of books related to the collection, too. And thus, the Digital Collections Reading List was born.
This is a completely biased list from this writer's experiences—if you've got other ideas of bookish inspiration from our collections, we'd love to know, so comment below!
His Dark Materials series by Philip Pullman
We're hoping there are other worlds on the Aurora Borealis.


Diamonds Are Forever by Ian Fleming 
There's some race fixing at the horse track that didn't make it to the film.

 The Five People You Meet in Heaven by Mitch Albom
The Chutes/Playland area the Haight neighborhood of San Francisco, just the place you might meet an Eddie.

The History of the Dividing Line by William Byrd
The Andrew McCormick collection always make us think of the tale of the Virginia-North Carolina border.

"The Body" in Different Seasons by Stephen King
Whether the movie or the book, it's hard to shake the train scene.

Death on the Nile by Agatha Christie
Passengers pictured here are floating down the Nile decades before Christie's story.

Musashi by Fiji Yoshikawa and Shōgun by James Clavell
We are doubly inspired by the Japanese Maps of the Tokugawa Era collection.

A River Runs Through It and Other Stories by Norman Maclean
This is just in case the Hawthorn Fly Fishing & Angling Collection of books isn't enough on its own.

No Nest for the Wicket by Donna Andrews 
A good pun is a strong reason to add a book to the TBR list.

The Adventures of Huckleberry Finn by Mark Twain
Not quite the raft, but a nice option for Huck and Jim.

No Comments
---
Posted on January 10, 2018 @3:52 pm by kristina mcguirk
Our collection of BC Historical Newspapers brings a lot of traffic to our website—and it feeds a lot of our blog posts, too! We get lost flipping through the pages of time, but the papers always find a way to bring us back to the present.
For instance, the way newspapers were totally the precursor to Facebook.
And there's the way something written conversationally really can be impossible to read. Honestly, we have no idea where or what the motherlode is, or to whom it belongs.
Reading Rooms and Circulating Libraries! We just can't get enough of them in the RBSC Bookplates digital collection.
Paying for school: it's a real pickle now, too. We all know one of those entrepreneurial Doris-types.
Newspaper ads, foreshadowing texting since the 1910s. No idea what this is supposed to stand for, but we definitely LOL'ed when we saw it.
Before The Magic School Bus there was the family meat market.
A now-ancient predecessor to live tweeting.
When scrapbooking meets graphic design in the news world: the result sure feels like a graphic novel.
And, finally, those things you just don't get to do anymore, like shopping for an upholstered chaise while waiting for your embalming to be finished.
No Comments
---
Posted on January 12, 2018 @4:00 pm by kristina mcguirk

Digitizing content for our digital collections happens five days a week in the basement of the Irving K Barber Learning Centre (IKBLC) on UBC's Vancouver campus. While we pass many hours in the Digitization Centre (here's a bit about our work space from 2014), most of the digitization crew also spends a lot of time in IKBLC in general: the building includes the Music, Art, and Architecture Library, University Archives, Rare Books and Special Collections, and the School of Library, Archival and Information Studies. Plus, there's a cafe. And gorgeous study spaces. And this building includes the Main Library, one of the first buildings on campus.
This is all to say, we pass our days in a pretty cool place, and this post is dedicated to our home away from home.
The library began as a concept for the Point Grey campus, and its construction was the result of student demonstrations in 1922 (now known as the Great Trek).
The building opened with the inauguration of the new campus in 1925. There are some interesting stories behind the library's development leading to this point, including WWI spies and a public stand for the theory of evolution. There's also a faked photo of the early library that was published in 1970s.
The exterior gained landscaping, including a pond, in its early years. There's still a water feature today.
The interior included study spaces and stacks.
It appears this reading room did not change much in the first 20 years, although some artwork was later added to the walls. Today known as the Chapman Learning Commons, the long tables, stacks (the far right, dark area) and card catalogues (left, along the wall) are replaced by cozy chairs and computer terminals. The alcove room in the background (now called the Dodson room) holds many speakers and events.
The Library gained a wing in 1947. The second wing was added in the 1960s.
There are a lot of technological advances in the history of this building, too, from the card catalogue and the bindery to the computer circulation terminal in 1965 (topt row), to the microfiche catalogue, the listening room, and the army of now-dated looking desktop computers in 2003 (bottom row).
From 2004 – 2008 the wings, as well as much of the interior of the Main Library, were replaced with more modern architecture and amenities (this can be seen on the IKBLC website) to become the space we know and love today.
If you're as into this building as we are, there's plenty more to see and read! We shared some highlights of its 94-year life pulled from the rich histories produced on campus: UBC Archives provides photos and renderings and information about the development of the building itself in the Building the Main Library 1923-1925  and the Main Library Architectural Drawings (1923-1964) collection, and the UBC Library also has an in-depth historical timeline for all the details of the Main Library and other branches. You can even take a virtual tour of the building.
3 Comments
---
Posted on January 12, 2018 @4:01 pm by kristina mcguirk

Our collections feature thousands of photos, from natural wonders to family portraits, but it's rare to see the person behind the lens—or even the lens itself. Practically, it makes sense, but nonetheless we love seeing the vintage models and often-smiling faces behind them.
No Comments
---
Posted on January 10, 2018 @12:23 pm by kristina mcguirk

What do the Science Undergraduate Society, UBC Botanical Garden, and Frederic Wood Theatre have in common?
They're all part of our UBC Publications collection! You might expect to find yearbooks, student handbooks, and the Ubyssey—and you wouldn't be wrong—but UBC Publications also includes a diverse assortment of reports and publications from university organizations. Check out what's been going on the last 100 years.
The 432 A publication of the University of British Columbia Science Undergraduate Society (UBC SUS). Our collection covers 1987 to 2002, and you'll find news and information, events and faculty information, and a whole lot of sass.
Creative Giving Previously titled "Endowments and Donations" (1945 to 1947) and "Gifts, Grants and Bequests" (1948 to 1966), this publication annually covers gifts to the university. While later issues tend to be lists of financial donors, earlier issues include such creative gifting as rose bushes, models of mushrooms, and barrels of pulp mill spent cooking liquor.
Davidsonia Produced by the University of British Columbia Botanical Garden, our collection covers the 1970 – 1981 publishing run of Davidsonia. The publication was named after John Davidson: B.C.'s first Provincial Botanist, instructor in UBC's Department of Botany, and the founder of the UBC Botanical Garden. In it you can find stories about children's vegetable garden programs and mixed hanging baskets.
FOCUS  (now known as Innovations) comes form UBC's Institute for Computing, Information and Cognitive Systems (ICICS). Get a feel for how the field developed from 1990 – 2014, including increasing industrial productivity with mechatronics, software and hardware debugging, and estimating optical flow with toys.
Indian Education Newsletter Published by the Indian Education Resource Center established in 1970 at UBC. The publication ran until 1977, and covers information like Aboriginal issues and resources available at the center.
Trek Previously titled the Graduate Chronicle and UBC Alumni Chronicle, this pub has been communicating to alumni about the university, and to alumni about other alumni, since 1931. In addition to local news and updates, the periodical includes photos and illustrations, and, one of the most entertaining parts, advertisements.
UBC Theatre Programs Explore theatre programs (1915 to 1991) from UBC actors and the Frederic Wood Theatre.
And there are many more publications to explore!
No Comments
---
Posted on January 10, 2018 @11:47 am by kristina mcguirk

We can't deny it (nor do we want to!): we have an inspiring collection of travel-related items. The Chung Collection's Canadian Pacific Railway Company materials kindle the romance of adventuring the continent by train or the globe by cruise ship, and many travelogues, maps, photographs, and other ephemera are are nestled in our other collections.
There's one particular item that's causing some serious wanderlust right now: the [World Travel Photo Album]. This album captures a Canadian family's extensive journeying at home and abroad between 1900 and 1950. The 778 photographs include snapshots of iconic travel destinations frozen in time.
The clothes! The cars! The lack of selfies!
Feeling trapped by the endless winter but don't have the time or money to make your own grand voyage? Thanks to our digital collections you can be a time-traveling globetrotter from the comforts of your own home. Enjoy.
No Comments
---
Posted on January 12, 2018 @4:03 pm by kristina mcguirk

It's hotly debated whether students use this week to catch up on the homework they've neglected, or indulge in the reading-for-fun they put off during the term, or to do absolutely no reading and enjoy all the other activities that Vancouver has to offer. Ironic or not, we're running with reading as this week's theme for exploring our collections.
Before we share a few of our favourite depictions, here's a list—care of The Cumberland News in 1901—of "amusing books… for relaxation only" for you to consider checking out this Reading Week.
Now, on to the homage of readers and reading. 
No Comments
---
Posted on January 10, 2018 @11:24 am by kristina mcguirk

After scrolling through just a few pages of the many images in the Tremaine Arkley Croquet Collection, it quickly became apparent that croquet just had to be the topic for our Valentine's week post. Because croquet is definitely flirty.
As evidenced even in our own collection by the many items surrounding the period, the sport was wildly popular in the Victorian era: a time when morality was championed, women wore modest clothing, and relationships required an outward appearance of the utmost propriety. Croquet was one of the few sports approved for women because of its casual pace, the lack of physical contact, and the fact that they could still play while wearing layers of restrictive dresses.
But judging by depictions from the era, croquet was also an opportunity for men and women to intermingle in public—one might even say intimately—without breaking societal rules.
Croquet might just be the means to flirt your way into your Valentine's heart this week! But since not everyone has a special someone to meet on the lawn, it's important to keep a couple lessons in mind as well.
No Comments
---
Posted on January 10, 2018 @11:25 am by kristina mcguirk

Following #ColorOurCollections last year was so much fun, we decided to bring some pages to our blog. We've selected from a few sources to show off just a bit of the variety in our digital collections, and we think we've found a little something for everyone, from landlocked to nautical and town to country—including persons, places, things, and animals!
Color Our Collections is February 6 -10. Follow along on Twitter #ColorOurCollections (and #colourourcollections), and check out some of our compatriots who are also adding pages to your digital collection coloring books: @umarchives, @westernulibsARC, @McGillLib. 
For best colour-a-bility (that's totally a word, right?) click the image and download the hi-res version of the file from our Open Collections. [To download, click the down-arrow icon at the top left of the image area. It's in the row with the crop and keyboard icons.]  These are large files, so don't worry, you can totally obsess over details like fish scales and architectural features.
Follow the links, download the images, and get coloring! Then, share your finished results with us on Twitter using the hashtag #ColorOurCollections and by tagging @DigitizeUBC.
No Comments
---
Posted on January 10, 2018 @11:31 am by kristina mcguirk

There are over 1,300 items in B.C. Historical Books, a collection showcasing the history of British Columbia from 1783 to 1952 (and, eventually, beyond). Early works include travelogues that tell tales of grand landscapes, meeting strangers, and surviving in the wilderness. One book that caught our attention is B.C. 1887 : A Ramble in British Columbia.
Have you read the Lazy Tour of Two Idle Apprentices by Charles Dickens and Wilkie Collins? If so, this book is definitely for you. If not, it's probably still for you. Ramble covers the travels of three men who set out from England to explore Canada's suitability to the ex-pat lifestyle. (You'll get their verdict in the final chapter.)
The authors, J.A. Lees and Walter J. Clutterbuck, had published a travelogue, Three In Norway, five years earlier. That book tells the story of three friends—who call themselves the Skipper, Esau, and John—hiking, camping, fishing, and hunting their way through a Norwegian summer. Ramble continues the dry, irreverent tone of the first novel, but with a new crew at its core: since Norway, John has married and left the group, so the Skipper and Esau (who is now going by Jim) are joined by Cardie.
Like all good travelogues, Ramble is filled with sensory descriptions, first impressions, foods, and illustrations and photographs from the authors themselves. The difference, to some more straightforward travel writing, is its playfully uncensored and unforgiving voice. No one place, person, animal, or activity is safe from their disparagement.
We have said a lot about the commentary and writing style of Ramble, but don't be fooled into thinking this isn't a travelers' tale. There's plenty of in-the-woods action to help you visualize life in early British Columbia.
Whether you're in it for the humor, the history, or the writers' hubris, you can check out B.C. 1887 : A Ramble in British Columbia thanks to Open Collections.
No Comments
---