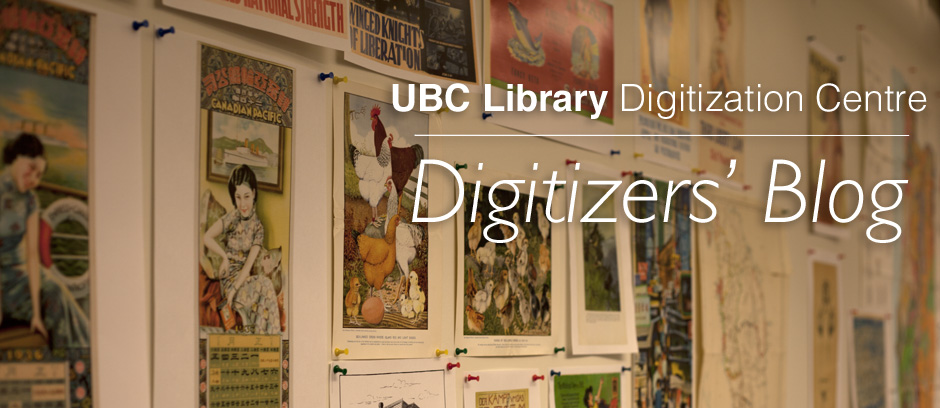 Here at the Digitization Centre we are fascinated and excited by the vast amount of primary-source material that our digitization work exposes us to.  Whether a document of historic significance, a beautiful illustration, or even a particularly fine typeface, we are frequently amazed by the materials we're working to share with the world.  So much so, that not only will we crowd around to ogle a particularly interesting specimen, but we've started decorating our workplace with copies of some of our favorites.  But why stop there?  Surely, we can't be the only ones geeky enough to appreciate such "gems" in our collections, and so we've decided to share them here with you.  Below you will find some of our favorites, hand-picked by staff from both existing and upcoming collections.  We hope you enjoy them as much as we do!   TIP: To view full resolution versions of the images on any size screen, click to enlarge and then right-click and select "open image in new tab."
---
Posted on September 20, 2017 @1:00 pm by liz otero
This week on the blog, we'll use Open Collections to search for some images. @VanBigTrees submitted this question on Twitter:
Let's get started!
First, we'll go to Open Collections at https://open.library.ubc.ca/
From here, we can start a search a few ways. Today, we'll explore using the collections, and next week, we'll work with keyword searches. First, let's select the "Browse by Collection" button to see if there are any collections that might be helpful to us:
I chose to scroll through these collections and open up the Capilano Timber Company Fonds:
Since I'm looking for photos of old-growth forests, a logging company might feel counter-intuitive. One strategy among many is to search for the opposite of what you're looking for: a logging company would need documentation of what was there before they cut it down.
This is the front page of the collection: Here you can see dates, subjects, and if you scroll, a brief overview of the collection. Since I don't know what's here, I'm going to search all the items in the collection; type an asterisk (*) in the search bar.
Here is the list of everything in the collection- all 151 items. Since I'm looking for images of forests, I'll see what my options are in the "Subject" field over on the left hand side.
The most common subject, "Cedar Trees", sounds like a good place to start. I'll select that and then scroll through the images.
I like one entitled "Capilano Cedar"
An old-growth forest photo!! Come back next week for the next stage of the search: using subject terms and keywords.
No Comments
---
Posted on January 12, 2018 @3:49 pm by liz otero
Vancouver is greening up spectacularly with the warmer weather. We're enjoying many lunchtimes in the beautiful gardens here at UBC, and soaking up as much greenery as we possibly can while it's here! This week on the blog, we're taking a photo tour through the Nitobe Memorial Garden. 
The Nitobe Memorial Garden is on UBC's Vancouver campus, but it feels like another world entirely – winding paths encourage contemplation and reflection. Over the years many photographers have captured glimpses of the gardens, views that will have to satisfy us until we can make it back.
Visitors enjoy the garden in 1975:
A view of the garden in the 1960's:
A few snaps from 1965
Mrs. Tetsuo Ban with Ishadora (Japanese Lantern) during presentation ceremony April 28, 1966
Inscribed stone in Nitobe Garden- 
Women in costume for a performance of Madame Butterfly in 1960:
No Comments
---
Posted on January 12, 2018 @3:51 pm by liz otero
British Columbia in the second half of the nineteenth century is defined by her gold rushes. Various prospectors, miners, entrepreneurs, and other settlers descended upon BC in waves, and the documents they've left behind are as varied as they were.
This broadsheet, The Frazer River Thermometer, both offers advice and gently ribs the potential prospector.
https://open.library.ubc.ca/collections/bcbooks/items/1.0221999#p0z-5r0f:%22gold%20mines%22
One of these men is not dressed appropriately for the job… (from the Jane Eva Denison fonds, album "Caravaning to the land of golden twilight")
https://open.library.ubc.ca/collections/specialp/items/1.0229459#p22z-6r0f:gold%20rush
And this monograph is too good (and a good length for a blog post), so we present the entire thing:
Map of the Cariboo and Omineca gold fields, and the routes thereto, compiled from reliable authorities ,W.D. Patterson
The information deemed necessary seems quite slim: a helpful page of figures, a map, and some adverts for underclothing.
There are quite a few books concerning the gold rush within the collection, especially from the BC Historical Books Collection. This one is a fictional take on the Cariboo rush: (click through for the entire monograph!) 
https://open.library.ubc.ca/collections/bcbooks/items/1.0343554#p7z-5r0f:gold%20rush
Have you ever searched for gold-rush era documents within Open Collections? Is there anything we can help you find?
No Comments
---
Posted on January 10, 2018 @3:51 pm by liz otero

Not surprisingly, we at the Digitization Centre are a big fan of analytics. Data about how people use the data and images we produce? Our knees are weak. What we've learned is that our blog post from 2013 regarding the BC Historical Newspapers Collection is one of the most often used, so an update including the last four years of work seems appropriate. Without futher ado:

These titles and date ranges are current as of the publication of this blog post- for the most current list, please see: https://open.library.ubc.ca/collections/bcnewspapers
Newspapers Available:
Please let us know in the comments if you access the papers, and anything interesting that you find! We are still digitizing newspapers from all over British Columbia, with no end in sight.
1 Comment
---
Posted on January 10, 2018 @11:58 am by liz otero
There are so many amazing local materials within Open Collections at UBC Library (https://open.library.ubc.ca/). When local events and news happen, a text search for topics can reveal some interesting background or even just great stories to read.
With the provincial election last week in British Columbia, a search for electoral stories led us to this issue of Kinesis:
Kinesis was a Canadian national newspaper which focused on women and women's issues. It was based in Vancouver and was published from 1974 to 2001. The Digitization Centre has digital copies available of this amazing newspaper, full of insights, opinions, and context for those of us who call Canada, and Vancouver, home. Also, there is some amazing artwork! A few of our favorites below:
A 2-page spread from the same issue.
Have you ever ended up reading articles from online newspapers? Were you looking for something specific, or end up down the rabbit hole?
No Comments
---
Posted on January 10, 2018 @11:54 am by liz otero
As one of many collections of correspondence housed at the University of British Columbia, the Florence Nightingale Letters collection  demonstrates the enjoyment of exploration through the life and thoughts of such a famous person.
Postcard featuring a drawing of a young Florence Nightingale
Through the timeline browser on the front page of the collection, one has access to letters from as far back as 1845—a letter to an aunt updating her on the goings on of herself and her acquaintances. Thankfully, the full text of the letters is searchable and readable below the images themselves—as examples like this one, while beautiful, are not as helpful to the modern eye.
In perusing the collection, I personally was struck most by this post script from a quick note in 1986: "I do not think he had heard of the nefarious Cistern doings". Nefarious doings!
We hope you'll enjoy this correspondence and other text-based collections—a truly unique glimpse into a life not our own.
Last Known Photo of Florence Nightingale
No Comments
---
Posted on January 12, 2018 @3:52 pm by kristina mcguirk

Ada Cavendish
A famous actress of her time (1939-1895), Cavendish was known for playing Mercy Merrick in New Magdalen and Mrs. Darlington in For Love or Money, among many others. She performed and produced in the UK and toured in America, notably brining the plays of Wilkie Collins to popularity the States.
Luther McCarty
McCarty was a champion American boxer who died during a match against Canadian Arthur Pelkey in Calgary in 1913. The fate of the event influenced boxing in Alberta, although it was later determined that McCarty died as a result of other causes.
Or collections include a potentially distressing photo of McCarthy, depicting men trying to revive him after his collapse. Accounts of this final fight, and the repercussions, can also be found by searching for the boxer in various newspaper articles of the BC Historical Newspapers collection.
Laura Holland
Laura was awarded the Royal Red Cross medal for her work as a nurse serving the Canadian Army Medical Corps in both France and Greece from 1915-1918. Her legacy shaped children and social welfare for British Columbia. She worked to implement the Infants Act, the Adoption Act, and the Children of Unmarried Parents Act. In 1933, she became the Deputy Superintendent of Child Welfare for the province, and in 1938 the Advisor to the Minister of Health and Welfare on Social Welfare Policy position was created specifically for her.
The Laura Holland fonds were recently digitized as part of the History of Nursing in Pacific Canada collection.
Sir Tyrone Guthrie
A well-known figure in theatre around the world, Sir Guthrie pioneered radio play broadcasts for the BBC and gained fame as a stage director across the UK, including a stint as the resident producer-director at the Old Vic. After leaving the UK, he helped develop the Stratford Festival in Stratford, Ontario, Canada, and the Guthrie Theater in Minneapolis, Minnesota, USA.
Laura Glenn
Nearly 300 images can be seen thanks to the digitized album of Laura Glenn, a chairwoman of the Canadian Red Cross Corps in Windsor, Ontario and member of the Royal Canadian Air Force during World War II. Glenn's photos largely cover her time in Europe between 1940 and 1950, including bombed-out city views and the War Court trials in Hamburg, military events, social outings, and travels and historic sites.
David Conde
A Canadian born in Ontario, Conde became a U.S. citizen and gained attention as the head of the Motion Picture Department of the Civil Information and Education Section in 1945-1946. He also was known for covering the Tokyo War Crimes Trials from 1946-1947. The collection includes records from the International Military Tribunal for the Far East (1946-47) from Conde's own research notes to photographs, ephemera and trial transcripts. Some materials are available through our digital collections, but the full fonds is in UBC's Rare Books and Special Collections.
"Allen Sillas Wilmot and Mary Corburt"
And, finally, there's one group that's definitely peaked our interest, and we wish we knew more about them. The album [Jock Taylor's Travels] is believed to depict the adventures of the HMS Zealous, including this photo captioned as "Allen Sillas Wilmot and Mary Corburt." They're a rather smiley crew for the period. But who were they? Not all that hair is real, right? And what's with the poses? And, most pressingly, what do the two hand signals mean?
No Comments
---
Posted on January 10, 2018 @4:43 pm by kristina mcguirk

The school term is over, finals are over, the sun is shining for more than an hour at a time… We're spotting signs of summer both outside and in our collections!
No Comments
---
Posted on January 12, 2018 @3:57 pm by kristina mcguirk

Hockey season may be over for the Canucks, but with a long history, the sport lives all year in our collections!
If it's the sounds of hockey you're missing, we have an hour-long broadcast of a 1974 ice hockey game against Alberta you can listen to here.
2 Comments
---
Posted on January 10, 2018 @4:45 pm by kristina mcguirk

Planning a remodel? Want to refresh your decor? You just might catch the renovation bug after checking out these spaces!
Perhaps vintage log cabin is your style: nature-inspired and cozy.
How about a touch of Spanish flair? Milk glass lighting, plenty of greenery and a mix of stripes with more intricate tile patterns.
Go glam nerd — but not too glam — by pairing a bold accent color and chandelier with some fresh flowers and books. If it's good enough for Queen Elizabeth's visit, it's good for us.
Logging camp has a farmhouse vibe that benefits from lots of white paint and using everyday utensils as storage.
Deep woods and rich leathers are the trademark of nautical smoking lounge style. Also, if you love chevron but hate that it's out of style, here's proof that chevron was a thing long before the 2010s. This whole look is #timeless.
If you prefer a more contemporary approach, lab chic has you covered: Open shelving shows some personality, and a table instead of a desk makes the space feel less cluttered. Metal bar stools enhance the modern discomfort vibes.
Vacation is a graphic style that merges striking patterns in an energizing way that tells others, "I'll sleep when I'm dead!"
Love all the barn wood wall coverings you see at cafes? How about industrial lighting with exposed bulbs? Early hipster coffeehouse combines both trends.
And, finally, with any design project, the devil is in the details. Here are a few takeaways that you can apply to any decor.
Leggy trough sinks with exposed plumbing and wall-mount faucets – they're pretty and very practical for hand-washing your clothes. And that fold-out ironing board is just too practical!
Wall-mount phones are back! Okay maybe not, but this office offers some advice for your own home workspace, like it's A-OK to display multiple calendars (who doesn't love calendars?). Also storage can be sensible and decorative – just check out that mesh letter holder hung on the wall.
There's a lot to take in here, but the faceted door really grabs your attention.
And in case you've been looking for the perfect place to add that family (or alma mater) crest, doorknobs make a delightful unexpected detail.
No Comments
---