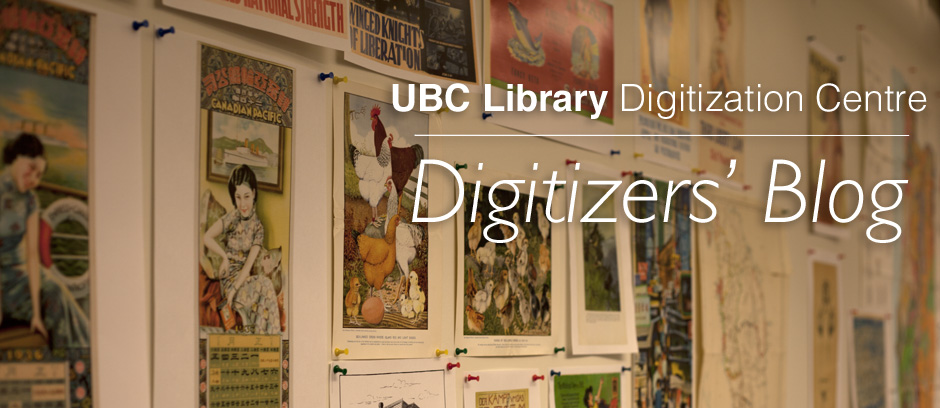 Here at the Digitization Centre we are fascinated and excited by the vast amount of primary-source material that our digitization work exposes us to.  Whether a document of historic significance, a beautiful illustration, or even a particularly fine typeface, we are frequently amazed by the materials we're working to share with the world.  So much so, that not only will we crowd around to ogle a particularly interesting specimen, but we've started decorating our workplace with copies of some of our favorites.  But why stop there?  Surely, we can't be the only ones geeky enough to appreciate such "gems" in our collections, and so we've decided to share them here with you.  Below you will find some of our favorites, hand-picked by staff from both existing and upcoming collections.  We hope you enjoy them as much as we do!   TIP: To view full resolution versions of the images on any size screen, click to enlarge and then right-click and select "open image in new tab."
---
Posted on July 9, 2014 @2:10 pm by Matthew Murray
Later this year we're starting a project in partnership with the UBC Asian Library and the UBC Department of Asian Studies to digitize some cool old Japanese game cards!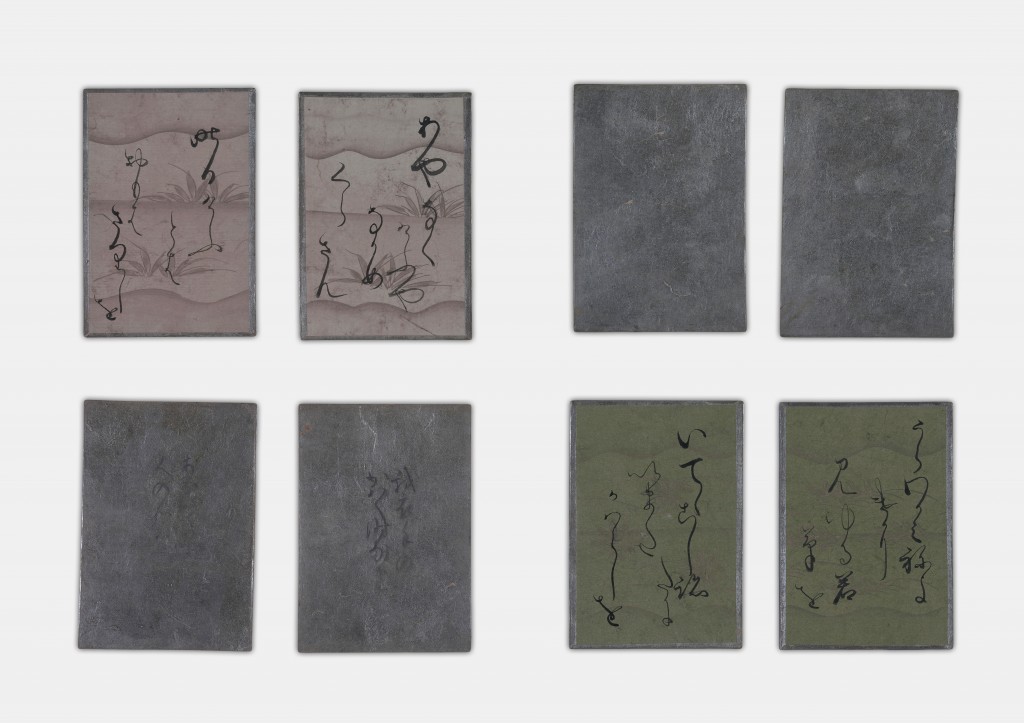 (Ise monogatari utakaruta, from UBC Rare Books & Special Collections)
Karuta カルタ, is a borrowed Japanese term (from the Portugese carta) that refers to playing cards. Karuta became popular in the Edo (1600-1868) period, and included a number of different versions such as games matching hiragana characters, poems, proverbs, or drawings of monsters! A particularly popular game was uta-garuta (sometimes pronounced utakaruta), or poem cards. In uta-garuta, one person reads out the text on one card and the other player(s) have to find the matching card. [i]
Most of the cards we'll be digitizing for the upcoming project will feature poems from Ogura hyakunin isshu, an anthology of poems by one hundred different writers. There are typically two hundred cards, one hundred reading cards and one hundred "grabbing" cards. The goal is to match the two halves of a poem. The reader reads out the first half of the poem, and the other players try to pick the correct matching card. The poems featured on these cards are generally waka poems that follow the 5-7-5-7-7 syllable format. The reading card has the first three lines, and the other card has the last two. [ii]
In the Ise monogatari uta-garuta set featured above, which is based on the classic Tales of Ise, there are over 400 cards to match. Knowing where the text came from does make it easier for people to learn to play the game, but it still doesn't seem like a game that I could just casually play with friends!
We'll be working with groups of students to help us transcribe and match these cards, and maybe one day you'll be able to download them and play the game yourself.
Thanks to the UBC Asian Library and the UBC Department of Asian Studies for working with us on this project!
[i] "Karuta." In Wikipedia.
[ii] "Uta-garuta." In Wikipedia.
No Comments
---
Posted on June 16, 2014 @3:07 pm by Laura Ferris
Today marks the 100th anniversary of the sinking of the Empress of Ireland, one of the worst naval disasters in Canadian history.
The Empress of Ireland, along with the Empress of Britain, was one of the first steamships that the Canadian Pacific Railway Company launched for its trans-Atlantic route in the early 1900s. Unfortunately, the Empress of Ireland did not have a very long career and met her tragic fate on May 29, 1914.
In the early hours of the morning, along the foggy St. Lawrence River, the Empress of Ireland collided with the Storstad, a Norwegian coal ship. The Empress quickly took on water and sank within a matter of minutes, taking with her 1,012 of the 1,477 passengers.
As part of the Chung Collection, we have some objects that were recovered from the wreckage, as well as some items from earlier voyages. We've been working hard at digitizing the Chung Collection and will be uploading new digital material in the near future!
For more information about the ship, disaster, or the commemoration, please visit The Empress of Ireland Commemoration website. The site has done a wonderful job collecting information and stories about the Empress of Ireland.
No Comments
---
Posted on May 22, 2014 @1:50 pm by Rob
We have now completed the digitization, metadata creation and uploading of the Greater Vancouver Regional District Planning Department Land Use Maps collection. Go have a look!
No Comments
---
Posted on September 29, 2014 @1:22 pm by Matthew Murray
While we frequently post on this blog about the collections we're digitizing (or about to digitize) we rarely talk about the various processes of digitizing that we use. To bring more light to our techniques I thought I'd show you a couple of the methods we use for getting books ready to digitize.
Last month we announced that we'd be digitizing a number of reports and other documents from TRIUMF, the Canadian laboratory for particle and nuclear physics located on UBC campus. Since TRIUMF had multiple copies of these reports we were given permission to cut the bindings off the ones we received in order to speed the digitization process.
For the thinner reports we can just use this paper cutter. It slices off the bindings easily!
Here's Krista, one of our student digitizers, cutting the spine off a report.
The final product! Now the pages are ready to go into our Fujitsu document scanner, but more on that below. First I have to show you our other paper cutting machine, the one we  use for thicker books.
We call it The Discoverer! In this case the "dis" in the name means to take apart (such as in disconnect), as we use the machine to remove the spines (and thus, the covers) from various bound volumes.

The Discoverer is a somewhat scary machine covered in warnings that say it is not to be used unless people have received the proper training. An important note: We don't use this for every project! In fact, we use this for quite a small number of projects (this is the first time this year that it's been used at all).
 This is what the Discoverer looks like once the plastic cover has been flipped up. You can see the raised blade in there. It can't be brought down until the cover has been closed.
After checking to see where the margins inside the book are like we line it up along the red line.
The handle on the front moves the back of the machine forward or backwards so that everything stays straight.
Then we screw down the top to hold everything in place.
We close the lid, release the red lever, and pull the blade down, cutting the spine off the book. The blade is really sharp, but for thick books it can take a fair bit of force. (Here's Derek, another of our student digitizers, demonstrating the proper technique.)
Of course, when I decided to video us cutting the spine off the book we discovered that the recent increased usage has dulled the blade somewhat, and it's considerably harder to cut through thicker books. We're fixing that imminently.
Here's what a book looks like once its had its spine cut off in The Discoverer.
Once we've cut off the spine (and ensured that none of the pages are stuck together) we can put the pages into one of our Fujitsu document scanners. These are great machines that allow us to scan unbound or disbound material incredibly quickly. It can even scan both sides of a document at once! Right now we're keeping all of the documents after we've scanned them, and we're not sure if we'll return them to TRIUMF (in folders) or just recycle them once the project is complete.
Here's what the spines look like once they've been cut off. We haven't even gotten to the really thick ones yet!
1 Comment
---
Posted on June 13, 2014 @9:58 am by Matthew Murray
We're very pleased to announce that we've successfully joined The Commons on Flickr! You can check out the announcement on their blog.
The Commons is a group of libraries, museums, and other institutions from around the world who have placed all or parts of their digital image collections on Flickr. While joining this group is exciting enough, the one thing that marks this as different from other groups is that there are no known copyright restrictions for any of the images available in The Commons. All images shared on The Commons are in the public domain!
If you look any of the images on our Flickr account (or the accounts of other groups in The Commons) you'll see this notification in the right hand bar.
(Well, it'll be much smaller than that, but you get the idea.)
This means that you can do whatever you want with the images! (Though we'd love it if you link back or otherwise credit us.)
We joined Flickr last year so as to better show off some of the amazing images we've digitized. We hoped that by putting our photos on Flickr we'd reach new audiences and experience greater interaction. We had already succeeded in making our collections more visible, but joining The Commons will allow us to extend the reach of our collections.
We add new photos to our Flickr stream every weekday, and at most recent count had almost 900 images uploaded! That's a far cry from the 21,000 images that The Library of Congress or the over one million (!) images that the British Library have in The Commons, but they did have a several year head start on us.
No Comments
---
Posted on May 7, 2014 @3:50 pm by Matthew Murray
You may have recently heard that Uno Langmann, a well known local art dealer, donated more than 18,000 photographs, apparently worth $1.2 million, to UBC! The photos stretch back to the 1850s and go all the way up to the 1970s. While we probably won't be able to digitize all of the photos (due to copyright restraints) we are excited that we'll soon begin digitizing many of the earlier ones.
Here's an example of one of the photo albums we'll be digitizing. (And don't worry, our actual scans will be much higher quality than this!)
Of course, the collection isn't just traditional photographs, there are also postcards, stereographs, menus, and other material that people in the late 19th or early 20th centuries choose to paste into photo albums.
For more on the collection you can check out these articles, this page, or watch the video below!
No Comments
---
Posted on July 4, 2014 @4:06 pm by Matthew Murray
If you've never heard of epigraphic squeezes I wouldn't be surprised as they're not commonly known, they don't even have a Wikipedia entry!
Epigraphic squeezes are created when a soft, wet material, such as paper or plaster, is pressed into inscriptions made in stone. When the material dries it is removed and becomes a mirrored 3D version of the original text.
Decretum de Minervae Victoriae Sacerdote Temploque (II)
(Decree of Victory Priest Temple of Minerva )
The squeezes can prove to be incredibly valuable as sources for researchers and scholars investigating Greek and Roman antiquity. UBC's Department of Classical, Near Eastern and Religious Studies has a collection of over 1000 squeezes, and they asked us to help them digitize them.
Civitatis Foederatae Laudes
(Praises of the Federated States)
It might not seem immediately obvious, but getting high quality images made from this source material is harder than it looks! It took us quite a bit of testing to find the best way to work with this material, but we eventually figured it out and we're excited that we'll soon begin using our TTI Repro-Graphic workstation to create high quality images of this entire collection!
For more information you can check out the Department of Classical, Near Eastern, and Religious Studies' blog From Stone to Screen that is tracking the creation of these images. You can also take a look at the entire test collection here, but be warned: there isn't much content right now.
No Comments
---
Posted on April 22, 2014 @10:24 am by Matthew Murray
Hidden within some of our collections you can find content which you might not expect to see! A great example of this can be found in our collection of Japanese Maps of the Tokugawa Era which features a sub-collection of disaster prints, made up of several dozen prints which describe disasters that occurred in Japan. While some of these prints, such as the ones showing fires and tsunamis, are fairly self-explanatory it was only when one of our digitizers translated some of the text on others that we understood how they were related to disasters.
(Play script featuring Namazu, a giant catfish, and Kashima, a god of thunder and swords.)
A number of the prints in this collection feature catfish, known as namazu in Japanese. These can be incredibly confusing when first encountered, both in the "What is that thing?" way (as they frequently have both arms and legs) and the "How is this related to disasters?" way. Things become clearer upon discovering that a giant namazu was blamed for the 7.0 earthquake that happened below Edo (now known as Tokyo) in November, 1855. Just days after this event ukiyo-e woodblock prints depicting giant catfish began to be produced and sold.
(Song to ward off earthquakes caused by catfish.)
The Namazu was supposed to be a giant catfish who lived underground, pinned beneath the foundation stone of a local shrine by the god Kashima. However, when Kashima failed at his task (due to being at a gathering for various gods) the Namazu was able to thrash around and cause much destruction in the form of earthquakes.
(People attacking a Namazu, a giant catfish, for causing earthquakes.)
While many of the prints promised to protect people from future earthquakes, others were more aggressive featuring humans subduing or otherwise taking revenge on various Namazu. However, not all of the prints portrayed the Namazu negatively, as some featured them helping to rescue people from the diaster or showering coins onto people appearing in the image. This second theme was based on the idea that disasters were the result of various deities punishing humans for greed or other failings, but were also an opportunity to redistribute wealth as there were many people, such as builders and carpenters, who had much to gain after disasters.
(People attempting to capture Namazu, the giant catfish that was believed to cause earthquakes, while he sprays out gold coins.)
The Namazu-e prints proved quite popular, with somewhere between three and four hundred different designs printed in the two months following the earthquake. However, due to satirical political statements that could be found in some of them the government banned their creation and the printing blocks were destroyed.
To see our complete collection of Namazu-e prints (plust prints showing other disasters), you can go to our website or check out our Flickr page.
No Comments
---
Posted on April 14, 2014 @4:28 pm by Matthew Murray
Our newest digitization project is being done in collaboration with TRIUMF, the Canadian laboratory for particle and nuclear physics located on UBC campus. We will be digitizing various reports and other documents dating back to the development and creation of the lab in the 1960s.
Amongst all the text and equations in the reports there are lots of graphs, diagrams, and other images that look cool even if you have no idea what they're for. Here are just a few!
No Comments
---
Posted on July 31, 2014 @12:32 pm by Matthew Murray
The digital Chung Collection features a lot of really fascinating material, but unfortunately the collection is so large we haven't finished making everything in it available online. If you're interested in any of the material in the Chung Collection (Early BC History, Immigration and Settlement, and the Canada Pacific Railway) you should try to make time to visit the collection exhibit in UBC Rare Books and Special Collections.
This week a display of various menus opened as part of the Chung Collection Exhibition room. I decided to check if we had scanned any menus, and found a few neat ones.
The first is the menu from the W.K. Oriental Gardens, and it features both awesome colour and a really cool shape! There's a handwritten date on the cover saying it's from 1936, and the prices inside seem to back that up: the most expensive item is a T-Bone Steak at $1.50.
Next is the menu from the Mandarin Garden Cabaret. This one is apparently from 1920, and I'm showing it off for the notice on the second page. It includes a number of rules including "Soliciting Dancing Partners from another table is absolutely forbidden.".
We also have some menus in the R. Mathinson Printing Collection, such as this one from The Hub Dining Room in 1887. Back then a steak was only 50 cents, making the price at W.K. Oriental Gardens seem positively obscene in comparison.
Of course, one of the best things about looking at these old menus was discovering what Postum was (a coffee alternative), and the existence of their mascot: Mr. Coffee Nerves.
There are a few more menus in our online collections, but if you're interested you should definitely check out the display in the Chung Collection!
No Comments
---