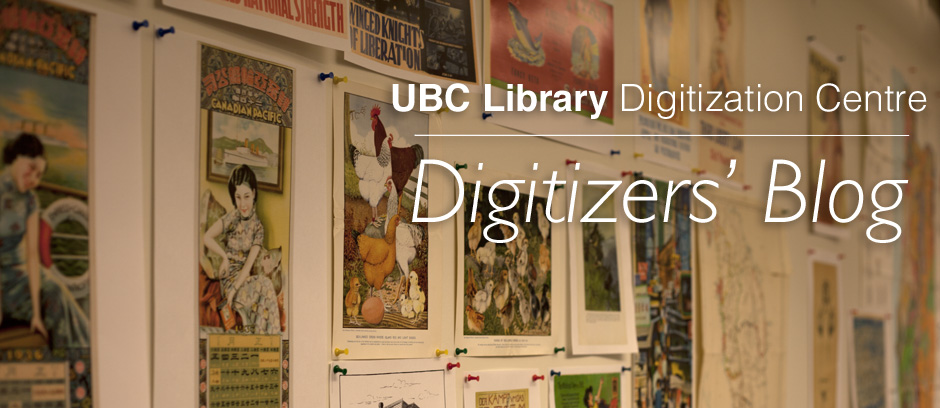 Here at the Digitization Centre we are fascinated and excited by the vast amount of primary-source material that our digitization work exposes us to.  Whether a document of historic significance, a beautiful illustration, or even a particularly fine typeface, we are frequently amazed by the materials we're working to share with the world.  So much so, that not only will we crowd around to ogle a particularly interesting specimen, but we've started decorating our workplace with copies of some of our favorites.  But why stop there?  Surely, we can't be the only ones geeky enough to appreciate such "gems" in our collections, and so we've decided to share them here with you.  Below you will find some of our favorites, hand-picked by staff from both existing and upcoming collections.  We hope you enjoy them as much as we do!   TIP: To view full resolution versions of the images on any size screen, click to enlarge and then right-click and select "open image in new tab."
---
Posted on September 13, 2017 @3:33 pm by liz otero
The documents in our collections contain concerns ranging from global to individual. While exploring the collections this week, I was struck by the obituaries, remembrances, and memorials— here is a selection.
This Obituary from The Prospector (1896) is front page news, and followed by reports of gold fields in the Kootenays.
Mrs. Ellison was remembered in the eighteenth report of the Okanagan Historical Society.
And we know nothing about Paddy Cameron's passing, other than his friends were generous to the tune of $75 in 1985.
On the opposite end of the scale, Mrs. Jacques was remembered in verbose style by Mabel Johnson in 1955.
I love these glimpses into the lives of every day people; may we all be remembered so kindly, and found in collections for generations to come.
No Comments
---
Posted on September 5, 2017 @9:24 am by liz otero
Welcome back to campus, UBC!
Don't get stressed about moving into your dorm:
Moving into the new Women's Residence, 1956
Remember that there is always a way to solve an interpersonal problem:
Photo of unidentified students, 1922
Be grateful that freshman no longer wear these:
Freshmen wear dunce caps, 1938
While in lecture, take power from all of those that have come before you. These students are at the first lecture in HEBB:
First day of lectures in the Hebb Theatre 1963
Make time to read all of those books on the syllabus.:
Experiment and learn new skills:
Spinning at the Rural Leadership School, UBC, 1940
First Aid at the Rural Leadership School, UBC, 1940
Before you know it, you'll be here:
Members of the Nursing class 1923
We're proud of you. Have the best term, and visit the Library!
No Comments
---
Posted on August 24, 2017 @11:07 am by liz otero
The Digitization Centre's work is housed online in Open Collections, with projects organized into collections. Occasionally, objects are digitized alone or in a small group, and these are placed in Special Projects—our own home for wayward items. Being a bit of a grab-bag, it is one of our favourite places to explore and gain insight on the breadth of the UBC collection.
---
---
This Debussy piano score has some great marginalia, including a date of 1913 on the front and many playing notes throughout- including some comments about a co-performer.
The digital copy of the Tu Fu poem "Gazing at Taishan" has only been seen 45 times in Open Collections- a truly beautiful work.
---
This map, with the verbose name of "Fraser River and Burrard Inlet surveyed by Captn. G.H. Richards, assisted by Lieutt. R.C. Mayne … [et al.], H.M.S. Plumper 1859-60 ; Burrard Inlet by Mr. W.J. Stewart by order of the Government of the Dominion of Canada, 1891 ; engraved by J. & C. Walker" has a most enjoyable fold-up bit in the corner.
---
This 1890 map of Vancouver goes both local and global: many façades of buildings found downtown, but also a world map so you know where Vancouver is in relation to everywhere else, I guess?
No Comments
---
Posted on July 19, 2017 @2:35 pm by liz otero
The objects within Open Collections are beautiful, often rare, and allow connection with history as only primary sources can. As your humble blog correspondent, I am consistently struck with how different things were, yet what we are interested in, our concerns, and struggles are the same. This week, let's see what the past has to tell us about how to live our lives.
---
Facts and figures relating to Vancouver Island and British Columbia showing what to expect and how to get there by Joseph Despard Pemberton. I moved to Vancouver about a year ago, and am always interested in different historical perspectives on this place.
---
This section of a book containing Chinese medicine formulas could be exactly what you need! It may have been brought by or for the Freemasons.
---
The Traité Général des Pesches, et histoire des Poissons qu'elles fournissent, tant pour la subsistance des hommes, que pour plusieurs autres usages qui ont rapport aux arts et au commerce contains everything one needs to know about fish, fisheries, and everything connected. I've never gone further than a hook and line, maybe this is the time to obtain to a fishing boat?
---
This set of correspondence regarding a herring shipment from the Chung Collection proves that sometimes, life is just paperwork.
---
This letter from the History of Nursing in Pacific Canada reminds me that it's always the right time to write a letter to someone I care about.
No Comments
---
Posted on July 18, 2017 @2:05 pm by liz otero
When we last met, we had found a photo of an old growth forest:
Scrolling down on this screen reveals the metadata* attached to the item:
I want to continue my search, and so I'm going to look at the area called "Subject", here listed as Forestry; Logs; Cedar trees. To start out, I'll use "Cedar trees", since we're looking for photos of the forest, not specifically logging.
For the search, I'll go back to the home of open collections: open.library.ubc.ca (Starting at the "home screen" will ensure that my search will be a clean slate.)
See how I've put the subject that I'm looking for in quotation marks ("")? This ensures that I'll get things with the entire phrase, not just cedar or trees.
With this subject, I've got 546 results, that I can peruse at my leisure.
---
Let's try a different strategy: our own search terms! Generally this is the first option that people use, which is why our tutorial started in other places.
The original question was for old growth forests, so I'm going to use these direct words. To formulate my query, I will try to get as narrow of a result as possible at first, just to see what's out there.
For a specific query, I will use
forests AND "old growth"
I don't need all of these words to be in the same place, or a specific order, in my search results, so they are separated. However, I do want *all* of these words, so I'm using an AND within my query.
After searching, I find that there are 1711 objects, many of which are texts:
As I scroll through, I'm finding mostly objects from BC Sessional Papers, which are interesting and may help expand my knowledge for future searches, but are not what I'm looking for now. Let's see what a search for just forest turns up:
I've filtered to look only at still images, and we have 489 photos. If this were my search, I'd scroll through, and then look at the subjects of another photo that fit what I was looking for. Because "forest" is a broader term than "Cedar trees" that we used above, these photos aren't as close of a fit as we would like- it's worth the time to find the words that work for the system you're using.
Thank you all, and happy searching!
---
*metadata: a set of information about the object, used in this instance for access to the object
No Comments
---
Posted on September 20, 2017 @1:00 pm by liz otero
This week on the blog, we'll use Open Collections to search for some images. @VanBigTrees submitted this question on Twitter:
Let's get started!
First, we'll go to Open Collections at https://open.library.ubc.ca/
From here, we can start a search a few ways. Today, we'll explore using the collections, and next week, we'll work with keyword searches. First, let's select the "Browse by Collection" button to see if there are any collections that might be helpful to us:
I chose to scroll through these collections and open up the Capilano Timber Company Fonds:
Since I'm looking for photos of old-growth forests, a logging company might feel counter-intuitive. One strategy among many is to search for the opposite of what you're looking for: a logging company would need documentation of what was there before they cut it down.
This is the front page of the collection: Here you can see dates, subjects, and if you scroll, a brief overview of the collection. Since I don't know what's here, I'm going to search all the items in the collection; type an asterisk (*) in the search bar.
Here is the list of everything in the collection- all 151 items. Since I'm looking for images of forests, I'll see what my options are in the "Subject" field over on the left hand side.
The most common subject, "Cedar Trees", sounds like a good place to start. I'll select that and then scroll through the images.
I like one entitled "Capilano Cedar"
An old-growth forest photo!! Come back next week for the next stage of the search: using subject terms and keywords.
No Comments
---
Posted on September 7, 2017 @12:57 pm by liz otero
Vancouver is greening up spectacularly with the warmer weather. We're enjoying many lunchtimes in the beautiful gardens here at UBC, and soaking up as much greenery as we possibly can while it's here! This week on the blog, we're taking a photo tour through the Nitobe Memorial Garden. 
The Nitobe Memorial Garden is on UBC's Vancouver campus, but it feels like another world entirely – winding paths encourage contemplation and reflection. Over the years many photographers have captured glimpses of the gardens, views that will have to satisfy us until we can make it back.
Visitors enjoy the garden in 1975:
A view of the garden in the 1960's:
A few snaps from 1965
Mrs. Tetsuo Ban with Ishadora (Japanese Lantern) during presentation ceremony April 28, 1966
Inscribed stone in Nitobe Garden- 
Women in costume for a performance of Madame Butterfly in 1960:
No Comments
---
Posted on September 5, 2017 @9:24 am by liz otero
British Columbia in the second half of the nineteenth century is defined by her gold rushes. Various prospectors, miners, entrepreneurs, and other settlers descended upon BC in waves, and the documents they've left behind are as varied as they were.
This broadsheet, The Frazer River Thermometer, both offers advice and gently ribs the potential prospector.
https://open.library.ubc.ca/collections/bcbooks/items/1.0221999#p0z-5r0f:%22gold%20mines%22
One of these men is not dressed appropriately for the job… (from the Jane Eva Denison fonds, album "Caravaning to the land of golden twilight")
https://open.library.ubc.ca/collections/specialp/items/1.0229459#p22z-6r0f:gold%20rush
And this monograph is too good (and a good length for a blog post), so we present the entire thing:
Map of the Cariboo and Omineca gold fields, and the routes thereto, compiled from reliable authorities ,W.D. Patterson
The information deemed necessary seems quite slim: a helpful page of figures, a map, and some adverts for underclothing.
There are quite a few books concerning the gold rush within the collection, especially from the BC Historical Books Collection. This one is a fictional take on the Cariboo rush: (click through for the entire monograph!) 
https://open.library.ubc.ca/collections/bcbooks/items/1.0343554#p7z-5r0f:gold%20rush
Have you ever searched for gold-rush era documents within Open Collections? Is there anything we can help you find?
No Comments
---
Posted on August 24, 2017 @11:08 am by liz otero

Not surprisingly, we at the Digitization Centre are a big fan of analytics. Data about how people use the data and images we produce? Our knees are weak. What we've learned is that our blog post from 2013 regarding the BC Historical Newspapers Collection is one of the most often used, so an update including the last four years of work seems appropriate. Without futher ado:

These titles and date ranges are current as of the publication of this blog post- for the most current list, please see: https://open.library.ubc.ca/collections/bcnewspapers
Newspapers Available:
Please let us know in the comments if you access the papers, and anything interesting that you find! We are still digitizing newspapers from all over British Columbia, with no end in sight.
1 Comment
---
Posted on August 1, 2017 @12:36 pm by liz otero
There are so many amazing local materials within Open Collections at UBC Library (https://open.library.ubc.ca/). When local events and news happen, a text search for topics can reveal some interesting background or even just great stories to read.
With the provincial election last week in British Columbia, a search for electoral stories led us to this issue of Kinesis:
Kinesis was a Canadian national newspaper which focused on women and women's issues. It was based in Vancouver and was published from 1974 to 2001. The Digitization Centre has digital copies available of this amazing newspaper, full of insights, opinions, and context for those of us who call Canada, and Vancouver, home. Also, there is some amazing artwork! A few of our favorites below:
A 2-page spread from the same issue.
Have you ever ended up reading articles from online newspapers? Were you looking for something specific, or end up down the rabbit hole?
No Comments
---